Blogoma 2
A Moroccan Kitchen
Passion Technologeek
Amazing Flow
Global Voices · Citizen media stories from around the world
Photoeurdetrouble
Le Jardin Des Mots
Positions - مواقف
Le blues de Fès
<![CDATA[A vous de juger!!]]>
citoyenhmida
Portail d'informations Ce site est en vente!
Expression Publique
Abouchihaja – Futur papa malgré lui ….
Reda Blog
Agafix v5 beta - Agadir Geeky Minds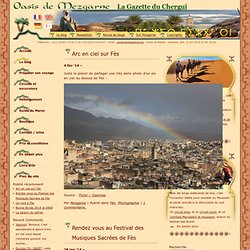 La Gazette du Chergui
La saison du safran C'est la pleine saison du safran, les familles de Taliouine sont en train de travailler nuit et jour.
badrryadi
ARABESQUE
The Magic of My Universe
The Silence Has a Voice, and the Real Music Teach You the Silence
مذكــــرات مهندس
جمـــعية المجـــاز المعطـــل بآسفــي
Les Amis du Maroc
رؤية مثلي من المغرب | Gay Vision From Morocco
Netamk : Partager, telle est ma passion !
Actu4You - Résumons le monde en un WeBlog
الفشل النبيل
Mouâd ムア一ッド
Taha | Bala | Real Estate | Apartment For Rent | Personals | Cheap Airfare at Tahabalafrej.org
Xoussef
Mehdi Moukarram's Marketing
Cinémasfi, l'Agenda Culturel de Safi
La vie en lettres .. هــذي انـا
Des rimes pour ne pas oublier
عبد الصمد بن شريف.. الحبر والحرف
كلمات عابرة
Actual digital
عابــر سـبيـــل - Jeeran Blogs
Instantanées...
عمر علوي ناسنا
Altayiboun الطـيــبـــــــــون
الجمعية المغربية لحقوق الانسان - فرع تطوان
Anima
AIT NEGH...
BLOGS MULTIPLES مدونات متعددة
baraka
Befree Spirit-zata
Atelier d'écriture
benzian.net خواطري
Othmane BOUMAALIF
My sweet Home blog By boutheina
CASAboy Mag™
شباب التنمية
Blog de Fayçal Chraibi
Couscous Poulette
L'incroyable Connerie d'un Fhamator
Me brûler les ailes mais voler...
Partageons nos passions
.::: InMaroc :::. Le sens du Changement! ------- Le Blog by HAMZA NIDALI
Blog d'Anas Alaoui |
Kamal's Blog
L'odeur de la fleur...
Kugelschreiber mais koub shrayba pour les intimes, le blog où on se pose les bonnes questions Z3MA!!!!
Label ASH
تقليب نظر ... - مدونات جيران
-------------------------------------------------- BIG BLAG BLOG - Le blog de ML -------------------------------------------------------------- "Fais n'importe quoi, mais tires-en de la joie" (Henry Miller).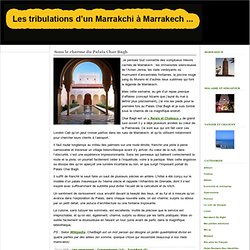 Les tribulations d'un Marrakchi à Marrakech
Je suis resté si longtemps loin de ce blog que j'en ai même, par moments, oublié l'existence.
Courti Abdou senior
Morocco Time
"Later – because after coffee and photos there's nothing else to do – we walked to the beach past landfill, donkeys and goats, a putrid river and abandoned building sites.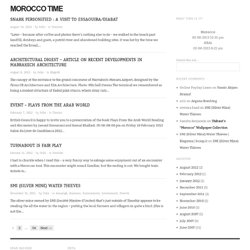 في رأس كل إنسان ما يستحق ان يصغي إليه العالم
Journées Ordinaires d'une Tangeroise Ordinaire
Carpe Diem
Les péripéties d'un malgache au Maroc
MAROC MULTIPLE ET PLURIEL
Marousan World
::: MoTIC :::
à la recherche de moi même
Moh Blog
يوميات ميلود الشلح
We left it all behind: Marrakesh and its hustle. The restaurants, the clubs, the bars. The fancy cocktails and sometimes fancy people.
My Marrakesh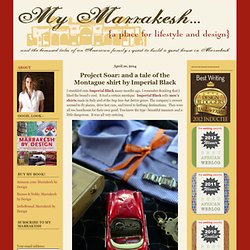 Najlae
l'Actualité et les Infos sur Les NTIC
Le Maroc contre la peine de mort / Blog marocain abolitionniste /
أرضية مابين القارات للمغاربة القاطنين بالخارج
.... Le Politiquonaute Marocain
La Vita Grassa
Bing Beats Google On Search Effectiveness -- InformationWeekBing Beats Google On Search Effectiveness - windows Blog
Microsoft's "decision engine" more likely to lead users to a Web page than searches through rival Google, study finds.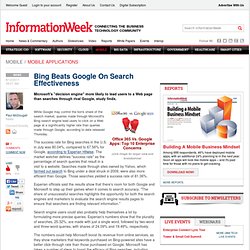 THE VIEW FROM FEZ
pas parfait...mais presque
Son of Words
A Nador, on jette la poubelle à la commune | L'Environnement Au Maroc