Tech/Social Media
Get flash to fully experience Pearltrees
If you're not finding what you're searching for after using our basic search tips , try a search operator . Add one of these symbols to your search terms in the Google search box to gain more control over the results that you see. Don't worry about memorizing the operators - you can use the Advanced Search page to generate many of these searches. Exceptions Most search rules have exceptions to accommodate the ways that people commonly search.
[NOTE: I have published an update to this post, titled " 100 Ways To Teach With Twitter ". This newer post contains the links below plus a new set of articles that provide a much more robust set of resources for ideas about teaching with Twitter. I highly advise clicking through to that article.
← Half term: some interesting articles and links | TDA announce CPD database closure → November 18, 2011 informededucation There are so many new technologies and devices appearing on the education market every day now that it can become very difficult to determine where to spend your money, if indeed you should spend it at all.
If I had thirty iPads in my class, what would I do with them? How would I use them to help my students learn better and help me teach better? Perhaps a better question is what would I do with them that I could not do with other tools that are available and cheaper? Certainly iPads are cheaper than computers, desktop or laptop, and they are more mobile. Speaking of computers, they were supposed to be the transformation of teaching and learning as we know it. In some ways there has been a transformation, but the basics of teaching and learning have remained unchanged.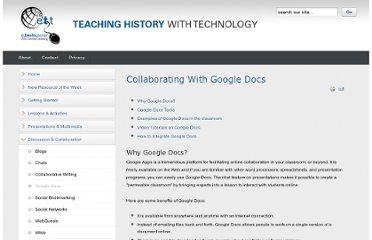 Why Google Docs? Google Apps is a tremendous platform for facilitating online collaboration in your classroom, or beyond. It is freely available on the Web and if you are familiar with other word processors, spreadsheets, and presentation programs, you can easily use Google Docs.
Twitter seems to be here to stay. As one of the most popular ways for teachers, students, and the general public to communicate, it's becoming a must-have tool in almost every teacher's toolbox. However, numerous recent studies have shown that education in general has been slow to adopt social media.