Tech/Social Media
Decoding Social Media Data. Yes, social media has changed how we interact with our friends and with brands.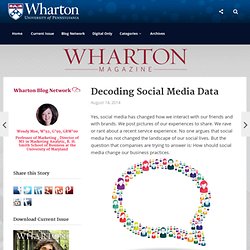 We post pictures of our experiences to share. We rave or rant about a recent service experience. No one argues that social media has not changed the landscape of our social lives. The Modbook Pro X Convertible MacBook Is The Most Impressive Tablet. This number represents how hot an article is at any given time.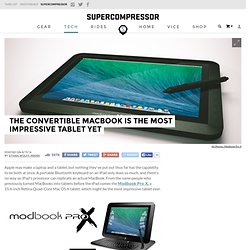 Apple may make a laptop and a tablet, but nothing they've put out thus far has the capability to be both at once. A portable Bluetooth keyboard on an iPad only does so much, and there's no way an iPad's processor can replicate an actual MacBook. From the same people who previously turned MacBooks into tablets before the iPad comes the Modbook Pro X, a 15.4-inch Retina Quad-Core Mac OS X tablet, which might be the most impressive tablet ever. Modbook Pro X — 15.4" Retina Quad-Core Mac OS X Tablet by Modbook Inc. There's never been a tablet quite like the Modbook Pro X.
Designed from the ground up for power and speed, with a large and bright high-resolution display and a highly sensitive pen tablet interface, the Modbook Pro X takes tablet computing to another level. The Modbook Pro X sports a 15.4-inch (diagonal) Apple Retina display with a 2,880 x 1,800 pixel resolution at 220 pixels per inch. Its digitizer pen offers 2,048 pressure levels, pen tilt and rotate functionality, programmable dual side-switches, a digital eraser and replacement nib set. The Modbook Pro X is configurable with up to a 2.8GHz quad-core Intel Core i7 processor, integrated Intel Iris Pro Graphics with an optional NVIDIA GeForce GT 750M GPU, up to 32GB of 1600MHz random-access memory, and up to 2TB of 1GB/sec PCIe flash storage.
8 Tips and Tricks for LinkedIn Power Users. You have hundreds of connections, stacks of skills and endorsements, a killer review of your experience and a flattering but professional headshot.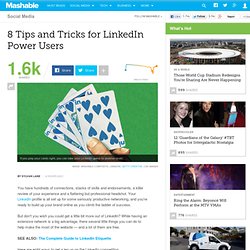 Your LinkedIn profile is all set up for some seriously productive networking, and you're ready to build up your brand online as you climb the ladder of success. But don't you wish you could get a little bit more out of LinkedIn? Broadcast your hangout to the world for free - Google+ Start a Hangout On Air Start a Hangout On Air enabled video call and invite specific people or Google+ circles to join you.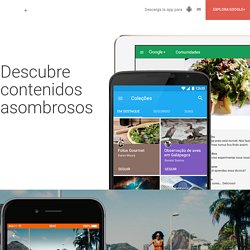 Then name your Hangout On Air. Hypertext Essay. Hypertext is writing on the web that incorporates the use of hyperlinks.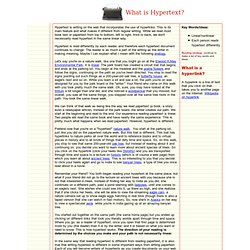 This is its main feature and what makes it different from regular writing. While we read most book text or papertext from top to bottom, left to right, front to back, we don't necessarily read hypertext in the same linear way. Programs « OESIS 2013 : Online Education Symposium for Independent Schools. (It is large so give it a few seconds!)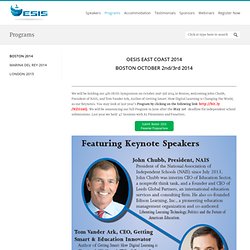 Key for Audience Focus: Elementary Middle High Keynote, Jane Swift, Former Governor of MA and CEO of Middlebury Interactive Learning. No more books: High school goes all digital. WHITE PLAINS, N.Y. — Out of curiosity, Nicholas Dadario weighed his backpack last year when it was filled with textbooks for his high school freshman honors classes at Archbishop Stepinac High School.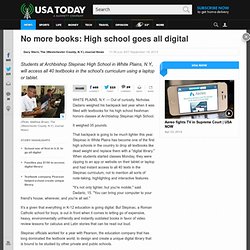 It weighed 35 pounds. That backpack is going to be much lighter this year. Stepinac in White Plains has become one of the first high schools in the country to drop all textbooks like dead weight and replace them with a "digital library. " When students started classes Monday, they were zipping to an app or website on their tablet or laptop and had instant access to all 40 texts in the Stepinac curriculum, not to mention all sorts of note-taking, highlighting and interactive features. 8 Gmail Hacks That Will Change The Way You Use Email. Creating an eBook with InDesign (Part 1) | Instant InDesign. Share this Episode Please select a language: Autoplay End of Video Show End Screen.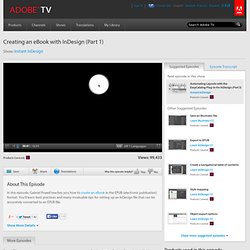 50 Digital Media Resources You May Have Missed. It has been another action-packed week here at Mashable.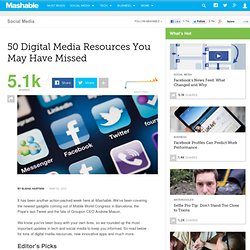 We've been covering the newest gadgets coming out of Mobile World Congress in Barcelona, the Pope's last Tweet and the fate of Groupon CEO Andrew Mason. We know you've been busy with your own lives, so we rounded up the most important updates in tech and social media to keep you informed. So read below for tons of digital media resources, new innovative apps and much more.
Toolkit
Operators and more search help - Web Search Help - Web Search Help. Gedwards30. 6 Examples of Using Twitter in the Classroom. [NOTE: I have published an update to this post, titled "100 Ways To Teach With Twitter". This newer post contains the links below plus a new set of articles that provide a much more robust set of resources for ideas about teaching with Twitter. I highly advise clicking through to that article. 10 vital questions to ask before investing in classroom technology. There are so many new technologies and devices appearing on the education market every day now that it can become very difficult to determine where to spend your money, if indeed you should spend it at all. Before you make your next investment, ask yourself the following questions: Would more students get involved in the learning?
iPads in Education - Exploring the use of iPads and Tablet computers in education. Teaching and Learning: Using iPads in the Classroom. Updated 01/2014 If I had thirty iPads in my class, what would I do with them? How would I use them to help my students learn better and help me teach better? Perhaps a better question is what would I do with them that I could not do with other tools that are available and cheaper?
Certainly iPads are cheaper than computers, desktop or laptop, and they are more mobile. Speaking of computers, they were supposed to be the transformation of teaching and learning as we know it. Google Docs. Why Google Docs? Google Apps is a tremendous platform for facilitating online collaboration in your classroom, or beyond. It is freely available on the Web and if you are familiar with other word processors, spreadsheets, and presentation programs, you can easily use Google Docs. The Ultimate Guide To Using Twitter In Education.
Twitter seems to be here to stay. As one of the most popular ways for teachers, students, and the general public to communicate, it's becoming a must-have tool in almost every teacher's toolbox. However, numerous recent studies have shown that education in general has been slow to adopt social media.
Blogs
Wikis.
---