Blogging Technology
Blogging Games Softwares Themes Technology Social Media - Part 6
Tips for Re-Organizing Categories in Wordpress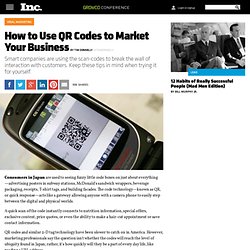 How to Use QR Codes to Market Your Business
Consumers in Japan are used to seeing fuzzy little code boxes on just about everything—advertising posters in subway stations, McDonald's sandwich wrappers, beverage packaging, receipts, T-shirt tags, and building facades. The code technology—known as QR, or quick response—acts like a gateway allowing anyone with a camera phone to easily step between the digital and physical worlds. A quick scan of the code instantly connects to nutrition information, special offers, exclusive content, price quotes, or even the ability to make a hair-cut appointment or save contact information. QR codes and similar 2-D tag technology have been slower to catch on in America. However, marketing professionals say the question isn't whether the codes will reach the level of ubiquity found in Japan; rather, it's how quickly will they be a part of every day life, like reading a URL address.
Blogging Resource Tips and Techniques – Moomettes Magnificents | Connecticut Mom Blogger | CT New England | Baby Boomer Grandmom | WAHM Perspective | Consumer Blog
Where Technology and Motherhood Meet-Technology and Social Media Tips for moms — Tech Talk for Moms
Yes technology can enhance learning, BUT sometimes, we all need to take a break from technology to engage in the world around us. I have to admit, I am a bit over-connected too, and sometimes I miss connecting with my children. Twisted Scholar, Inc., contacted Tech Talk for Moms to share a new program, called TechTimeout Academic Challenge, an educational program geared toward schools. The program includes family information packets, classroom activity guides, and bonus materials to encourage students to take a break from their electronics to gain a perspective of their own media use.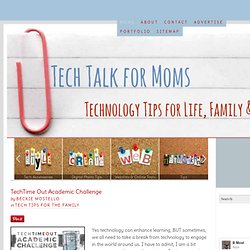 IllustrationChristoph Niemann Writers/EditorsMin Li Chan, Fritz Holznagel, Michael Krantz Project CuratorMin Li Chan & The Google Chrome Team DesignFiPaul Truong DevelopmentFi Very Special Thanks To Brian Rakowski, Ian Fette, Chris DiBona, Alex Russell, Erik Kay, Jim Roskind, Mike Belshe, Dimitri Glazkov, Henry Bridge, Gregor Hochmuth, Jeffrey Chang, Mark Larson, Aaron Boodman, Wieland Holfelder, Jochen Eisinger, Bernhard Bauer, Adam Barth, Cory Ferreria, Erik Arvidsson, John Abd-Malek, Carlos Pizano, Justin Schuh, Wan-Teh Chang, Vangelis Kokkevis, Mike Jazayeri, Brad Chen, Darin Fisher, Johanna Wittig, Maxim Lobanov, Marion Fabing Nicolas, Jana Vorechovska, Daniele De Santis, Laura van Nigtevegt, Wojtek Cyprys, Dudley Carr, Richard Rabbat, Ji Lee, Glen Murphy, Valdean Klump, Aaron Koblin, Paul Irish, John Fu, Chris Wright, Sarah Nahm, Christos Apartoglou, Meredith Papp, Eric Antonow, Eitan Bencuya, Jay Nancarrow, Ben Lee, Gina Weakley, Linus Upson, Sundar Pichai & The Google Chrome Team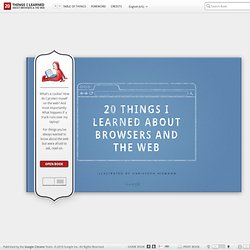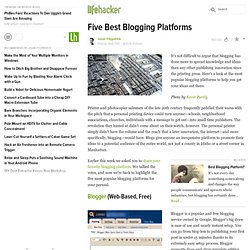 For me it's a really tough decision between Blogger and Wordpress. I use blogger for personal stuff, and get lots of traffic thanks to being Less Fat and Riding Bike (chubbysuperbiker.com). It's been good to me, and been a lot of fun in the process. Yet, there are nagging things I think Google could do a lot better.
The Online Mom - Technology and Internet Advice for Parents - Social networking, photo sharing, video games, IM & texting, internet security, cyberbullying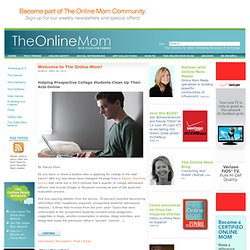 Welcome to The Online Mom! SUNDAY, APRIL 20, 2014 Helping Prospective College Students Clean Up Their Acts Online By Stacey Ross
Building A Community Around Your Blog: Part 1
If you want your company to be known as an expert online you need to earn attention and credibility among the folks you want to engage with. The best way to do that is to start a blog – packed with relevant, compelling information that demonstrates passion and a unique point of view about your chosen subject. OK, check. Now what.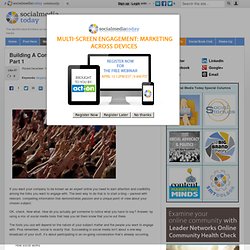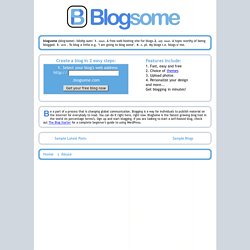 How Popular are You? Top 10 Tools to Measure Your Twitter Influence and Grade - Web Tips Blog
For you to become a successful Twitter user and harness its viral power properly, you need to act smart and evaluate yourself to judge whether you are adopting the right strategies. You may be thinking that becoming a authority in Twitter requires a descent number of followers. While you are absolutely true, other factors such as your update frequency, reach, choice of topic, recommendations, etc. also needs to be considered. Here are some web tools that calculate your popularity among other twiples and help you become a smart Twitter user: Twitter Grader
PR Professionals: How to Determine a Mom Blogger's Influence Without Asking Her « Jennifer James Online
Yesterday my post, Why PR Professionals Shouldn't Ask Mom Bloggers for Stats, got a lot of response from mom bloggers naturally because it is understandable to the community that asking for stats is borderline rude and also shows laziness because there are so many tools to determine a blogger's influence that there is really no reason to ask; no reason to ask at all. Before I get into the tools to use, I want to emphasize to PR professionals that no list of numbers compares with actually reading mom blogs, meeting moms at conferences, conversing with mom bloggers on Twitter and simply sitting back and observing the community. Nothing compares to getting to know mom bloggers and gleaning a true feel for a mom's influence irrespective of stats. Nothing. Without understanding the community you may find a blogger with a lot of numbers, but who may get into constant confrontations on Twitter.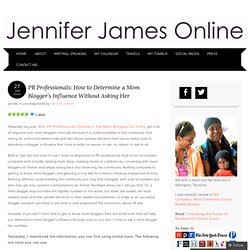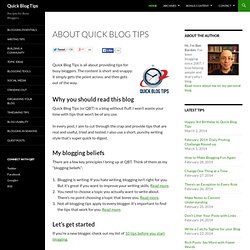 Quick Blog Tips is all about providing tips for busy bloggers. The content is short and snappy: it simply gets the point across, and then gets out of the way. Why you should read this blog Quick Blog Tips (or QBT) is a blog without fluff. I won't waste your time with tips that won't be of any use. In every post, I aim to cut through the crap and provide tips that are real and useful, tried and tested.
Top Ten Blog Tips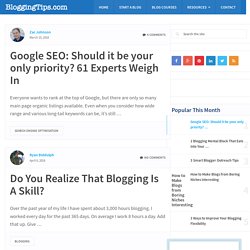 Meet Darren Rowse of ProBlogger.net 25 Jan 2014 Darren Rowse of Problogger.net really needs no introduction, but I am apt to give you a short one anyway!
Like most bloggers, I'm very proud at what I've been able to do over the years but I also ahve to admit that there is pretty much no way I would have been able to do much of anything without the efforts of others, especially those who make their work freely available for people like us to use. Unless you're able to build your site management software, code your theme from scratch and create all of the tools you use, you're standing on the shoulders of those who lent their expertise to total strangers, often without renumeration, to make your site possible. So as the U.S. sits down for Thanksgiving and gives thanks for the various blessings in its life, I'd like to give thanks to six tools and services that, without them, I probably wouldn't have a blog or much of a presence on the Web at all. They are in no particular order, but all are tools that I've grown to love, enjoy and depend upon over the years. Many, I have to wonder how I ever got along without.
6 Blogging Tools I'm Thankful For this Thanksgiving
Wikipedia.org Site Info
Certified Site Metrics are metrics that are directly-measured from the website instead of estimated. The website owner has installed an Alexa Certify Code on the pages of their site and chosen to show the metrics publicly. For the website owner Certified Metrics provide: A more accurate Alexa RankA private metrics Dashboard for On-Site AnalyticsThe ability to publish unique visitor and pageview counts if desired Certified Metrics are available with all Alexa Pro plans.
As a freelance writer I work with many different blog owners on a regular basis and that means I get the chance to see just about every plugin imaginable. Every once in a while I'll come across a new one that is just amazing and I wonder how I ever blogged without it. I want to give you a list of the top 11 must have plugins for any WordPress site.
11 WordPress Plugins You've Gotta Have
Clash of the Androids Barton on 'Power to the People' App Smart: Off the Beaten Path A 45-Second Test Flight The World's Biggest Tetris GameApp Smart: Converting UnitsBrowse Without Prying EyesReshaping Design With 3-D PrintingCurved Screens: Worth It?
- Erica Says
Techmamas
Blogging
Bailey Gardiner - San Diego Interactive Advertising and Public Relations Creative Agency