Blogging Technology
Blogging Games Softwares Themes Technology Social Media - Part 6
Tips for Re-Organizing Categories in Wordpress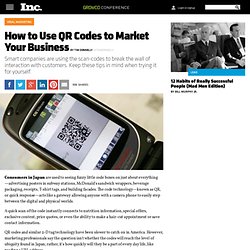 How to Use QR Codes to Market Your Business
Smart companies are using the scan-codes to break the wall of interaction with customers.
Blogging Resource Tips and Techniques – Moomettes Magnificents | Connecticut Mom Blogger | CT New England | Baby Boomer Grandmom | WAHM Perspective | Consumer Blog
Where Technology and Motherhood Meet-Technology and Social Media Tips for moms — Tech Talk for Moms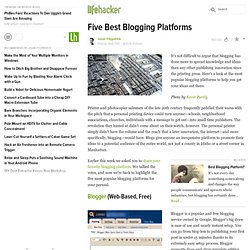 It's not difficult to argue that blogging has done more to spread knowledge and ideas than any other publishing innovation since the printing press.
The Online Mom - Technology and Internet Advice for Parents - Social networking, photo sharing, video games, IM & texting, internet security, cyberbullying
Building A Community Around Your Blog: Part 1
If you want your company to be known as an expert online you need to earn attention and credibility among the folks you want to engage with.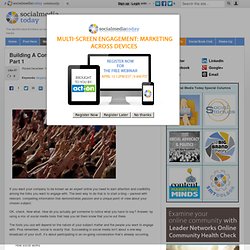 Posted by Mom Blog Magazine on Saturday, December 4, 2010 · Leave a Comment Maintaining a blog means creating original content that keeps people coming back again and again. The issue with most professional bloggers is they are too busy to sit down and crank out articles day in and day out.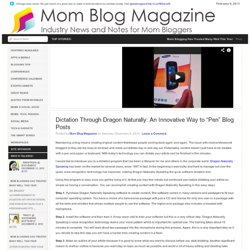 Dictation Through Dragon Naturally: An Innovative Way to "Pen" Blog Posts
Colleen Padilla (Classy Mommy) In Los Angeles For Movie Press Event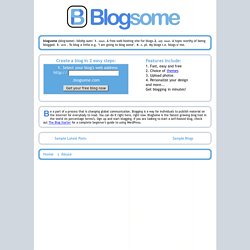 How Popular are You? Top 10 Tools to Measure Your Twitter Influence and Grade - Web Tips Blog
For you to become a successful Twitter user and harness its viral power properly, you need to act smart and evaluate yourself to judge whether you are adopting the right strategies.
PR Professionals: How to Determine a Mom Blogger's Influence Without Asking Her « Jennifer James Online
i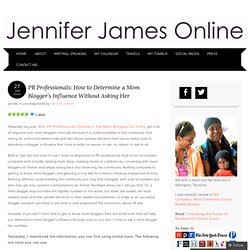 Top Ten Blog Tips
Blogging Tips - Blogging Guides, News, Tips, Resources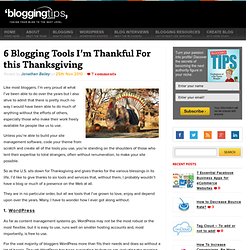 Like most bloggers, I'm very proud at what I've been able to do over the years but I also ahve to admit that there is pretty much no way I would have been able to do much of anything without the efforts of others, especially those who make their work freely available for people like us to use.
6 Blogging Tools I'm Thankful For this Thanksgiving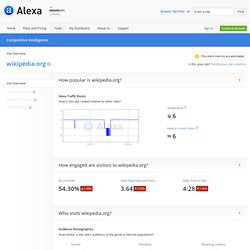 Wikipedia.org Site Info
Traffic rank for wikipedia.org:
Internet - Toolbar Tour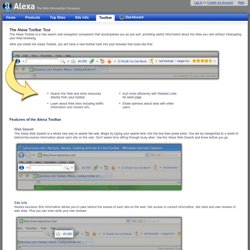 The Alexa Toolbar is a free search and navigation companion that accompanies you as you surf, providing useful information about the sites you visit without interrupting your Web browsing.
As a freelance writer I work with many different blog owners on a regular basis and that means I get the chance to see just about every plugin imaginable. Every once in a while I'll come across a new one that is just amazing and I wonder how I ever blogged without it. I want to give you a list of the top 11 must have plugins for any WordPress site.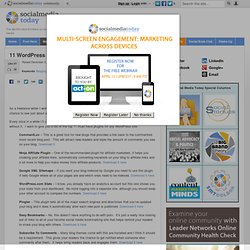 11 WordPress Plugins You've Gotta Have
- Erica Says
4 Tools to Monitor Your Child's Online Safety
Techmamas
Blogging
Chocolate is a big deal around my house. We love chocolate cake and this home-made chocolate frosting recipe from Rachel looks like the perfect way to top it in chocolatey goodness! I have to tell y'all — I'm not really a chocolate frosting person but this — this chocolate frosting with the subtle undertones of cinnamon and the creamy richness from the evaporated milk and real cocoa – ZOMG!!!! YUM.
Lizzie Younkin // March 19, 2013 // Public Relations // No Comments From time to time we watch a company's PR crisis unfold in the national media. We point and stare and judge and pray we never have a crisis of our own. The truth is that most companies will. Based on some of the crises we've dealt with here at i.d.e.a. and those seen in the media, here are a few of the most common mistakes in crisis communications. The initial reaction No, not how it's executed, but the fact that …
Bailey Gardiner - San Diego Interactive Advertising and Public Relations Creative Agency