ICT Leadership
Leading Gen Y: the Secrets Every Leader Must Learn | Business 2 Community | Transformational Leadership | Scoop.it. I am extremely fortunate to be able to call Greg Hartle a friend.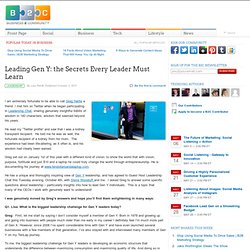 I met him on Twitter when he began participating in Leadership Chat, sharing genuinely insightful tidbits of wisdom in 140 characters; wisdom that seemed beyond his years. He read my "Twitter profile" and saw that I was a kidney transplant recipient. He told me he was as well, the fortunate recipient of a kidney from his mom. Part 2: Preconditions for digital school transformation ... | Leadership in Distance Education | Scoop.it.
Leadership Research into digitally-driven school transformation commonly identifies effective leadership as fundamental to success (Fullan, 2009).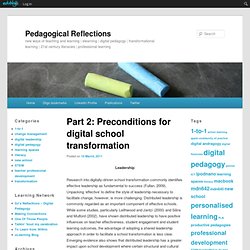 Unpacking 'effective' to define the style of leadership necessary to facilitate change, however, is more challenging. Distributed leadership is commonly regarded as an important component of effective schools. Social Media Revolution 2011. Learning with people, not technology. This morning I revisited the delightful story of how people learn to do their jobs at New Seasons Market, a chain of nine natural food stores in Portland, Oregon.
New Seasons exemplifies taking a non-training alternative to workplace learning. That New Seasons is a people-oriented business echoes in their approach to learning. New hires receive a brief orientation and are then let loose to learn by walking around and asking questions.The HR director explains "New employees are given time to look around and get to know the products, ask questions, go online, read literature and shadow experienced employees.
Sugata Mitra: The child-driven education.
---