Second Screen
It's easy to understand why 2012 is shaping up to be the year of social TV. Consumers are turning to the so-called second screen like never before. A 2011 whitepaper prepared by Yahoo/Nielsen reported that as many as 86 percent of viewers use mobile devices while watching TV. While many think that number might be high, it signals a trend in consumer behavior that cannot be ignored. Broadcasters and marketers are feeling the heat of both risk and reward. Risk if they do nothing and cede the second screen to Twitter and Angry Birds; reward if they find a way to deliver companion experiences, drive engagement--and expand ad inventory.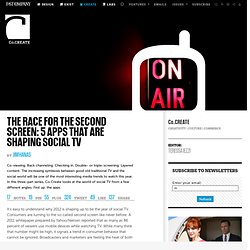 PLINKERS l VideoSync Marketing Solutions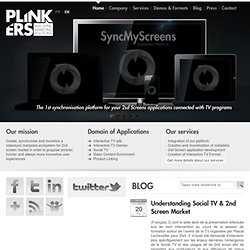 (Français) Ci joint le slide deck de la présentation effectuée lors de mon intervention au cours de la session de formation autour de l'avenir de la TV organisée par Pascal Lechevallier pour Dixit. Il m'avait été demandé d'intervenir plus spécifiquement sur les enjeux derrières l'émergence de la Social TV et des usages dit de 2nd écran afin de permettre aux producteurs et aux diffuseurs de mieux appréhender le chemin parcouru ces dernières années sur ce sujet et la façon dont se profile l'avenir de ce marché.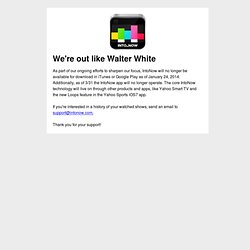 As part of our ongoing efforts to sharpen our focus, IntoNow will no longer be available for download in iTunes or Google Play as of January 24, 2014. Additionally, as of 3/31 the IntoNow app will no longer operate. The core IntoNow technology will live on through other products and apps, like Yahoo Smart TV and the new Loops feature in the Yahoo Sports iOS7 app. If you're interested in a history of your watched shows, send an email to support@intonow.com.