Second Screen
The Race For The Second Screen: Five Apps That Are Shaping Social TV. It's easy to understand why 2012 is shaping up to be the year of social TV.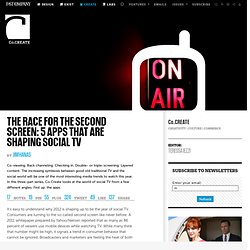 Consumers are turning to the so-called second screen like never before. A 2011 whitepaper prepared by Yahoo/Nielsen reported that as many as 86 percent of viewers use mobile devices while watching TV. While many think that number might be high, it signals a trend in consumer behavior that cannot be ignored.
Broadcasters and marketers are feeling the heat of both risk and reward. Risk if they do nothing and cede the second screen to Twitter and Angry Birds; reward if they find a way to deliver companion experiences, drive engagement--and expand ad inventory. GetGlue: Check-in to tv, movies and music. Welcome to Shazam. PLINKERS l VideoSync Marketing Solutions.
The new way to watch television. Connect with your friends around the shows you love. Miso Homepage.
---