Video editing/making
Give your stories a heartbeat. With Projeqt, your presentations never remain static. Grab your old dusty presentations, or create one from scratch with our user-friendly dashboard, and let your stories free. By pulling live tweets or blog feeds, inserting an interactive map, adding audio notes or simply streaming videos that you've found on the web - they can all live in real-time and be shared for everyone to see. Let your presentations be as dynamic as you are. Pull in feeds and create shortcuts to your favorite services.
dynamic presentations for a real-time world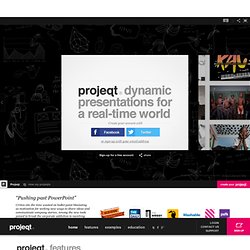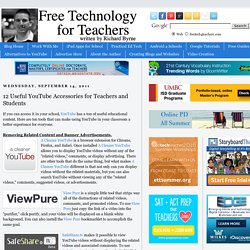 If you can access it in your school, YouTube has a ton of useful educational content. Here are ten tools that can make using YouTube in your classroom a better experience for everyone.
Free Video Downloader | YouTube Downloader | FREE Download
Creare Screencast: Ecco i Migliori 5 software gratis
Vidmap - Geotagging for Videos
Plastic Animation Paper - PAP:Pro 4.0 for free
German online TV recorder BONG.TV - record any TV show and your favorite movies online
MooVES 1.0 - The MooTools Video Enhancement System
Mooplay : build your own player on top of an html5 video element
We've been making two films with BERG over the summer. This is the first . It's an exciting project for us, as it's the first time we've had a proper chance to explore some of the themes and possibilities behind Making Future Magic , with the benefit of the superbrains and hands of some new creative partners Timo Arnall , Jack Schulze and the rest of the BERG team. The brief and discussions we had in the process of making these films were about some of the aims behind the Making Future Magic strategy – all of which are about expanding the value of the commercial communications we make by approaching things with a particular set of priorities: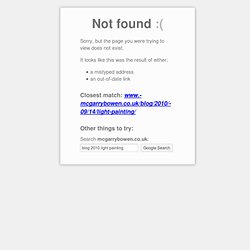 Making Future Magic: iPad light painting | Dentsu London
Rimodellati nei video con MovieReshape
Vipidme.com - create your own custom intros for videos in minutes