Organismes
Organismes officiels relatifs à l'égyptologie.
Classement géographique (et une branche internationale) Jun 25
The ECHO trustees are pleased to announce that ECHO is now a registered charity (number 1142484) this will enable ECHO to continue and develop into the future. ECHO is now on Facebook ECHO article detailing the endangered sites in the Faiyum is now available to download as a PDF. ECHO Funding of Egyptian students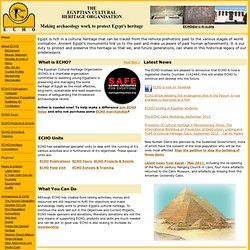 Egyptian Cultural Heritage Organisation (ECHO)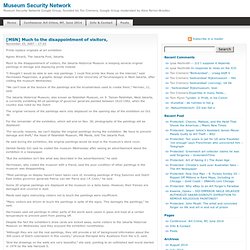 Museum Security Network
Founded 12/1996 by Ton Cremers The MSN's original aim was to serve as a source of information for cultural property protection professionals. Gradually, the Museum Security Network mailing list has become the main channel for the distribution of news and information pertaining to cultural property protection, preservation, conservation, and security. On a daily basis, information is posted on www.museum-security.org as well as on the MSN Google Group. Key areas discussed include cultural property housed in museums, libraries, archives, monuments, and churches as well as other current topics such as art theft, forgery, fires, provenance matters, illicit acquisitions, the illicit trade, UNESCO 1970, and UNIDROIT 1995. Subscribers include museum professionals, law enforcement officers, lawyers, academics, insurance underwriters, journalists, auction houses, among many others.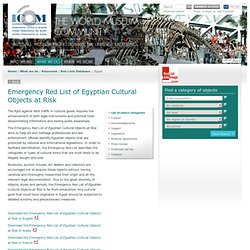 Emergency Red List of Egyptian Cultural Objects at Risk- Red List
The fight against illicit traffic in cultural goods requires the enhancement of both legal instruments and practical tools disseminating information and raising public awareness. The Emergency Red List of Egyptian Cultural Objects at Risk aims to help art and heritage professionals and law enforcement officials identify Egyptian objects that are protected by national and international legislations. In order to facilitate identification, the Emergency Red List describes the categories or types of cultural items that are most likely to be illegally bought and sold. Museums, auction houses, art dealers and collectors are encouraged not to acquire these objects without having carefully and thoroughly researched their origin and all the relevant legal documentation. Due to the great diversity of objects, styles and periods, the Emergency Red List of Egyptian Cultural Objects at Risk is far from exhaustive.
International Committee of the Blue Shield Following the Second World War, UNESCO adopted the Hague Convention (1954) which created rules to protect cultural goods during armed conflicts. This Convention was the first international treaty aimed at protecting cultural heritage in the context of war and which highlighted the concept of common heritage. The Blue Shield is the symbol used to identify cultural sites protected by this Convention.
International Committee of the Blue Shield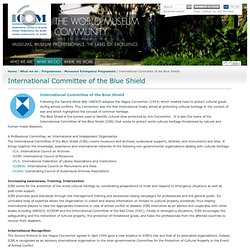 This site was established by Kate Phizackerley on 31st January 2011 to record known (or strongly suspected) details of sites looted during the popular Egyptian uprising of January and February 2011. The intention is to provide a site by site record of information as it became available. The site is still maintained as news trickles in of sites, recoveries of artefacts and, mostly sadly, ongoing looting in some sites.
Egyptological Looting Database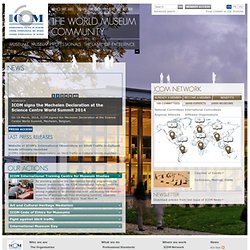 There are many prestigious museums among the International Council of Museums institutional members like the Metropolitan Museum in North America, the Palace Museum in Asia or the Louvre in Europe. Museums of Science and Technologies, Fine Art Museums, City Museums of regional museums, European, African, Oceanic, Asian or American museums are all represented by ICOM, embodying the global diversity of the museum community.
ICOM
CIPEG
Witness the past
IAE - International Association of Egyptologists
IAE-Homepage
Informatique & Egyptologie
IDE - Egypt
ICE 2013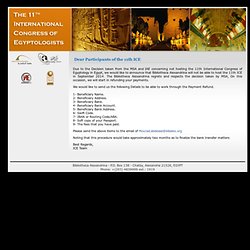 Egyptologists Conference
Welcome to the website of the Eleventh International Congress of Egyptologists. With reference to the acceptance of the General Assembly of the International Association of Egyptologists, Egyptologists from all countries are cordially invited to participate in the Eleventh International Congress of Egyptologists, which will be held in Bibliotheca Alexandrina, Alexandria, Egypt, from 13 th to 20 th September 2013. The congress will be organized by the Calligraphy Center in Bibliotheca Alexandria under the auspices of the International Association of Egyptologists and the Ministry of State for Antiquities, Egypt. The aim is to provide a meeting point for all Egyptologists based on some selected themes. The International Congress of Egyptologists is traditionally open to all areas of Egyptological research, and its goal is to seek for research papers focusing on all major themes of Egyptology.
ICE 2008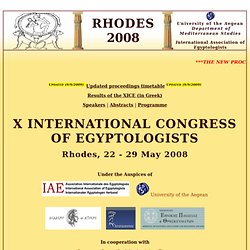 Updated (9/9/2009) Updated p roceedings timetable Results of the XICE (in Greek) Speakers | Abstracts | Programme
Rhodes (Grèce) - du 22 au 29 mai 2008 Notre projet d'amateurs et de bénévoles met un point d'honneur à sa démarche rigoureuse et éthique. Nous avons eu l'occasion de présenter nos travaux lors du Congrès International d'Egyptologie en mai prochain.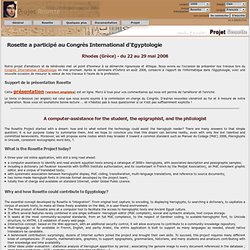 Rosette à Rhodes
ICE 2004
Compiled for the Egyptologists' Electronic Forum (EEF). version 62A (March 8, 2013) Please send any additions and corrections to A.K. Eyma Appart from supplying website links or e-mail addresses of societies, institutes and university departments dedicated to Egyptology, the current page also seeks to provide a search facility for abbreviations of names of such organisations.
Egyptological Institutes
Egyptian Cultural Heritage Organisation (ECHO)
Université Française d'Egypte
Centre d'Etudes Alexandrines
Étude des Amphores
Jean-Yves Empereur Vous allez découvrir le nouveau site sur les amphores d'Alexandrie. Nous avons essayé d'illustrer la richesse étonnante du matériel amphorique découvert au cours des chantiers de construction et de fouilles archéologiques dans la ville fondée par Alexandre le Grand. Le Musée graeco-romain d'Alexandrie possède la plus grosse collection au monde d'anses d'amphores timbrées, plus de 160.000 exemplaires. Ces innombrables témoignages du commerce de la Mégapole avec le reste de la Méditerranée à l'époque hellénistique, romaine et byzantine, proviennent en grande partie des chantiers de construction de la ville. Dans les années qui suivirent la Seconde Guerre Mondiale, un passionné d'archéologie, Lucas Benaki, visitait systématiquement tous les chantiers en cours et il achetait aux ouvriers les anses d'amphores timbrées pour le modeste prix d'une piastre.
BIFAO en ligne
The American University in Cairo
Desalination May Help Increase Egypt's Fresh Water Supply Using nanotechnology in devising sustainable desalination methods will minimize the risk of water shortage in Egypt Cloud Computing Enhances Business Productivity
Supreme Council for Antiquities
Geographic Information System
CSSP Research Grants 2013 Call for Application The BA Center for Special Studies and Programs (CSSP) announces the call for applications for the 2013 Research Grants Program to support outstanding young postdoctoral Egyptian researchers who perform cutting edge research and undertake collaborative investigation approaches across the science and technology spectrum. The program covers research in Natural sciences, Mathematics, Information Technology, and Pre-University Education.
Cultnat
Welcome to YouTube! The location filter shows you popular videos from the selected country or region on lists like Most Viewed and in search results.To change your location filter, please use the links in the footer at the bottom of the page. Click "OK" to accept this setting, or click "Cancel" to set your location filter to "Worldwide". The location filter shows you popular videos from the selected country or region on lists like Most Viewed and in search results.
CULTNAT Documentaries
5th International forum Writings, Calligraphies and Incriptions
Netherlands-Flemish Institute
Centre culturel d'Egypte à Paris
Ecole pratique des hautes études (EPHE)
Mondes pharaoniques UMR 8167 CNRS
ENIM - Une revue d'égyptologie sur internet
A.I.B.L.
ULg - Projet Ramsès
UCL-Egyptologie
The Connected Past - 24 March 2012 - De Pauw and van Beek - Panopto Viewer
Textes
Service d'Égyptologie - Dictionnaire
Projets du CEDAE | PHAMODIS
Griffith Institute (Oxford)
Fekri HASSAN: Institute of Archaeology UCL
Aloisia DE TRAFFORD: Institute of Archaeology UCL
Current Research in Egyptology - Liverpool 2009
Egypt at its Origins - The Third International Colloquium on Predynastic and Early Dynastic Egypt
University of Memphis - Egyptology
The Oriental Institute of the University of Chicago