Ordi
Robotique
GCW Zero - An Open Source Gaming Console Built by Gamers for Gamers...
The Internet brings us a totally new social experience Back then,with a simple email adress you could talk with the whole world Today, you need to register on Skype, Google Hangout, Facebook, Vine, WhatsApp, Twitter to share with your friends Let's change that ! What if we share the same network ? For the first time in the Internet history, we release a social platform based on an existing network, already used by millions of people, for several years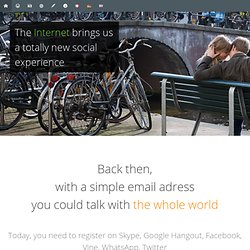 BLACKSBURG, Va., June 28, 2013 -- Today's release of the Green500 List (http://www.green500.org/lists/green201306) shows that the top end of the list is again dominated by heterogeneous supercomputers, those that combine two or more types of processing elements together, such as a traditional processor or central processing unit (CPU) combined with a graphical processing unit (GPU) or coprocessor. Two heterogeneous systems, based on NVIDIA's Kepler K20 GPU accelerators, claim the top two positions and break through the three-billion floating-point operations per second (gigaflops or GFLOPS) per watt barrier. Eurora, located at Cineca, debuts at the top of the Green500 at 3.21 gigaflops/watt, followed closely by Aurora Tigon at 3.18 gigaflops/watt.
The Green500 List :: Environmentally Responsible Supercomputing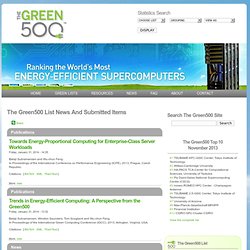 Modernizr is a JavaScript library that detects HTML5 and CSS3 features in the user's browser. Why use Modernizr? Taking advantage of cool new web technologies is great fun, until you have to support browsers that lag behind. Modernizr makes it easy for you to write conditional JavaScript and CSS to handle each situation, whether a browser supports a feature or not. It's perfect for doing progressive enhancement easily. How it works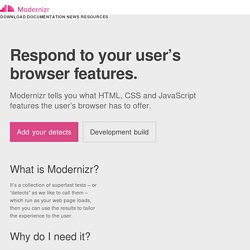 How to Surf the Internet Anonymously With Tor
structure classique (spip) ou complexe et sur-mesure (django), aozeo se charge de concevoir votre site Internet. bénéficiez de notre savoir-faire dans la création de sites pour optimiser votre visibilité. Pour présenter des photos ou de simples images, on peut choisir de mettre directement les liens dans la page ou de faire appel à un script tiers qui améliorera leur affichage/présentation.
Quel script JavaScript de galerie photo ? - Blog - Aozeo
MP3 Player - Players - MULTI - Generator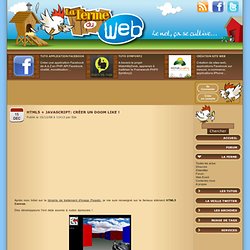 Après mon billet sur la librairie de traitement d'image Pixastic, je me suis renseigné sur le fameux élément HTML5 Canvas. Des développeurs l'ont déjà soumis à rudes épreuves ! Ben Joffe à créé un Doom like ultra fluide et au chargement instantané, en utilisant Javascript et HTML5 Canvas !
HTML5 + Javascript: Créer un Doom like !
Générateur de Meta Tags - Outil gratuit de référencement pour Webmaster-Mozilla Firefox
PHP 5.6.0alpha1 released Edit Report a Bug Manuel PHP ¶ par: Mehdi Achour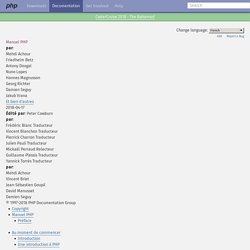 Eaton Ellipse MAX 1100 USBS (USB Série) - 1100 VA - Achat / Vente Onduleur sur LDLC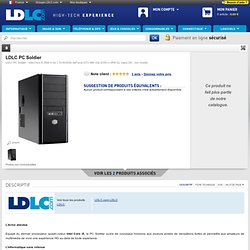 L'Arme absolue Equipé du dernier processeur quadri-coeur Intel Core i5, le PC Soldier ouvre de nouveaux horizons aux joueurs avides de sensations fortes et permettra aux amateurs de multimédia de vivre une expérience HD au-delà de toute espérance. L'informatique sans retenue
PC Soldier - Achat / Vente Ordinateur PC LDLC sur LDLC
Bonjour et bienvenue sur Linux pas à pas Si vous êtes sur ce site c'est probablement parce que vous cherchez une nouvelle expérience ou peut-être que vous en avez assez des virus, spywares, trojans qui envahissent votre PC et qui vous obligent à formater et réinstaller votre système plusieurs fois par mois, ou encore vous en avez assez des logiciels payants. Quelque soit la raison de votre visite vous êtes tombés au bon endroit.
The Reflex Tester