Photoshop stuff
How to Create an Old-World Map in Photoshop. Ever wondered how it feels like to be a cartographer?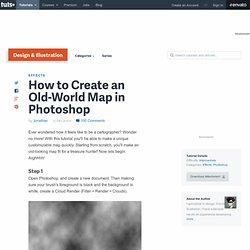 Wonder no more! With this tutorial you'll be able to make a unique customizable map quickly. Starting from scratch, you'll make an old-looking map fit for a treasure hunter! Now lets begin. 35 Creative Portrait Effects Photoshop Tutorials. 41 Nicest Photoshop Photo Effects [Photoshop Tutorials] Looking at how powerful Photoshop can be in terms of photo editing, it's probably not important if you suck at taking photographs or being labeled an amateur photographer.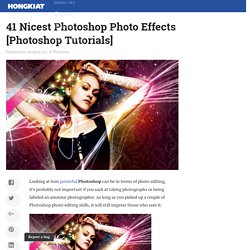 As long as you picked up a couple of Photoshop photo editing skills, it will still impress those who sees it. So the next time you want to publish some photos online, consider editing them so they look more impressive. Here's a compilation of 41 Nicest Photoshop Photo Effects you can take into reference. 30 Photo Effect Photoshop Tutorials Every Designer Will Love.
Few days ago I created this article 105 People Photo Manipulation Works You Will Really Marvel with amazing photo manipulation works.
This time I went step further and actually tried to find tutorials teaching you how to achieve such effects! Of course, I didn't find the same effects there, but if you look closer and really study these tutorials I showcased here, you will understand you'll have all the skills to create such artworks! More or less techniques are the same and with little creativity you can create your own masterpiece even today! I wish you good luck, while exploring and learning so you could spice up your own photos, impress friends and evolve your design skills!
This list is a little bit shorter than other ones, but I thought I better focus on quality than quantity, because we already have many, many useless list tutorial articles around here repeating same stuff over and over again.
---