Teacher Articles
Creativity Now!:Fundamentals of Creativity. Ronald A.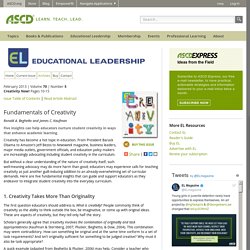 Beghetto and James C. Kaufman The first question educators should address is, What is creativity? People commonly think of creativity as the ability to think outside the box, be imaginative, or come up with original ideas. These are aspects of creativity, but they tell only half the story. In 500 Billion Words, a New Window on Culture. RSA Animate - Changing Education Paradigms. Can computers take the place of teachers?
The child-driven education Sugata Mitra: Experiments show students can teach themselves with computersHe says students showed remarkable progress by working in teamsAdult mediators can help further this kind of learning even without formal teacher training, he says Editor's note: TED is a nonprofit organization devoted to "Ideas worth spreading," which it makes available through talks posted on its website.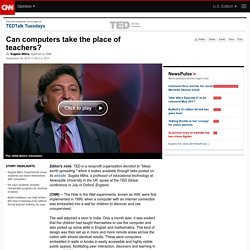 Sugata Mitra, a professor of educational technology at Newcastle University in the UK, spoke at the TED Global conference in July in Oxford, England. Should Teachers Friend Their Students? - Education. On Facebook, how classroom rules do and do not apply.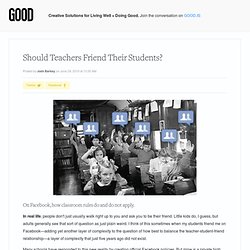 In real life, people don't just usually walk right up to you and ask you to be their friend. Little kids do, I guess, but adults generally see that sort of question as just plain weird. I think of this sometimes when my students friend me on Facebook—adding yet another layer of complexity to the question of how best to balance the teacher-student-friend relationship—a layer of complexity that just five years ago did not exist. Many schools have responded to this new reality by creating official Facebook policies. GOOD Transparency: Education in America.
---