Teacher Articles
Ronald A. Beghetto and James C.
Creativity Now!:Fundamentals of Creativity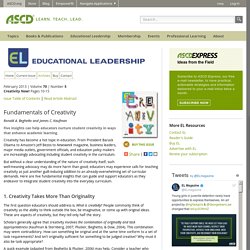 The digital storehouse, which comprises words and short phrases as well as a year-by-year count of how often they appear, represents the first time a data set of this magnitude and searching tools are at the disposal of Ph.D.'s, middle school students and anyone else who likes to spend time in front of a small screen. It consists of the 500 billion words contained in books published between 1500 and 2008 in English, French, Spanish, German, Chinese and Russian. The intended audience is scholarly, but a simple online tool allows anyone with a computer to plug in a string of up to five words and see a graph that charts the phrase's use over time — a diversion that can quickly become as addictive as the habit-forming game Angry Birds. With a click you can see that "women," in comparison with "men," is rarely mentioned until the early 1970s, when feminism gained a foothold.
In 500 Billion Words, a New Window on Culture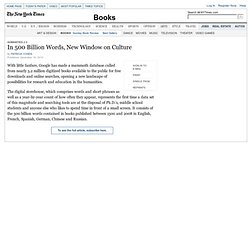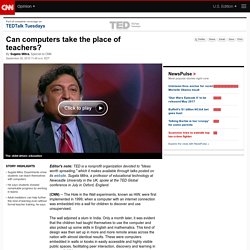 The child-driven education Sugata Mitra: Experiments show students can teach themselves with computers He says students showed remarkable progress by working in teams Adult mediators can help further this kind of learning even without formal teacher training, he says Editor's note: TED is a nonprofit organization devoted to "Ideas worth spreading," which it makes available through talks posted on its website . Sugata Mitra, a professor of educational technology at Newcastle University in the UK, spoke at the TED Global conference in July in Oxford, England. (CNN) -- The Hole in the Wall experiments, known as HiW, were first implemented in 1999, when a computer with an internet connection was embedded into a wall for children to discover and use unsupervised. The wall adjoined a slum in India.
Can computers take the place of teachers?
On Facebook, how classroom rules do and do not apply. In real life , people don't just usually walk right up to you and ask you to be their friend. Little kids do, I guess, but adults generally see that sort of question as just plain weird. I think of this sometimes when my students friend me on Facebook—adding yet another layer of complexity to the question of how best to balance the teacher-student-friend relationship—a layer of complexity that just five years ago did not exist. Many schools have responded to this new reality by creating official Facebook policies. But mine is a private high school that trusts its teachers to behave responsibly until, I suppose, someone doesn't.
Should Teachers Friend Their Students? - Education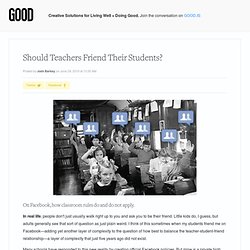 GOOD Transparency: Education in America