New_Folder
Stop Forum Spam - Forum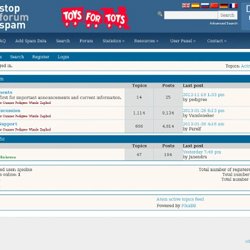 Advanced Search Home Add Spam Data Search Forum Statistics »
Le mode d'emploi pour la version 1.3.5 pour WordPress 2.8 est disponible sur la page NextGEN Gallery : mode d'emploi (version 1.3.5 pour WP 2.8) Vous pouvez poser vos questions sur ce plugin ou faire part de vos appréciations sur cette documentation sur la page du forum ; si vos questions sont trop techniques ou concernent un dysfonctionnement du plugin lui-même, je vous invite à les poser sur le blog du développeur. Page mise à jour le 10 octobre 2009 @ 20:15 NextGen Gallery est un plugin permettant d'afficher des photos sous forme de galerie, comme vous pouvez le voir, à titre d'exemple ici . Les galeries peuvent être affichées aussi bien dans les billets que dans les pages statiques.
NextGen Gallery : mode d emploi (WordPress 2.5) Le Blog de Lise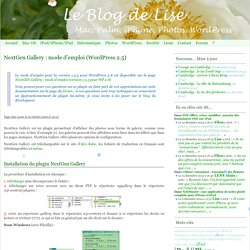 NextGEN Gallery at alex.rabe
Una web para cada necesidad | LaWebRedonda
En épocas de crisis hay que invertir más en conseguir clientes, y lawebredonda.com es el método más económico y eficaz de aumentar su clientela. Busca rápidamente la mejor opción para ti en nuestra comparativa de servicios o sigue leyendo para obtener explicaciones más detalladas. Web básica Alojamiento web sin publicidad y un dominio .com/.es/.org/.net durante un año 3 buzones de correo electrónico Diseño a elegir entre 200 plantillas ( Ver plantillas ) Alta gratuíta en buscadores Alta inicial sin coste Tarifa plana: 120 € + iva al año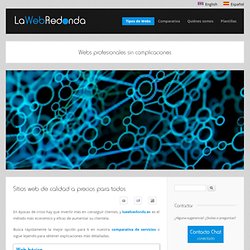 La revista ACTUAL --- Blanes, Lloret de Mar i Palafolls
Cité des Femmes... Confiez-nous votre légende!
Downloads | Stable versions
No dejes de ver este video, cambiará tu vida... y la de tus hijos también
Revista de la diversidad de TVE RTVE.es
Who The Hell Are You?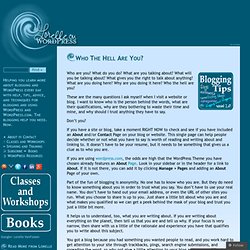 Who are you? What do you do? What are you talking about? What will you be talking about? What gives you the right to talk about anything? What are you doing here?
Carnets de voyage et Blogs de voyage : Uniterre.com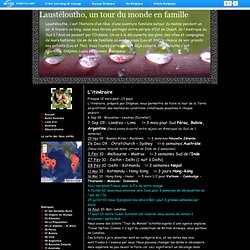 Presque 12 mois pour...13 pays. L'itinéraire, préparé par Stephan, nous permettra de faire le tour de la Terre en profitant des meilleures conditions climatiques possibles à chaque endroit: 6 Sep 09 : Bruxelles – Londres (Eurostar)
Laustéloutho, un tour du monde en famille - Blog de voyage - Uniterre.com
Settings
Utilisation de PHP - Aide Hebergeur