In sight
photoblogs Apr 22
Essimar
Making Things, d'Ann Wiseman... la tentation était trop forte quand j'ai vu la couverture de ce livre cité dans l'interview de Joel Henriques (Made by Joel) par BloesemKids. Après une longue traversée de l'Atlantique (amazon.com...), le colis est arrivé. 164 pages dessinées et manuscrites, imprimées en bichro pour Little, Brown and Company en 1973. C'est un bel ouvrage en plus d'être une mine de projets semble-t-il accessibles.L'atelier de la collection*minuscule se remet doucement en route, prêt à lancer la réédition de l'opus I. Prenons date pour la mise en vente sur le blog de ces 29 exemplaires réalisés tout spécialement pour ceux qui ont manqué la première série : le 4 avril à 12 h, ils seront dans la boutique. Désolée pour ce long délai mais le petit étui en carton représente des heures et des heures de travail tellement minutieux.Et puis, j'annonce une vente prochaine de nouvelles miniatures, ainsi que de quelques modèles de chaises pour enfants.
vintage for kids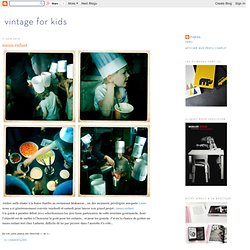 BOOOOOOOM on Vimeo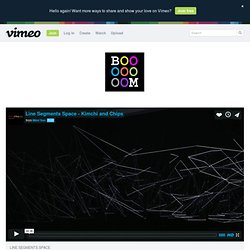 LINE SEGMENTS SPACE Kimchi and Chips, 2013 Projection, Nylon string, Code CONCEPT An architectural web of threads subtends a null space. It hangs abstract and undefined, a set of thin positive elements segmenting the dark negative space between. Dynamic imaginary forms are articulated into the physical volume by the material of this thread, and the semi-material of the light. The visual gravity of the filaments occupying the space between.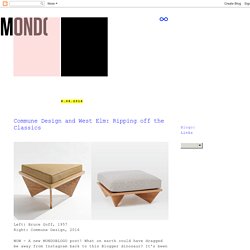 Franco Albini Parma n.d. I was rummaging through my stacks and came across this excellent catalog from the Triennale Museum
This Sunday is the Super Bowl between the Ravens and the 49ers. The 49ers are named after the gold miners that came to California in 1849. The Ravens are named after Edgar Allan Poe's famed poem, The Raven.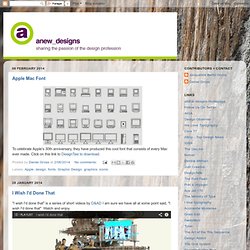 Compete or partner up with Balancing Blocks to build structures while focusing on height, gravity defying balance and style. Ten hardwood game pieces finished in non-toxic white or primary colors offer a vintage look through fun contemporary forms. Fort Standard, via thisispaper
There was rain
SONIA SZÓSTAK PHOTOGRAPHY
I grew up in Victoria, Canada. I have lived here since I was about 10 so I am very comfortable here. I'm 27.
L' oeil ailleurs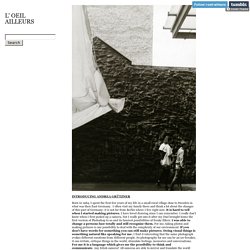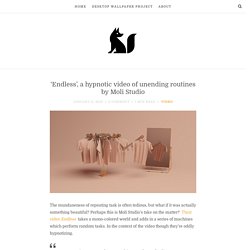 I was disappointed by the news that Google had acquired Nest. Nest to me seemed like a beacon of hope for home electronics, that someone was starting to care about the neglected appliances that we use day in and day out. Nest's CEO Tony Fadell learned his skills by helping to birth one of the most important and iconic objects of the last 100 years: the iPod. To think that such a man was setting his sites on these forgotten products had me dreaming of a fully connected home that would truly respond to our lives.
- El problema del ser y el problema del conocer. - La experiencia estética del arte constituye un banco de pruebas que nos permite acceder excepcionalmente, a través del mismo, a la estructura de nuestra propoa subjetividad, al término de una escala de registros gnoseológicos que, concomitantemente, son también niveles de realidad. - Las condiciones que hace posible la experiencia del arte tienen su origen en las condiciones que hace posible el conocimiento. - La obra de arte rompe al instante y los flujos temporales comienzan a cruzarse de una forma extraordinaria.
Visual diary of Francisca Pageo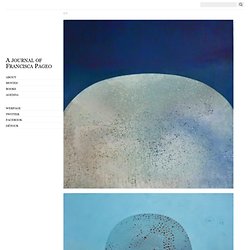 Holy Ghost
Dark Daze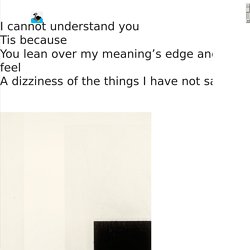 Typography, design and illustration by SasakiShun Title: @aqqdesign Folkert Photographs by Sarah Schönfeld "Sarah Schönfeld squeezed drops of various legal and illegal liquid drug mixtures onto negative film which had already been exposed. Each drop altered the coating of the film.
A Paradise Lost & Paradise Found Vol.2 Bonjour-Hi "Kiss My Mind" From conception to fruition, through ultimate failure, glimpses of hope, shared passions, hard work and shattered dreams, life always manages to stabilize, whilst not necessarily nearing perfection. In the end, we are simply left with those we've interacted with, those we've admired and those we've learned from. And thus, begins the spawning and understanding of simple human interaction. With varying and eclectic points of musical inclinations and inspirations curated and brought under one cohesive umbrella, we are proud to present "A Paradise Lost and Paradise Found Series", a collaborative selection of mixtapes done by young artists from multiple genres who are slowly carving their names in the industry.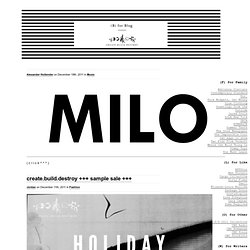 (B) for Blog