Маленькие шустрые линуксы
Lighthouse Pup 5 Downloads. Lighthouse Pup 5 Downloads Getting Started | Updates | Base ISO | Mariner ISO | SFS add-ons | C-F SFS | Development SFS | 4.x, ArchivesSystem Requirements min. 256 MB RAM, 512 MB recommended, 768 MB for the optional KDE add-on. min. 800MB storage, more for add-ons on fast (internal) media recommended.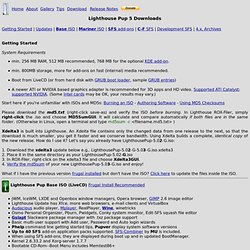 Boot from LiveCD (or from hard disk with GRUB boot loader, sample GRUB entries) A newer ATI or NVIDIA based graphics adapter is recommended for 3D apps and HD video. Supported ATI Catalyst; supported NVIDIA. (Some Intel cards may be OK, your results may vary.) Start here if you're unfamiliar with ISOs and MD5s: Burning an ISO - Authoring Software - Using MD5 Checksums. Мини-дистрибутивы для пользователей. Dreamlinux. BrowserLinux 401. CrunchBang Linux - A nimble Openbox Linux distro. DSL information. Tiny Core Linux, Micro Core Linux, 10MB Linux GUI Desktop, Live, Frugal, Extendable.
SliTaz GNU/Linux. xPUD. Puppy Linux. Bodhi Linux. Lubuntu.
---