Маленькие шустрые линуксы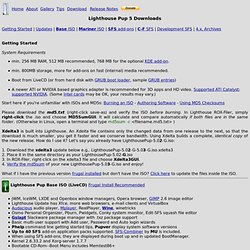 Lighthouse Pup 5 Downloads
Lighthouse Pup 5 Downloads Getting Started | Updates | Base ISO | Mariner ISO | SFS add-ons | C-F SFS | Development SFS | 4.x, ArchivesSystem Requirements min. 256 MB RAM, 512 MB recommended, 768 MB for the optional KDE add-on. min. 800MB storage, more for add-ons on fast (internal) media recommended. Boot from LiveCD (or from hard disk with GRUB boot loader, sample GRUB entries) A newer ATI or NVIDIA based graphics adapter is recommended for 3D apps and HD video. Supported ATI Catalyst; supported NVIDIA. (Some Intel cards may be OK, your results may vary.) Start here if you're unfamiliar with ISOs and MD5s: Burning an ISO - Authoring Software - Using MD5 Checksums
Мини-дистрибутивы для пользователей
Dreamlinux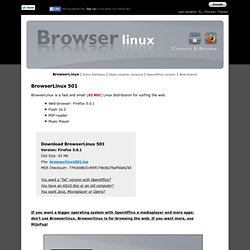 BrowserLinux 401
BrowserLinux is a fast and small (93 Mb!) Linux distribution for surfing the web. Web-browser: Firefox 5.0.1 Flash 10.3 PDF-reader Music Player If you want a bigger operating system with OpenOffice a mediaplayer and more apps: don't use Browserlinux. Browserlinux is for browsing the web. If you want more, use MijnPup!
Latest news CrunchBang 11 "Waldorf" Released Debian 7 "Wheezy" was released on May 4th. Congratulations and thank you to all involved; the Debian developers, hackers, testers, document writers, designers, bug reporters and users -- you are all awesome.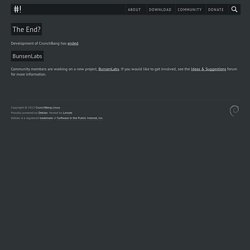 Damn Small Linux is a very versatile 50MB mini desktop oriented Linux distribution.Damn Small is small enough and smart enough to do the following things: Boot from a business card CD as a live linux distribution (LiveCD)Boot from a USB pen driveBoot from within a host operating system (that's right, it can run *inside* Windows)Run very nicely from an IDE Compact Flash drive via a method we call "frugal install"Transform into a Debian OS with a traditional hard drive installRun light enough to power a 486DX with 16MB of RamRun fully in RAM with as little as 128MB (you will be amazed at how fast your computer can be!)Modularly grow -- DSL is highly extendable without the need to customize DSL was originally developed as an experiment to see how many usable desktop applications can fit inside a 50MB live CD. It was at first just a personal tool/toy.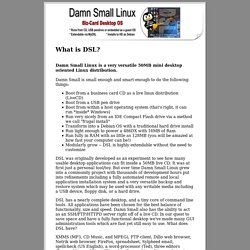 Welcome to The Core Project - Tiny Core Linux The Core Project is a highly modular based system with community build extensions. It starts with a recent Linux kernel, vmlinuz 3.0, and a 5MB core.gz. MicroCore 8MB is simply the kernel + core.gz - this is the foundation for user created desktops, servers, or appliances. TinyCore is simply the kernel + core.gz + Xvesa.tcz|Xorg.tcz + Xprogs +fltk-1.10.tcz + (user's choice of Window Manager) + wbar.tcz TinyCore becomes simply an example of what the Core Project can produce, an 12MB FLTK/FLWM desktop.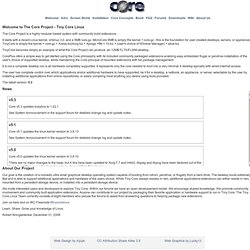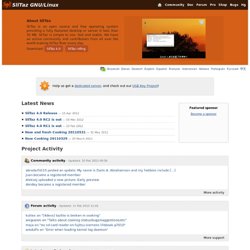 Project Activity Latest commits in wok - Updated: 01 Apr 2013 17:47 More commits Blog Posts SliTaz USB Key project launched - 24 Mar 2012 23:36 Hi all SliTaz folks, Today we are launching the SliTaz USB key project! Pre-order your own SliTaz Spider USB key for 25 Euros minimum, yes you can also give more to help the project.
xPUD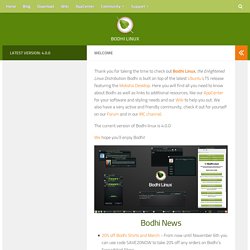 Thank you for taking the time to check out Bodhi Linux, the Enlightened Linux Distribution. Here you will find all you need to know about Bodhi as well as links to additional resources, like our AppCenter for your software needs, the Art Wiki for all your styling needs and our Documentation to help you out. We also have a very active and friendly community, check it out for yourself on our Forum and in our IRC channel. The current version of Bodhi linux is 2.4.0. We hope you'll enjoy Bodhi!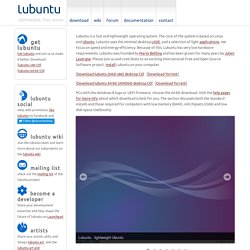 Julien Lavergne has released lubuntu 13.10. Lubuntu 13.10 is available here: What is Lubuntu ? Lubuntu is a flavor of Ubuntu based on the Lightweight X11 Desktop Environment (LXDE), as its default GUI. The goal is to provide a very lightweight distribution, with all the advantages of the Ubuntu world (repositories, support, etc.).