Seriousgame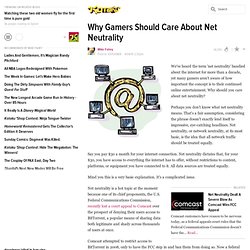 You can still vote with you wallet though. I think it's bizarre really. Seams to me some ISPs really are shooting themselves in the foot.
Why Gamers Should Care About Net Neutrality
OilStrike
A game about corporate connectedness.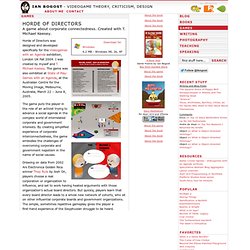 Horde of Directors
The Arcade Wire: Oil God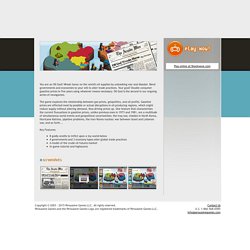 You are an Oil God! Wreak havoc on the world's oil supplies by unleashing war and disaster.
Planet Green
Poacher
Water Cooler Games
Hold the meat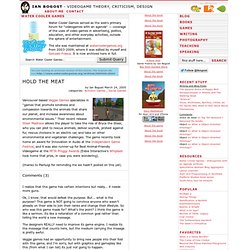 Silverback Mobile Game
Flower
The developer that brought you the award-winning PLAYSTATION Network title flOw is back with another concept that challenges traditional gaming conventions. Flower expands the team's tradition of delivering simple gameplay, accessible controls and a medium to explore emotional chords uncommon in video games.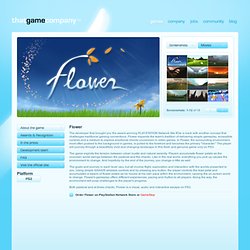 CNN Planet in Peril: Animal Rescue
Windfall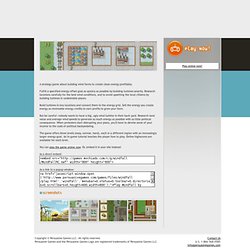 A strategy game about building wind farms to create clean energy profitably.
CED
Homeland Guantanamo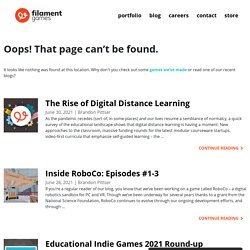 A distant planet, newly colonized, is home to an epic struggle between the rule of law and lawless chaos.
Guardian of Law | Filament Games
Welcome to the final home of the Escape From Woomera project, archived here by the grace of selectparks.net. If you want to get in touch, here's a contact email that actually works: escapefromwoomera at gmail dot com And now for a long overdue revealing of the names of the other half of the project team.
ESCAPE FROM WOOMERA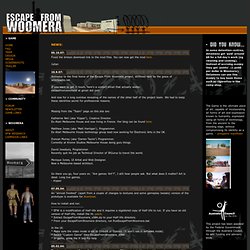 Points of Entry
Compete to award Green Cards under the Merit-Based Evaluation System included in legislation recently debated in Congress. The system proposed a Federal standard for worker visa awards, based not on individual achievement, but on a single, standardized system for all immigrants.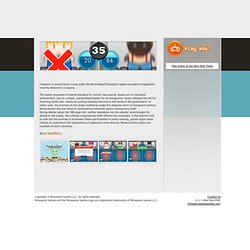 Educational Simulations Corporation
Balance of Power
Presidential Pong
Ars-Regendi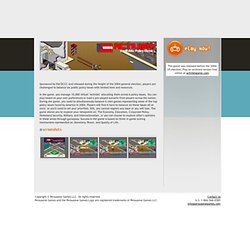 Sponsored by the DCCC and released during the height of the 2004 general election, players are challenged to balance six public policy issues with limited time and resources.
Activism, The Public Policy Game
NukeSweeper
Cruel 2 B Kind
Traces of Hope
People Power is about politics, about strategy and about social change. As a leader of a popular movement you fight against tough adversaries who control the police, the army and bureaucracy, even the media.
A Force More Powerful
The Game - Hurricane Katrina: Tempest in Crescent City
Conspiracy For Good
Emergency 911
Ayiti: The Cost of Life
A game about savings, debt, and its consequences. Commissioned by mtvU, MTV's college network, and the Peter G.
Debt Ski
Homeless: It's No Game
Conspiracy For Good
Play the News
THE FREE CULTURE GAME
Sponsored by the Illinois GOP, Take Back Illinois challenged players to explore four issues surrounding the 2004 state elections: Medical Malpractice Reform, Education Reform, Grassroots Activism, and Economic Reform. Take Back Illinois was a 2005 Slamdance Independent Game Festival Finalist.
Take Back Illinois
The Arcade Wire: Bacteria Salad
Your goal is simple: Harvest mass amounts of cheap produce and sell it for as much profit as possible.
Fatworld
Food Import Folly
Killer Flu
Organizing Game