MechWare
The Internet Craftsmanship Museum Presents: Animatronic human sculpture in bronze and stainless steel Mark Ho in his shop with finished sculpture. (Click on photo to view a larger image.) Introduction…
Artists in Metal柚ark Ho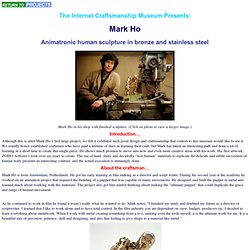 - StumbleUpon
Let me welcome you to the home page of the web site ModelEngines.info.This is a photo gallery of my handmade model engines, machines and workshop, made from my most recent digital images. There are lots of pages filled with pictures and I hope there will will be more of these to follow soon. There are steam plants and gas engines as well as a couple of more unusual types.I have also included photos taken during construction of some models. I have been encouraged by so many of you in past from your response to my Engineman site, that I feel inspired to take the more popular subjects from that site as well as any future projects and present them on this new space.
ModelEngines.info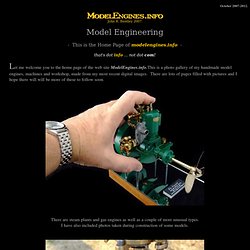 Beer Can Engines
Translate
Ideas - TREEFINDER - StumbleUpon
My subversive attempts to do something useful. The Rotary Piston Array Machine -- Air-Sea Temperature Difference Engine -- Solarthermal Power Generator The Rotary Stirling Engine The Wave Pump Heat Engine With No Compressor Portable Tent Platform The rotary piston array (RPA) is the possibly most compact and most elegant machine to transform the volumetric change of gas into shaft work and vice versa. It can be used as pneumatic motor, steam engine, gas compressor, vacuum pump and the like, but also as part of new heat or combustion engines which – like the Stirling engine – open new ways to harvest renewable energy. Other possible uses are refrigeration and air-conditioning.
Woodworking for engineers
KMODDL is a collection of mechanical models and related resources for teaching the principles of kinematics--the geometry of pure motion. The core of KMODDL is the Reuleaux Collection of Mechanisms and Machines, an important collection of 19th-century machine elements held by Cornell's Sibley School of Mechanical and Aerospace Engineering. What is Kinematics? Reuleaux Collection of Mechanisms at Cornell Clark Collection of Mechanical Movements, Museum of Science, Boston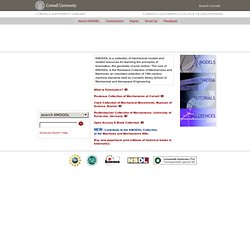 KMODDL - Kinematic Models for Design Digital Library
DMG Lib: DMG-Lib Home + News
Anodizing and dying aluminum without battery acid - Observations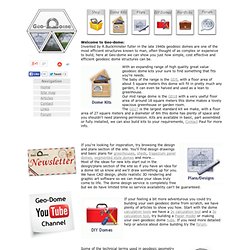 Welcome to Geo-dome: Invented by R.Buckminster fuller in the late 1940s geodesic domes are one of the most efficient structures known to man, often thought of as complex or expensive to build, here at Geo-dome we can show you just how simple, cost effective and efficient geodesic dome structures can be. With an expanding range of high quality great value geodesic dome kits your sure to find something that fits you're needs. The baby of the range is the GD5, with a floor area of about 5 square meters this dome will fit in pretty much any garden, it can even be halved and used as a lean to greenhouse. Our mid range dome is the GD18 with a very useful floor area of around 18 square meters this dome makes a lovely spacious greenhouse or garden room.
geo-dome prefab geodesic domes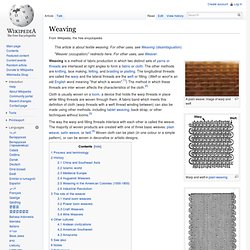 Weaving
A plain weave: image of warp and weft A satin weave, common for silk, each warp thread floats over 16 weft threads. Cloth is usually woven on a loom, a device that holds the warp threads in place while filling threads are woven through them. A fabric band which meets this definition of cloth (warp threads with a weft thread winding between) can also be made using other methods, including tablet weaving, back-strap, or other techniques without looms.[3] The way the warp and filling threads interlace with each other is called the weave.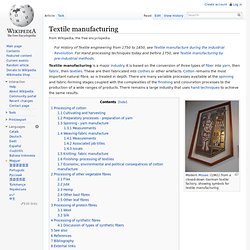 Modern Mosaic (1961) from a closed-down German textile factory, showing symbols for textile manufacturing Processing of cotton[edit] Cotton is the world's most important natural fibre. In the year 2007, the global yield was 25 million tons from 35 million hectares cultivated in more than 50 countries.[1] There are six stages[2]
Textile manufacturing
This weekend was busy. In addition to visiting a new hacker space here, we helped out a Nullspace Labs guy from downtown L.A. with his fabrication project. Fabrication generally refers to cutting and joining metal pieces to make a 3D object from basic pieces of stock that come in sticks or flat sheets. This is a bit different than machining , which is more about precision stock removal. Making something out of square, tubular, or angle stock isn't necessarily hard, but having it end up with tightly-fitted pieces, square corners and a flat base requires more than just access to a MIG welder and a hack saw. 1.
23B Shop
Main Page - VintageMachinery.org Knowledge Base (Wiki)
STAIR ROVER « PoChih Lai
Filmed by Juriaan Booij Material : aluminum, maple, bamboo, PU rubber, PVC Inspiring action The piece aims to expanding the capability and possibility of extreme sports as we understand them. Inherited from our natural instincts, sliding as children and snowboarding as adults, the focus is on one of the most influential and stimulating sports – skateboading, aiming to push the boundaries further.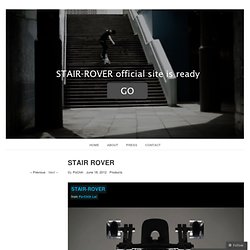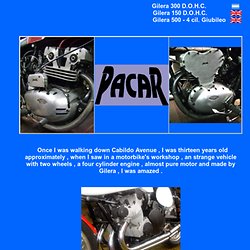 I always wanted my motorcycle works better and this "300" started to mutate . The first thing was te dynamo which was tired of working , the fourth alternator that I has installed is the one that has today with its tyristor voltage regulator , all made by myself . The following was the camshaft , it was modified but with such bad luck , when I check the values of degrees whit comparator didn't match with what they had told me , with diferences of more than 5º in general . The engine worked , but with a fuel comsumption of a 600 cc (Fiat) . I logically increased the compression into 9:1 according to the fuel at that time .
Gilera 300 - pacar