Catching Up (9/9)
No big surprise here. Customer satisfaction for Apple's iPhone continues to run high. The device has once again bested all rivals in J.D. Power's latest smartphone satisfaction study, topping the charts with an overall score of 838 out of a possible 1000 points.
Apple iPhone Owns J.D. Power's Satisfaction Crown - John Paczkowski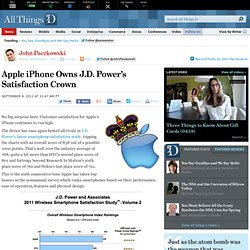 Updated: Sept. 12, 2011 at 2:50 a.m. EST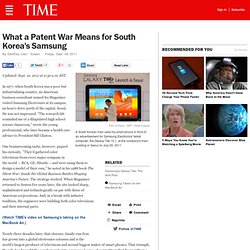 How Samsung Is Affected by Its Patent Legal War with Apple
Y Combinator Challenged By Growing Seedcamp
Bob Eisenhardt was an IT pro employed in the South Tower on 9/11. He explains what it took to recover -- both personally and in IT.
IT and life lessons from the South Tower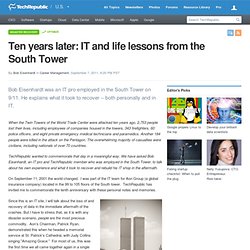 The Logged Out User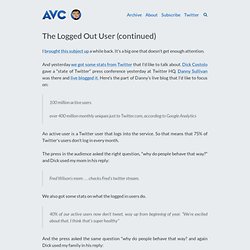 I brought this subject up a while back. It's a big one that doesn't get enough attention. And yesterday we got some stats from Twitter that I'd like to talk about. Dick Costolo gave a "state of Twitter" press conference yesterday at Twitter HQ. Danny Sullivan was there and live blogged it.
The Logged Out User (continued)
Teaching Strategies
How Project Gutenberg Changed Literature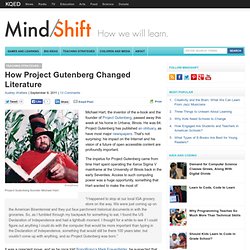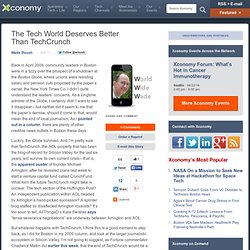 Wade Roush9/9/11 Back in April 2009, community leaders in Boston were in a tizzy over the prospect of a shutdown at the Boston Globe, where unions were resisting salary and pension cuts proposed by the paper's owner, the New York Times Co. I didn't quite understand the leaders' concerns. As a longtime admirer of the Globe, I certainly didn't want to see it disappear—but neither did it seem to me that the paper's demise, should it come to that, would mean the end of local journalism. As I pointed out in a column, there are plenty of other credible news outlets in Boston these days.
The Tech World Deserves Better Than TechCrunch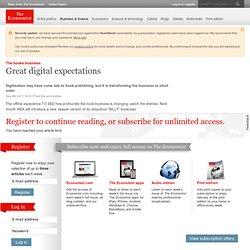 The books business: Great digital expectations
The offline experience TO SEE how profoundly the book business is changing, watch the shelves. Next month IKEA will introduce a new, deeper version of its ubiquitous "BILLY" bookcase. The flat-pack furniture giant is already promoting glass doors for its bookshelves.
9 September 2011Last updated at 12:19 GMT Microsoft's cloud computing suite Office 365 went offline briefly, along with Hotmail and Skydrive Millions of Microsoft users were left unable to access some online services overnight because of a major service failure. Hotmail, Office 365 and Skydrive were among the services affected. Microsoft was still analysing the cause of the problem on Friday morning, but said it appeared to be related to the internet's DNS address system. Such a major problem is likely to raise questions about the reliability of cloud computing versus local storage.
Microsoft online services hit by major failure
Windows 8 Boot Time
When it comes to talking about "fundamentals" we want to start with boot time – no feature gets talked about and measured more. We designed Windows 8 so that you shouldn't have to boot all that often (and we are always going to work on reducing the number of required restarts due to patching running code). But when you do boot we want it to be as fast as possible.