Catching Up (10/13)
Britons leave internet passwords in wills. Why grown women, not just girls, need more tech role models. This week, we had Meebo CTO and co-founder Sandy Jen come into the VentureBeat studio to talk about women and tech.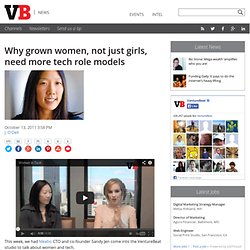 We've featured a few strong and opinionated women CEOs and CTOs in our videos lately, because we think it's important to show the female faces and voices in the tech industry. And in this interview, Jen said that's one of the most important things for encouraging more female entrepreneurship. After we chatted about Jen's background (not one but both parents were engineers) and the importance of diversity in startup teams, she went on to say that she and many women like her are hesitant to leave companies and step into co-founder roles simply because they don't see many precedents for that kind of behavior.
Apple's New IPhone Sells Out at U.S. Carriers. Apple Inc.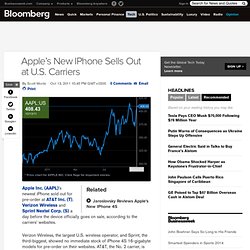 (AAPL)'s newest iPhone sold out for pre-order at AT&T Inc. (T), Verizon Wireless and Sprint Nextel Corp. (S) a day before the device officially goes on sale, according to the carriers' websites. Verizon Wireless, the largest U.S. wireless operator, and Sprint, the third-biggest, showed no immediate stock of iPhone 4S 16-gigabyte models for pre-order on their websites. iPhone 4S Teardown. iFixit: "Siri, may we disassemble you for all to see?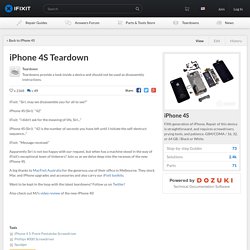 " iPhone 4S (Siri): "42" iFixit: "I didn't ask for the meaning of life, Siri... " Does Google Have What It Takes To Be A Platform, Rather Than A Product, Company? Nearly seven years ago, I wrote about the idea that there was a "battle to own the internet," and that if Google really wanted to succeed, it had to move away from just being a product company to being a true platform company that had a much more open setup, which did much more to encourage developers to build on top of it.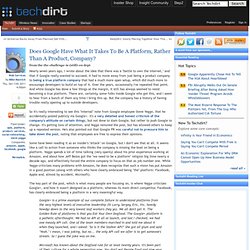 Over the years, occasionally I've repeated that point. And while Google has done a few things at the margin, it still has always seemed to resist becoming a true platform. There are, certainly, some folks inside Google who get this, and I seem to hear from a bunch of them any time I bring this up. Worldwide, newspapers reach more people than the Internet, WAN-IFRA survey shows.
WAN-IFRA At the World Newspaper Congress and World Editors Forum in Vienna, Austria, a survey of 69 countries showed where print circulation, revenue and mobile use were rising for newspapers, and where they are declining.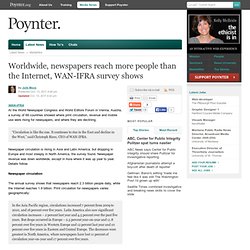 "Circulation is like the sun. It continues to rise in the East and decline in the West," said Christoph Riess, CEO of WAN-IFRA. Newspaper circulation is rising in Asia and Latin America, but dropping in Europe and most steeply in North America, the survey found. Newspaper revenue was down worldwide, except in Asia where it was up year to year. What We Are Seeing. The Wall Street Journal has a story out today that says "Web Startups Hit Cash Crunch.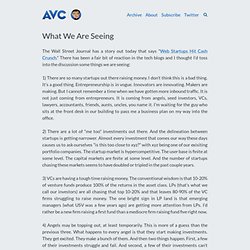 " There has been a fair bit of reaction in the tech blogs and I thought I'd toss into the discussion some things we are seeing: 1) There are so many startups out there raising money. Stepping Back From The Angel Bubble. [ Photo courtesy of Fir0002/Flagstaffotos via Creative Commons License ]By Jason CalacanisEveryone is talking about the startup bubble popping today thanks to a Wall Street Journal story that Fred Wilson responded to.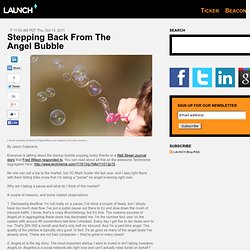 You can read about all this on the awesome Techmeme aggregator here: No one can call a top to the market, but VC Mark Suster did last year, and I was right there with them letting folks know that I'm taking a "pause" on angel investing right now. New Data Shows Why the Wall Street Journal is Confused About the Startup Cash Crunch. By Ben Popper 10/13/11 9:15am Share this: Data via CB Insights At the beginning of August, Betabeat began talking about a coming crunch for seed stage companies in New York.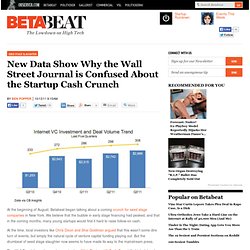 We believe that the bubble in early stage financing had peaked, and that in the coming months, many young startups would find it hard to raise follow-on cash. Pearltrees for iPad is a Must-Have App. "Tell me when it's an iPad app," I've told the team behind web curation startup Pearltrees over and over again.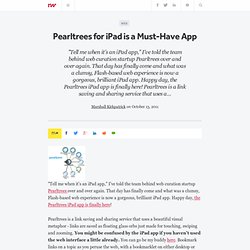 That day has finally come and what was a clumsy, Flash-based web experience is now a gorgeous, brilliant iPad app. Happy day, the Pearltrees iPad app is finally here! Pearltrees is a link saving and sharing service that uses a beautiful visual metaphor - links are saved as floating glass orbs just made for touching, swiping and zooming. Scott Forstall, the Sorcerer's Apprentice at Apple. The deteriorating health of Steve Jobs loomed over Apple's (AAPL) Oct. 4 press event at the company's headquarters in Cupertino, Calif.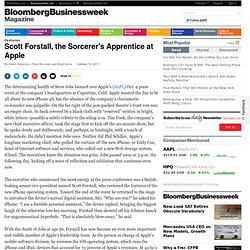 Apple wanted the day to be all about its new iPhone 4S, but the absence of the company's charismatic co-founder was palpable. On the far right of the jam-packed theater's front row was an empty chair, its back covered by a black cloth with "reserved" written in bright, white letters—possibly a subtle tribute to the ailing icon. Dear Mozilla: Fix Your Damn Browser Already | Just Well Mixed. Posted on Wednesday, October 12, 2011 Longtime Readers of this blog will be aware that I have been a fan of Mozilla for a long time. There's nearly ten years of Mozilla advocacy tucked away in the JWM archives.
I've been on the Mozilla fanboy train since before Firefox even existed — all the way back to the original Mozilla Suite's Milestone 17 release, the first version after the Netscape exodus I used regularly, which Wikipedia tells me shipped on August 7, 2000. That's back when Bill Clinton was president. So I don't like that I have to write this post, but I calls 'em like I sees 'em. Page vows 'automagical' results with Google+ | Digital Media. Google+ now has more than 40 million users, and Google chief executive Larry Page told analysts that the company is well on its way toward using G+ data to transform users' experiences with the company's services.
In a quarterly conference call with analysts this afternoon, Page said Google's goal is to customize the Web for users based on what it learns from their social-media experience. The company added 100 Google+ features in its first 90 days , helping it better understand users and tailor its search results. "It's still incredibly early days for Google+ because our goal is actually far bigger than the individual feature launches themselves," Page said.
"Our ultimate ambition is to transform the overall Google experience, making it beautifully simple, almost automagical, because we understand what you want and can deliver it instantly. " Google's third quarter results shine, Google+ hits 40 million users. Google handily topped expectations with its third quarter results and allayed concerns about the economy's effect on search advertising. Google reported third quarter earnings of $2.73 billion, or $8.33 a share, on revenue of $7.51 billion, excluding traffic acquisition costs of $2.21 billion. Non-GAAP earnings were $9.72 a share in the third quarter.
---