Brownies
Brownies are sort of like cheesecake, aren't they? There's nothing better than the perfect dense, fudgy brownie , just like not much can beat a classic piece of creamy cheesecake. Yet with both of these desserts we're always fiddling around with different versions, swirling things in and layering things on the top and the bottom (incidentally, peanut butter goes well with both!). It's an endless merry go round of dessert experimentation, where there really can never be a bad result. Feel free to check out all of my brownie recipes and cheesecake recipes to see how many times I have spun around this little kitchen carousel. But like a little kid at the amusement park, you never want the ride to stop, so we keep going… which is where these amazing brownies come in.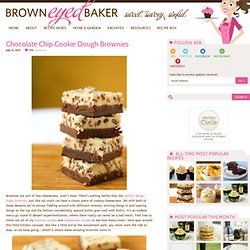 Cookie Dough Brownies
First, there is a brownie layer. Good heck. It's soft and moist and full of rich, chocolate flavor with the tinsiest hint of nutella hidden inside.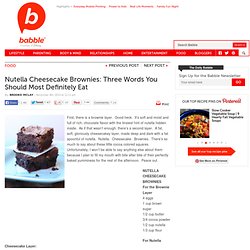 Nutella Cheesecake Brownies: The Definition of Perfection
Banana Split Brownies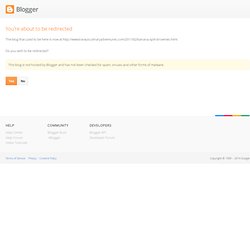 Confession time - I succumbed to the marked-down, slightly-browned bananas when I was at the grocery store recently, despite having a huge resealable bag full of them in my freezer. You can never have too many bananas, right? That's my theory and I'm sticking to it. They've been sitting on our island starting at me all week, begging to be used.
Mississippi Mud Snapping Turtle Brownies
I can't leave anything alone. That's my problem. If something has 9000 calories in it, I find a way to make it richer, denser, fatter.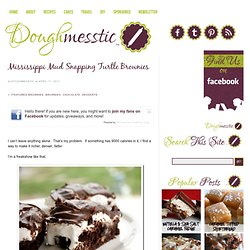 Mocha Brownies With Coffee Frosting Recipe - Food.com - 103762
Fudgy cheesecake brownies — Home cooking rocks!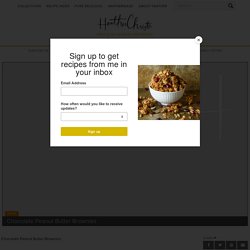 Chocolate Peanut Butter Brownies
February 4th, 2011 Chocolate Peanut Butter Brownies My favorite dessert combination is peanut butter and chocolate- like my favorite drugstore candy is a Reese's Peanut butter cup hands down! This is a very indulgent, rich and beautiful version of that old fashioned combo. When I saw the cover of Bon Appetite this month, a stack of brownies piled high, I was totally inspired.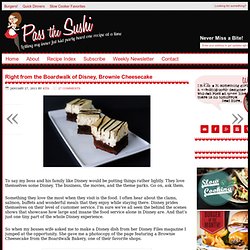 To say my boss and his family like Disney would be putting things rather lightly. They love themselves some Disney. The business, the movies, and the theme parks. Go on, ask them. Something they love the most when they visit is the food.
Right from the Boardwalk of Disney, Brownie Cheesecake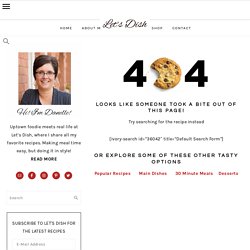 Filed under Desserts Ingredients 1 box brownie mix + ingredients to make brownies 8 ounces semi-sweet chocolate, chopped 1 cup heavy cream 1 tablespoon light corn syrup Chopped nuts, sprinkles, toasted coconut, etc. for garnish Directions Preheat oven to 325 degrees. Make brownie mix according to package directions. Spoon a generous teaspoon of brownie batter into each tin of a well greased mini muffin pan. Do not overfill. Brownies should just reach the top of the pan when baked--you don't want muffin tops.
BROWNIE BITES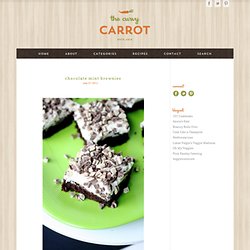 Chocolate Mint Brownies
Yes, yes, yes. Yes, I know I posted a dessert last time. I know.
Blondies, the weird half sister of brownies... some love them, some hate them. I told John these were blondies... he looked at them and said "but they're brown..." well that's what happens when you use almond butter, whole wheat flour, and apple butter in them I guess. So these are brown blondies... doesn't sound so appetizing does it... hmmmm ok call them whatever you want but I'm calling them tasty! You might be wondering... apple butter?? Huh???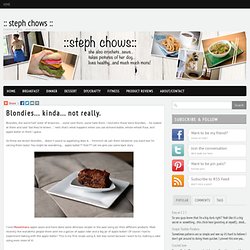 :: steph chows ::: Blondies... kinda... not really.
Caramel Brownies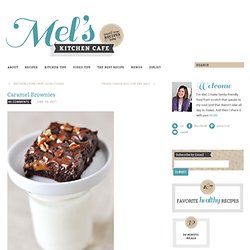 Caramel brownies. Everyone needs a recipe in their arsenal and let me tell you, these are possibly some of the most luscious, decadent brownies I have ever eaten. A brownie base cooks alone and is then smothered with creamy caramel and another layer of brownie batter and chocolate chips (and nuts, too, if you love 'em!). Those layers bake together to create a dense, rich brownie infused with chewy, gooey caramel.