Brownies
Chocolate Chip Cookie Dough Brownies. Brownies are sort of like cheesecake, aren't they?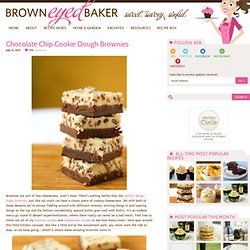 There's nothing better than the perfect dense, fudgy brownie, just like not much can beat a classic piece of creamy cheesecake. Yet with both of these desserts we're always fiddling around with different versions, swirling things in and layering things on the top and the bottom (incidentally, peanut butter goes well with both!). It's an endless merry go round of dessert experimentation, where there really can never be a bad result. Feel free to check out all of my brownie recipes and cheesecake recipes to see how many times I have spun around this little kitchen carousel. But like a little kid at the amusement park, you never want the ride to stop, so we keep going… which is where these amazing brownies come in. Cookie Dough Brownies. Nutella Cheesecake Brownies: The Definition of Perfection. First, there is a brownie layer.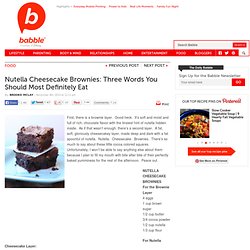 Good heck. It's soft and moist and full of rich, chocolate flavor with the tinsiest hint of nutella hidden inside. Banana Split Brownies. Mississippi Mud Snapping Turtle Brownies. I can't leave anything alone.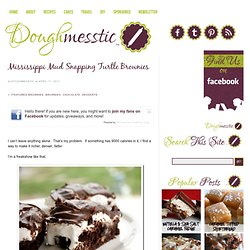 That's my problem. If something has 9000 calories in it, I find a way to make it richer, denser, fatter. Mocha Brownies With Coffee Frosting Recipe - Food.com - 103762. Fudgy cheesecake brownies — Home cooking rocks! This is my second attempt at making cheesecake brownies.
The first batch that I baked last summer didn't turn out so well but this batch turned out perfectly. The chocolate layer is fudgy rather than bread-like — just the way I like my brownies. If you prefer bread-like rather than fudgy brownies, you can always use your favorite brownie recipe. Right from the Boardwalk of Disney, Brownie Cheesecake. BROWNIE BITES. Chocolate Mint Brownies. Yes, yes, yes.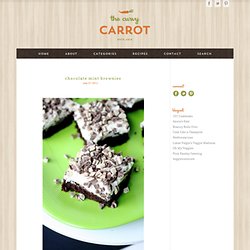 Yes, I know I posted a dessert last time. I know. Blondies... kinda... not really. Blondies, the weird half sister of brownies... some love them, some hate them.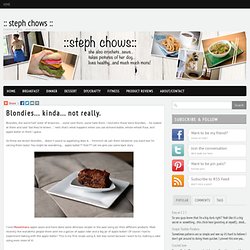 I told John these were blondies... he looked at them and said "but they're brown... " well that's what happens when you use almond butter, whole wheat flour, and apple butter in them I guess. So these are brown blondies... doesn't sound so appetizing does it... hmmmm ok call them whatever you want but I'm calling them tasty! You might be wondering... apple butter?? Huh??? Caramel Brownies. Caramel brownies.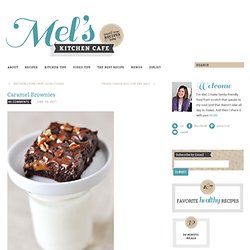 Everyone needs a recipe in their arsenal and let me tell you, these are possibly some of the most luscious, decadent brownies I have ever eaten. A brownie base cooks alone and is then smothered with creamy caramel and another layer of brownie batter and chocolate chips (and nuts, too, if you love 'em!). Those layers bake together to create a dense, rich brownie infused with chewy, gooey caramel.
---