Gaming
Le Monde.fr | • Mis à jour le | Par Laurent Checola
Le cloud gaming, laboratoire de modèles économiques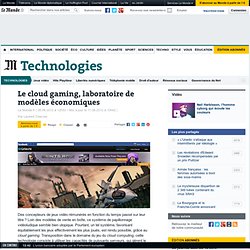 Les différentes versions du jeu « Angry Birds » ont été téléchargées plus d'un milliard de fois. C'est le chiffre annoncé cette semaine par Rovio, leur éditeur finlandais. Par comparaison, la population mondiale avoisine les sept milliards de personnes. On mesure ainsi la performance, même si une personne peut télécharger plusieurs versions du jeu sur plusieurs plateformes. Un milliard de téléchargements pour « Angry Birds » Autres indicateurs du succès :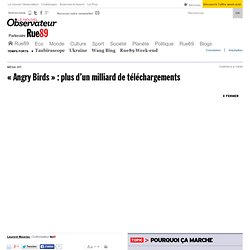 Plus d'oiseaux lancés dans « Angry Birds » qu'il n'en existe sur la planète
Advertisement The gaming industry is huge, and it can keep its audience consumed for hours, days and even weeks.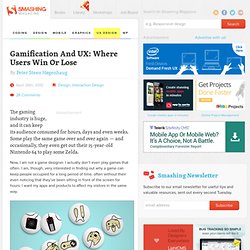 L'incroyable rentabilité de l'éditeur des jeux pour mobile "Angry Birds"
Une poule aux ?ufs d?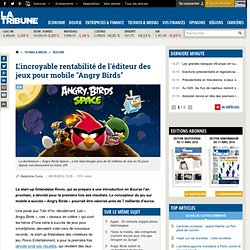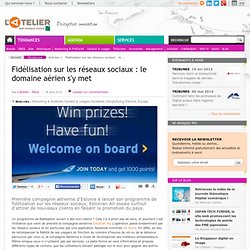 Première compagnie aérienne d'Estonie à lancer son programme de fidélisation sur les réseaux sociaux, Estonian Air essaie surtout d'attirer de nouveaux clients en faisant la promotion du pays.
Fidélisation sur les réseaux sociaux : le domaine aérien s'y met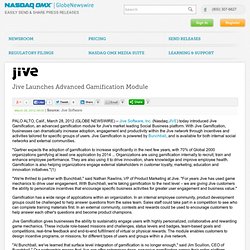 Jive Launches Advanced Gamification Module (Nasdaq:JIVE)
PALO ALTO, Calif., March 28, 2012 (GLOBE NEWSWIRE) -- Jive Software, Inc.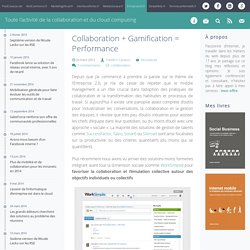 Collaboration + Gamification = Performance
Depuis que j'ai commencé à prendre la parole sur le thème de l'Entreprise 2.0, je n'ai de cesse de répéter que le middle management a un rôle crucial dans l'adoption des pratiques de collaboration et la transformation des habitudes et processus de travail. Si aujourd'hui il existe une panoplie assez complète d'outils pour industrialiser les conversations, la collaboration et la gestion des équipes, il n'existe que très peu d'outils industriel pour assister les chefs d'équipe dans leur quotidien, ou du moins d'outil avec une approche "sociale".
Source: Draw Something Nears 50 Million Downloads
Zynga rachète l'éditeur de Draw Something
L'éditeur vient d'annoncer la disponibilité d'un nouveau module apportant à son réseau social d'entreprise (RSE) des mécanismes de jeu et le lancement d'une solution d'intranet social.
Jive met les pieds dans la Gamification et l'intranet social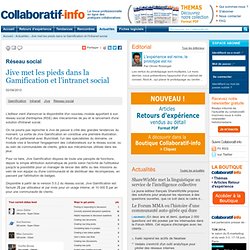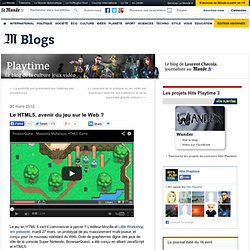 Le jeu en HTML 5 va-t-il commencer à percer ?
Le HTML5, avenir du jeu sur le Web ?
Mobile Games Account for 52% of App Sessions so far in 2012
Game developers are gathering in San Francisco this week at the Moscone Convention Center for the Game Developers Conference. Collectively, game developers should give themselves a pat on the back. According to new data from mobile analytics company Flurry, they are absolutely killing it. According to Flurry, games accounted for 52% of mobile sessions in January and February 2012. Flurry sampled the data from 64 billion app sessions over 500 million devices. Game sessions are up 20.5 times over the same time period in 2010 and 15.2 times from this time last year.
La science des jeux sociaux
Les jeux sur réseaux sociaux, qui réunissent des centaines de millions d'utilisateurs chaque mois, constituent une mine de données pour les concepteurs.
La croissance du marché du jeu est portée par les jeux sur réseaux sociaux et par navigateur. Reste que les modèles d'affaire qui les porteront ne sont pas encore toujours évidents à déterminer. Les jeux sociaux et ceux sur navigateur web prennent de plus en plus l'ascendant : ces deux types de jeu en ligne représentaient à eux deux 40% du marché en 2011 contre 20% en 2008 en Amérique du nord et en Europe.
Les jeux sociaux et via le navigateur toujours plus populaires
Zynga s'émancipe de Facebook avec son propre réseau social
En quête d'indépendance, Zynga vient d'entamer un véritable virage stratégique. En effet, le leader américain du social gaming a annoncé officiellement hier le lancement imminent de son propre réseaux social.
Zynga's Secret Plan For Growth: Push Other People's Games
Le leader des jeux sociaux, Zynga, a annoncé, mercredi 21 mars, qu'il achetait son concurrent OMGPOP, dans une transaction que des sites d'informations spécialisées aux Etats-Unis ont chiffrée à 200 millions de dollars (151 millions d'euros).
zynga-achete-omgpop-editeur-de-draw-something_1674071_651865
Facebook gaming on the decline