Web
Color Palette Generator. Color Palette Generator URL of image: Make color schemes.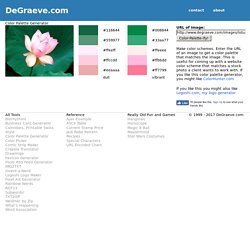 Enter the URL of an image to get a color palette that matches the image. This is useful for coming up with a website color scheme that matches a stock photo a client wants to work with. If you like this color palette generator, you might like ColorHunter.com. ColourGrab.com - Colouring The World. 8 Useful CSS Tools. Writing better CSS is something all web designers and developers should strive for, and thankfully there are some useful tools out there to help do just that.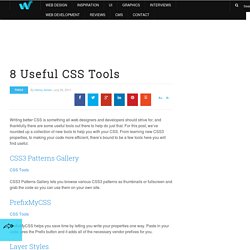 For this post, we've rounded up a collection of new tools to help you with your CSS. From learning new CSS3 properties, to making your code more efficient, there's bound to be a few tools here you will find useful. CSS3 Patterns Gallery. Kuler. FontStruct | Build, Share, Download Fonts. Color Scheme Designer 3.
New Tab. A part of every web designer's functions is to find new methods for improving the way things are made, this includes finding ways of reducing file sizes, cleaning messy code, optimizing images and testing the site's performance As web designers, we're always looking for new tools and gadgets to make our lives easier and be able to work faster and more effectively.
These tools can be helpful in many different ways, including image editors, code formatters, SEO analyzers and more; we have gathered more than 250 web design tools that will help you save time and concentrate in the most relevant aspects in web design instead of figuring out how to optimize a CSS, boost your site's traffic or reduce a JPEG size. Web Editors and Generators For the first category we have web editors and generators. These tools fulfill a role similar to the one provided by programs such as Dreamweaver with the advantage of being usually free and lightweight. Little Boxes.
Don't Fear the Internet. Create a Website. CSS3.0 Maker. 40 Generators for Designers. Online Generators for Web Designers can be a great way to save time in your web design projects.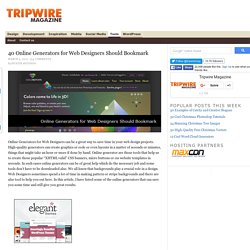 High-quality generators can create graphics or code or even layouts in a matter of seconds or minutes, things that might take an hour or more if done by hand. Online generator are those tools that help us to create those popular "XHTML valid" CSS banners, micro buttons or css website templates in seconds. In such cases online generators can be of great help which do the necessary job and some tools don't have to be downloaded also. Background Generators. Using good background image in web design can really lift up a simple layout.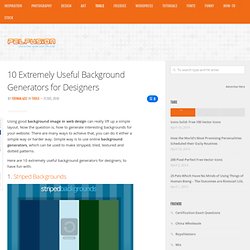 Now the question is, how to generate interesting backgrounds for your website. There are many ways to achieve that, you can do it either a simple way or harder way. Web Design Trends in 2011. There is a thin line between design and development, and as we move into a new decade, this line is becoming extremely blurry.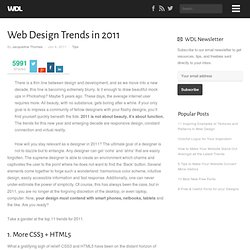 Is it enough to draw beautiful mock ups in Photoshop? Maybe 5 years ago. These days, the average internet user requires more. All beauty, with no substance, gets boring after a while. If your only goal is to impress a community of fellow designers with your flashy designs, you'll find yourself quickly beneath the tide. 2011 is not about beauty, it's about function. 15 sites designers should know. ColorCombos When designing a website, one of the firsts (and most important) steps of the process is to choose a color scheme.
Color Combos allow you to browse thousand of different colors combinations for getting inspired for your upcomming design. Color schemes can be browsed by colors.Visit colorcombos.com.
---