Home Printer
Contour Crafting: 3D House Printer
Contour Crafting: 3D House Printer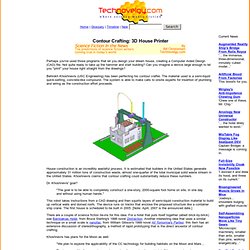 3d-printer for building assembly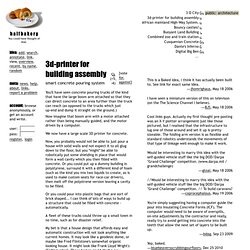 You'll have seen concrete pouring trucks of the kind that have the large boom arm attached so that they can direct concrete to an area further than the truck can reach (as opposed to the trucks which just up-end and dump it straight on the ground.)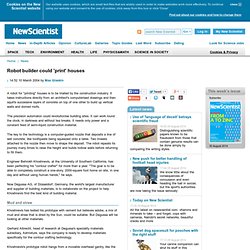 Robot builder could 'print' houses - 10 March 2004 - New Scienti
A robot for "printing" houses is to be trialled by the construction industry. It takes instructions directly from an architect's computerised drawings and then squirts successive layers of concrete on top of one other to build up vertical walls and domed roofs. The precision automaton could revolutionise building sites.
Make: Online : Giant 3D printer can print buildings (theoretical
Blueprint Magazine describes a very neat machine : In a small shed on an industrial park near Pisa is a machine that can print buildings.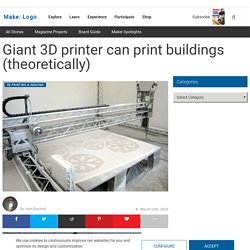 blog: 3D printing buildings: interview with Enrico Dini of D_Sha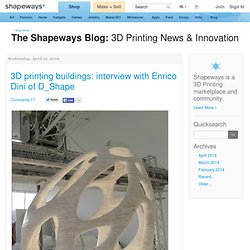 Enrico Dini dreamt of buildings, construction and impossible shapes. He was particularly inspired by Gaudi's architecture and loved his fantastic(in every sense) work. He became a Civil engineer and later branched out into making machines.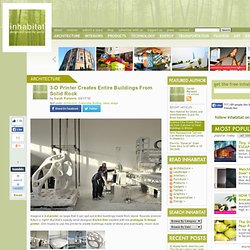 3-D Printer Creates Entire Buildings From Solid Rock | Inhabitat
Imagine a 3-d printer so large that it can spit out entire buildings made from stone. Sounds science fiction-y, right? But that's exactly what designer Enrico Dini created with his prototype D-Shape printer .