Foodz
Chocolate Chip Lava Cookies. I am so in love with these darn chocolate lava cookies!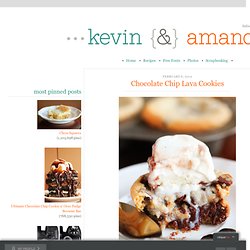 What is it about a warm, gooey chocolate chip cookie stuffed with decadent, rich, melted chocolate that makes it so irresistible?? Especially when topped with vanilla ice cream. These are one of Kev's favorite homemade treats, and he usually asks me to make them at least once a week. They are so simple to whip up, and such a treat! Chocolate Nutella Scotcheroos. Chocolate Nutella Scotcheroos This spin on the classic Rice Krispies Treats is kicked up with the addition of peanut butter, chocolate, Nutella and butterscotch.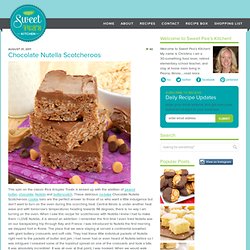 These delicious no-bake Chocolate Nutella Scotcheroos cookie bars are the perfect answer to those of us who want a little indulgence but don't want to turn on the oven during this scorching heat. Parmesan Roasted Potatoes. Ok fine.
I'm officially ready to make the transition to fall. And I thought, what better way to do it than with my all time favorite Parmesan Roasted Potatoes! These are like candy. 100% addictive. Vertical Layer Cake Tutorial. I really need to preface this tutorial with...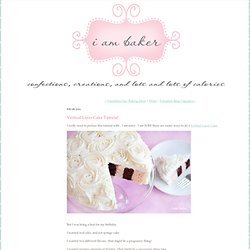 I am sorry. I am SURE there are easier ways to do a Vertical Layer Cake. But I was being a brat for my birthday. I wanted real cake, and not sponge cake. Thaaank You, Betty! This recipe may be harmful to certain New Year's Resolutions.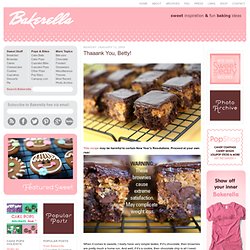 Proceed at your own risk! When it comes to sweets, I really have very simple tastes. If it's chocolate, then brownies are pretty much a home run. The Infamous Jacques Torres Chocolate Chip Cookies. Now, I have a chocolate chip cookie recipe that I swear by.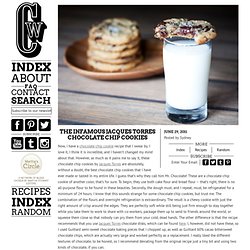 I love it, I think it is incredible, and I haven't changed my mind about that. However, as much as it pains me to say it, these chocolate chip cookies by Jacques Torres are absolutely, without a doubt, the best chocolate chip cookies that I have ever made or tasted in my entire life. I guess that's why they call him Mr. Chocolate! These are a chocolate chip cookie of another color, that's for sure.
---