June 1 2011
10 Great Magazine Ads That Don't Just Sit There Looking Pretty
Top ten tips for incredibly successful public speaking
I've been to something like one hundred conferences and corporate events in the past several years as I travel the world delivering keynotes and running seminars. I've seen a few great speeches. Sadly, most speeches I see are not very good. Some are downright terrible. I've been collecting some observations on what makes a good presentation and also drawing from my own experience. Most of us have an opportunity to speak, perhaps at your industry event, or your company's sales conference, or to a local club.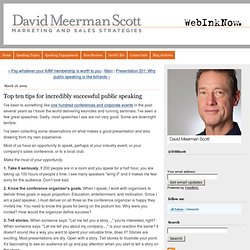 eHarmony Video Bio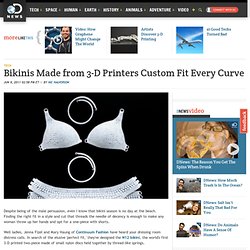 Bikinis Made from 3-D Printers Custom Fit Every Curve
Despite being of the male persuasion, even I know that bikini season is no day at the beach. Finding the right fit in a style and cut that threads the needle of decency is enough to make any woman throw up her hands and opt for a one-piece with shorts.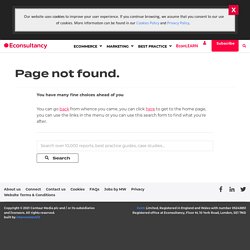 Digital agencies are bastards born out of the loveless marriage between creative agencies and the software industry
Why digital agencies need a fresh gene pool | Opinion | New Media Age
John Hagel – Gathering '11: an opportunity to make meaningful change
Jean Russell interviews opening speaker, John Hagel, on "the power of pull" and the opportunity to make meaningful change at Gathering '11. Jean: Hi John, Thank you for sharing with me today.
Thiel: Tech Bubble? What Tech Bubble?
The Blue Ocean in RED - Ideas and Inspiration on Vimeo
Fotolia's Social Media News Release - The blogger's resource to information
Quicklinks AP Images now distribute Fotolia images April 26, 2012 - We're very excited to announce that as of today, APImages will be giving customers access to millions of royalty-free Fotolia images. The collaboration between AP and Fotolia makes this an industry first in one-stop-shop for all imagery needs. "We're excited to be part of yet another industry first by opening up a new market for our 126,000-plus artists", said Oleg Tscheltzoff, co-founder and CEO of Fotolia. "We believe this is just the first step in a strategic alliance that will allow both of us to continue our industry-leading innovations, grow our companies and benefit our customers." Fotolia acquires crowd sourcing design community Wilogo.com March 15, 2012 - We now offer a new way for designers and clients to stay connected.
Brain Waves Surge Moments Before Death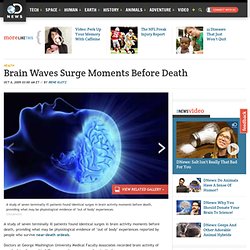 A study of seven terminally ill patients found identical surges in brain activity moments before death, providing what may be physiological evidence of "out of body" experiences reported by people who survive near-death ordeals.
Do psychics now pose just as big a threat to journalistic verification skills as social media?
There is a lovely coy line in this BBC report about the hoax call about mass graves in Texas last night: "US police say there were no bodies found at a house in east Texas, where an anonymous caller claiming to be a psychic said there was a mass grave. US media earlier reported there were up to 30 dismembered bodies including children buried there."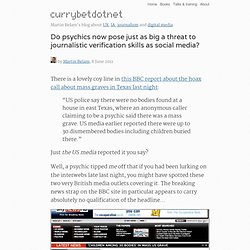 Forsook! Google Can't Spell "Facebook"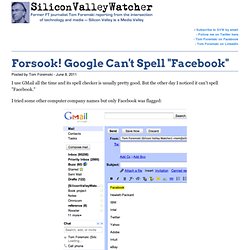 Posted by Tom Foremski - June 8, 2011 I use GMail all the time and its spell checker is usually pretty good. But the other day I noticed it can't spell "Facebook."
Andresen on BitCoin and Virtual Currency
Gavin Andresen, Principal of the BitCoin Virtual Currency Project, talks with EconTalk host Russ Roberts about BitCoin, an innovative attempt to create a decentralized electronic currency. Andresen explains the origins of BitCoin, how new currency gets created, how you can acquire BitCoins and the prospects for BitCoin's future. Can it compete with government-sanctioned money? How can users trust it? What threatens BitCoin and how might it thrive?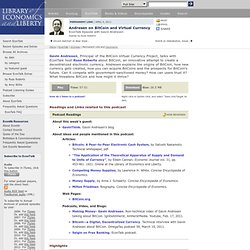 I write a little about the work I do - PHP, AJAX, HTML5, CSS3, jQuery, Web Fonts, MySQL, Data Visualization and such, at this link: I used to blog here, but I don't anymore. I now blog using Google+. You can view my public posts, even if you aren't a Google+ user, at this link:
Malware Gangs Run Ads To Hire New Coders | donmcarthur.com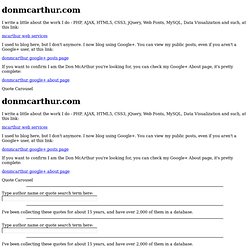 Is there greater thrill than encountering a new species technology in the wild ?
The Stealthy Anonymart
Why Some People Eat Dirt
Amid the countless edible plants and animals on Earth, there's little consideration for the ground beneath our feet. Intentionally eating dirt, also called geophagy, is a natural instinct and may serve a greater health purpose.
New Study: Sharing Accounts for 31 Percent of Referral Traffic
"Accentuate the positive," the 1944 song by Johnny Mercer and Harold Arlen cheerfully implored us. From Benjamin Franklin's 1750 Poor Richard's Almanack (which advised readers that "sorrow is good for nothing but sin") to today's parade of motivational speakers, Americans have long embraced an optimistic, "can-do" attitude toward life. Plug "positive thinking" into Amazon.com, and you will find a never-ending supply of products designed to help us see life through rose-colored lenses, including a "Power of Positive Thinking" wall calendar and an "Overcoming Adversity with Encouragement and Affirmation" poster series. In fact, however, positivity is not all it is cracked up to be. Although having an upbeat attitude undoubtedly has its benefits, gains such as better health and wealth from high spirits remain largely undemonstrated. What is more, research suggests that optimism can be detrimental under certain circumstances.
Can Positive Thinking Be Negative?
Are you using social media tools to the best of your ability? If not, you may be missing out. June 06, 2011
Why Your Small Business Should Act Like A Social Media Company
Oracle wants a huge cut of Google's mobile advertising revenue plus compensation for fragmentation of Java
One of the best-kept secrets in the patent dispute between Oracle and Google is what Oracle demands in terms of compensation for past damages and on which terms (monetary and other conditions) Oracle might allow Google to continue to distribute its Dalvik virtual machine as a result of a settlement or, alternatively, if Oracle prevailed in court and obtained an injunction. The details of those demands are still not known. It was always obvious that Oracle wanted a lot. They wouldn't sue for chicken feed, and if their demands were very limited, this would have been settled a while ago. But for the first time in this entire lawsuit (which began almost ten months ago), a publicly accessible document provides, despite some blackened passages, a pretty good indication as to how demanding Oracle is. I have analyzed the situation and I can tell you up-front: the word "demanding" is an understatement.
Apple Has Finally Stuck A Dagger Into SMS. I Love It.
AOL After the Honeymoon - Jeff Bercovici - Mixed Media
French media tweet and poke ban
U.N. Report Declares Internet Access a Human Right | Threat Level
Horn Group, Inc. > Blog
Tweet late, email early, and don't forget about Saturday: Using data to develop a social media strategy » Nieman Journalism Lab » Pushing to the Future of Journalism
Why Startups Should Raise Money at the Top End of Normal | Both Sides of the Table
Groupon Is Overstating Revenue By 140%, Should Voluntarily Postpone IPO
Blog Archive » The Rolltop Laptop
Analyzing the metered model