TreeHouse
Spectacular Abodes / Inhabited Tree House, Seattle Washington. Something to Talk about / Oh darling, let's be adventurers. Hairstyles / TREEhouse. Dream Home / Can you imagine? Amazing Treehouses I'd actually live in. Okay, so maybe I wouldn't live in all of these, but definitely most of them.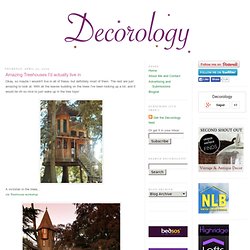 The rest are just amazing to look at. With all the leaves budding on the trees I've been looking up a lot, and it would be oh so nice to just wake up in the tree tops! A victorian in the trees...via Treehouse workshop via Lovely Happenings a petite castlevia Tree--houses. Home decorateing ideas / Please let me live here. Home decorateing ideas / Spiral stairs with tree in center - Love this! Home decorateing ideas / swim in the river, feel the current. Kids / oooooo. treehouse. Abode / My kids will want this treehouse! Barbie Dream House / this is amazing. For the Home / my children will have this one day! Africa?s Most Luxurious Safari Vacations. Watch a few movies and you'll have yourself believing that Safari's are nothing but sweat-filled hours in the sun and dust while watching for a few large animals after spending the night in a humid camp, but Hollywood has done nothing to portray the true beauty that can be experienced when participating in a real safari. If you love incredible sunsets, rare and exotic wildlife, and romantic evenings with the one you love, Africa has more to offer than you might at first expect. Below are our seven favorite Safari lodges in Africa. Each provides incredible accommodations designed to help you begin and end your excursions in luxury and style. Look! A Tricked-Out Treehouse | Apartment Therapy San Francisco. All sizes | Treehouses at Night. _kret69AICl1qzzh8ko1_500.jpg (JPEG Image, 480x291 pixels) Vythri4.jpg (JPEG Image, 700x501 pixels) 51283-bff775-530-530.jpg (JPEG Image, 530x530 pixels) Just for Jack: A Boys Dream Loft Play House. 20 Tree House Pictures: Play-Club Plans to Big-Kid Houses. Treehouses are more popular than ever, as play spaces for children but also as luxury hotel (and even house) designs for adults.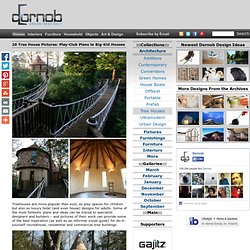 Some of the most fantastic plans and ideas can be traced to specialist designers and builders – and pictures of their work can provide some of the best inspiration (as well as an informal visual guide) for do-it-yourself recreational, residential and commercial tree buildings. Blue Forest is one such company, but far from the only one. Ol Treehouses from around the world. Showcasing some of the coolest tree houses you'll ever see including the world's largest treehouse.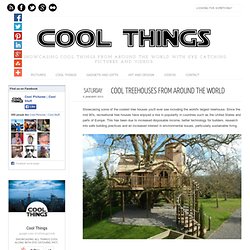 Since the mid 90's, recreational tree houses have enjoyed a rise in popularity in countries such as the United States and parts of Europe. This has been due to increased disposable income, better technology for builders, research into safe building practices and an increased interest in environmental issues, particularly sustainable living. Did you want to live in a tree house when you were children growing up? Tree houses, luxury real estate. Fantasy Forest Treehouses. TreeHouse Workshop. Dblood.jpg (JPEG Image, 503x612 pixels) - Scaled (93%) My little Robinson Crusoe house. Awesome Treehouses (32 pics) Mapleisland. Green Treehouse Provides an Incredible Learning Playground Camp Twin Lakes Green Tree House 6 – Inhabitat - Green Design Will Save the World. Stunning design and green architecture shouldn't be reserved just for adults, as showcased by this gorgeous green treehouse built by the architects at Lord, Aeck & Sargent.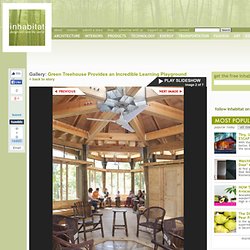 Constructed as an extension to Camp Twin Lakes, a camp dedicated to kids with special needs, this treehouse is not only beautiful, fun and kid friendly, but green as well! The treehouse, also known as the "Wild Side," was built to be completely wheelchair accessible along either of the camp's two lake-bound trails. The architects intended to create a space where kids could begin to connect with nature and learn about the different ecosystems that surround them. The World's Largest Treehouse for $7 million! I thought I had treehouses pretty well figured out.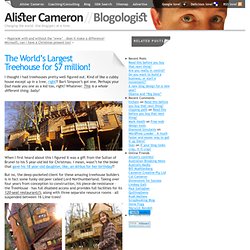 Kind of like a cubby house except up in a tree, right?! Bart Simpson's got one. Perhaps your Dad made you one as a kid too, right? Whatever. All sizes | Minister's Treehouse, Crossville, TN.
---