Blogs
- Fareed Zakaria. David Brooks. David Brooks became a New York Times Op-Ed columnist in September 2003.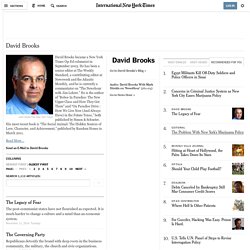 He has been a senior editor at The Weekly Standard, a contributing editor at Newsweek and the Atlantic Monthly, and he is currently a commentator on "The Newshour with Jim Lehrer. " He is the author of "Bobos In Paradise: The New Upper Class and How They Got There" and "On Paradise Drive : How We Live Now (And Always Have) in the Future Tense," both published by Simon & Schuster. His most recent book is "The Social Animal: The Hidden Sources of Love, Character, and Achievement," published by Random House in March 2011. Mr. Maureen Dowd Columnist Page. Maureen Dowd, winner of the 1999 Pulitzer Prize for distinguished commentary, became a New York Times Op-Ed columnist in 1995 after having served as a correspondent in the paper's Washington bureau since 1986.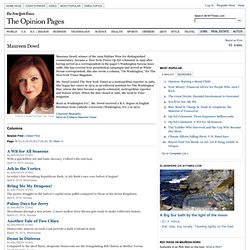 She has covered four presidential campaigns and served as White House correspondent. She also wrote a column, "On Washington," for The New York Times Magazine. Ms. Hullabaloo. Paul Krugman. Paul Krugman joined The New York Times in 1999 as a columnist on the Op-Ed Page and continues as professor of Economics and International Affairs at Princeton University.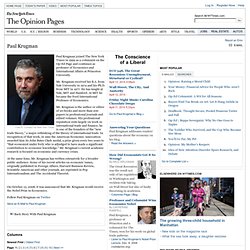 Mr. Krugman received his B.A. from Yale University in 1974 and his Ph.D. from MIT in 1977. Bullpen - News, Commentary, and Opinion. Charts. Democracy in America. Reddit Politics. Nicholas D. Kristof. Michael Medved. Top Conservative News, Opinion & Analysis Magazine - Townhall.com. Commentary » Max Boot. - Charles Krauthammer Archive. Robert Reich. Beat the Press. Glenn Kessler, the Washington Post fact checker, gave President Obama two Pinocchios for saying that women earn on average just 77 cents for every dollar that men earn.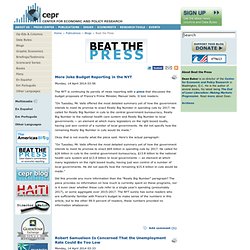 Kessler makes some valid points as to why this number overstates the gap. First it is an annual number that doesn't take account of the fact that women are more likely to work part-time and part-year. It is also true that women typically have less work experience because they take time out of the paid labor force. These and other factors (some of which go in the other direction) would be important items to take into account in a full examination of gender inequality.
But has President Obama really committed a two-Pinocchio offense by using a number straight out of Census data without these additional qualifications?
---