Blogs
- Fareed Zakaria
Fareed Zakaria Opinion Writer Fareed Zakaria writes a foreign affairs column for The Post.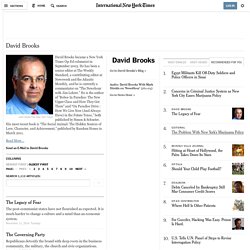 David Brooks became a New York Times Op-Ed columnist in September 2003. He has been a senior editor at The Weekly Standard, a contributing editor at Newsweek and the Atlantic Monthly, and he is currently a commentator on "The Newshour with Jim Lehrer." He is the author of "Bobos In Paradise: The New Upper Class and How They Got There" and "On Paradise Drive : How We Live Now (And Always Have) in the Future Tense," both published by Simon & Schuster. His most recent book is "The Social Animal: The Hidden Sources of Love, Character, and Achievement," published by Random House in March 2011. Mr.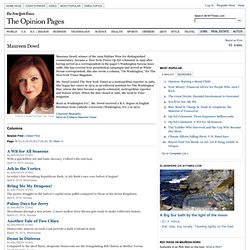 Maureen Dowd Columnist Page
Maureen Dowd, winner of the 1999 Pulitzer Prize for distinguished commentary, became a New York Times Op-Ed columnist in 1995 after having served as a correspondent in the paper's Washington bureau since 1986. She has covered four presidential campaigns and served as White House correspondent. She also wrote a column, "On Washington," for The New York Times Magazine. Ms.
Hullabaloo
Wednesday, January 15, 2014 Poor Chris, made fun of by his idol by digbyPretty much everyone's seen this, but for those who haven't ... digby 1/15/2014 06:00:00 PM Forced childbirth for jobs deficit reduction?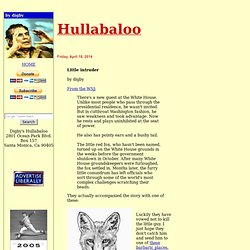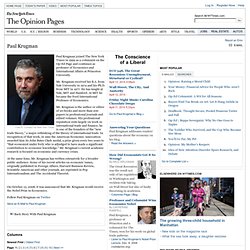 Paul Krugman joined The New York Times in 1999 as a columnist on the Op-Ed Page and continues as professor of Economics and International Affairs at Princeton University. Mr. Krugman received his B.A. from Yale University in 1974 and his Ph.D. from MIT in 1977.
Bullpen - News, Commentary, and Opinion
Charts
Democracy in America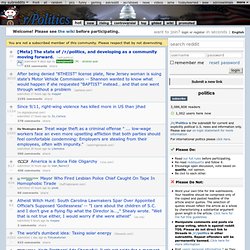 Welcome! Please see the wiki before participating. /r/Politics is a subreddit for current U.S. political news and information only. * For international politics please click here.
My Sunday column is about the unfortunate way America has marginalized university professors–and, perhaps sadder still, the way they have marginalized themselves from public debate. When I was a kid, the Kennedy administration had its "brain trust" of Harvard faculty members, and university professors were often vital public intellectuals who served off and on in government. That's still true to some degree of economists, but not of most other Ph.D programs. And we're all the losers for that.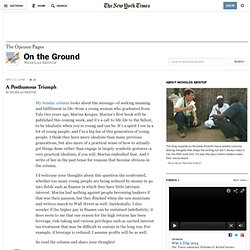 Michael Medved
Jan 17, 2014 | Login | Signup Court: Bloggers have First Amendment protections Judge Declares NC Abortion Ultrasound Law Illegal Young Liberal: As Much As I Support Obamacare, I Just Can't Afford It Michelle Malkin: John Kerry, Jihad Coddler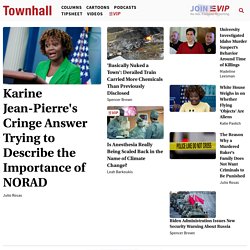 Thanks in large part to the efforts of French Interior Minister Manuel Valls, Dieudonné, the anti-Semitic French propagandist who describes himself as a comedian, is finally on the defensive. Last week, as thousands of enthusiasts turned up for one of his shows in the city of Nantes–as can be seen in the photos here, many of them were hipsters making the quenelle, the inverted Nazi salute which Dieudonné devised–Valls successfully appealed to France's Council of State to shut down the performance. Mindful that Dieudonné has already racked up seven convictions for anti-Semitic hate speech–including one last year following a media interview in which he stated, "the biggest crooks in the world, that's the Jews"–Valls deemed that "peddlers of hate stop at nothing and show boundless creativity … the status quo is not a solution."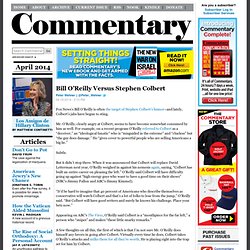 Charles Krauthammer writes a weekly political column that runs on Fridays. He is also a Fox News commentator and appears nightly on "Special Report with Bret Baier." Krauthammer joined The Post as a columnist in 1984, and he received the Pulitzer Prize for Commentary in 1987 for "his witty and insightful columns on national issues." Krauthammer began his journalism career at The New Republic, where he was a writer and editor and won the 1984 National Magazine Award for Essays and Criticism. Before going into journalism, he was a speechwriter for Vice President Walter Mondale in 1980, he helped direct planning in psychiatric research for the Carter administration, and he practiced medicine for three years as a resident and then chief resident in psychiatry at Massachusetts General Hospital. Krauthammer was born in New York City and grew up in Montreal, Quebec.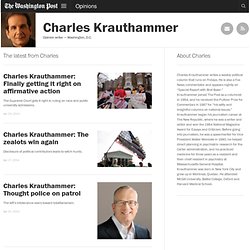 For almost forty years Republicans have pursued a divide-and-conquer strategy intended to convince working-class whites that the poor were their enemies. The big news is it's starting to backfire. Republicans told the working class that its hard-earned tax dollars were being siphoned off to pay for "welfare queens" (as Ronald Reagan decorously dubbed a black single woman on welfare) and other nefarious loafers. The poor were "them" — lazy, dependent on government handouts, and overwhelmingly black — in sharp contrast to "us," who were working ever harder, proudly independent (even sending wives and mothers to work, in order to prop up family incomes dragged down by shrinking male paychecks), and white. It was a cunning strategy designed to split the broad Democratic coalition that had supported the New Deal and Great Society, by using the cleavers of racial prejudice and economic anxiety.
Beat the Press
Peter Wallison, who was White House Counsel under President Reagan and has long been a fellow at the American Enterprise Institute, told NYT readers today that the housing bubble is back. Wallison is right to be concerned about the return of a bubble, as I have pointed out elsewhere, but his account of the last bubble and the risks of a new one are strangely off the mark. Wallison wants to blame the bubble on government policy of promoting homeownership. There certainly has been a problem of a housing policy that is far too tilted toward homeownership, but this does not explain the bubble. Fannie Mae and Freddie Mac were bad actors in the bubble years, buying up trillions of dollars of loans issued on houses purchased at bubble inflated prices, as I said at the time. However the worst loans were securitized by folks like Citigroup, Merrill Lynch, and Goldman Sachs.