Blogs
- Fareed Zakaria
Fareed Zakaria Opinion Writer Fareed Zakaria writes a foreign affairs column for The Post.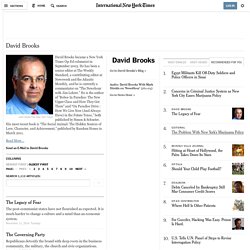 David Brooks became a New York Times Op-Ed columnist in September 2003. He has been a senior editor at The Weekly Standard, a contributing editor at Newsweek and the Atlantic Monthly, and he is currently a commentator on "The Newshour with Jim Lehrer." He is the author of "Bobos In Paradise: The New Upper Class and How They Got There" and "On Paradise Drive : How We Live Now (And Always Have) in the Future Tense," both published by Simon & Schuster. His most recent book is "The Social Animal: The Hidden Sources of Love, Character, and Achievement," published by Random House in March 2011. Mr.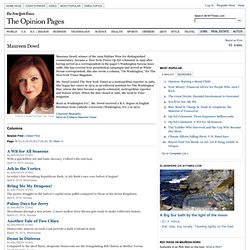 Maureen Dowd Columnist Page
Maureen Dowd, winner of the 1999 Pulitzer Prize for distinguished commentary, became a New York Times Op-Ed columnist in 1995 after having served as a correspondent in the paper's Washington bureau since 1986. She has covered four presidential campaigns and served as White House correspondent. She also wrote a column, "On Washington," for The New York Times Magazine. Ms.
Hullabaloo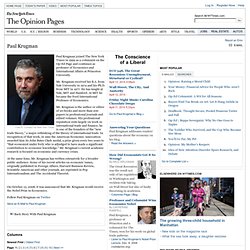 Paul Krugman joined The New York Times in 1999 as a columnist on the Op-Ed Page and continues as professor of Economics and International Affairs at Princeton University. Mr. Krugman received his B.A. from Yale University in 1974 and his Ph.D. from MIT in 1977.
Bullpen - News, Commentary, and Opinion
Charts
Democracy in America
Nicholas D. Kristof
Michael Medved
Beat the Press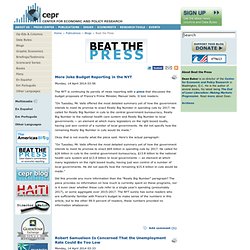 Peter Wallison, who was White House Counsel under President Reagan and has long been a fellow at the American Enterprise Institute, told NYT readers today that the housing bubble is back. Wallison is right to be concerned about the return of a bubble, as I have pointed out elsewhere, but his account of the last bubble and the risks of a new one are strangely off the mark. Wallison wants to blame the bubble on government policy of promoting homeownership. There certainly has been a problem of a housing policy that is far too tilted toward homeownership, but this does not explain the bubble. Fannie Mae and Freddie Mac were bad actors in the bubble years, buying up trillions of dollars of loans issued on houses purchased at bubble inflated prices, as I said at the time. However the worst loans were securitized by folks like Citigroup, Merrill Lynch, and Goldman Sachs.