Storylined
GWS1. Posted Sep.29.04 at 12:01 am I've been waiting to officially announce this for months.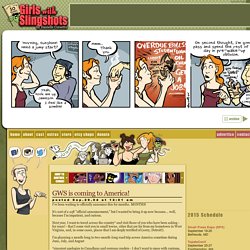 MONTHS! It's sort of a soft "official announcement," but I wanted to bring it up now because... well, because I'm impatient, and curious. Next year, I want to travel across the country* and visit those of you who have been asking - for years! - that I come visit you in small towns, cities that are far from my hometown in West Virginia, and, in some cases, places that I am deeply terrified of (sorry, Detroit!). Least I Could Do: the Comic » by Ryan Sohmer and Lar deSouza. Looking For Group.
An Online Graphic Novel by Daniel Lieske - Chapter 1 - The Last Day Of School. 1p12.
---