Service Design
Temp
The Future Of Customer Experience – 3 Examples Of Virtual Assistants, Biometrics And Siri-Style Services. The future of customer service is less about the people than it is the sound of a person or the virtual image of an individual.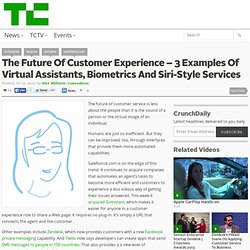 Humans are just so inefficient. But they can be improved, too, through interfaces that provide them more automated capabilities. Salefsorce.com is on the edge of this trend. It continues to acquire companies that automates an agent's tasks to become more efficient and customers to experience a less odious way of getting their issues answered. This week it acquired GoInstant, which makes it easier for anyone in a customer experience role to share a Web page. The Elements Of The Mobile User Experience. Advertisement Mobile users and mobile usage are growing.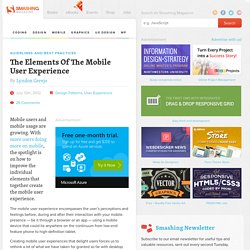 With more users doing more on mobile1, the spotlight is on how to improve the individual elements that together create the mobile user experience. The mobile user experience encompasses the user's perceptions and feelings before, during and after their interaction with your mobile presence — be it through a browser or an app — using a mobile device that could lie anywhere on the continuum from low-end feature phone to high-definition tablet. The Future Of Customer Experience – 3 Examples Of Virtual Assistants, Biometrics And Siri-Style Services. How to build Emotions into Customer Journey Mapping. For ten years Beyond Philosophy has been advocating that emotions account for over half of a Customer Experience.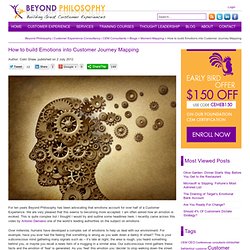 We are very pleased that this seems to becoming more accepted. I am often asked how an emotion is evoked. This is quite complex but I thought I would try and outline some headlines here. I recently came across this video by Antonio Damasio one of the world's leading authorities on the subject on emotions. Enhancing the service blueprint – Carrie Chan. The Gist Service blueprinting is a tool used by service designers to model service processes from the customer's perspective.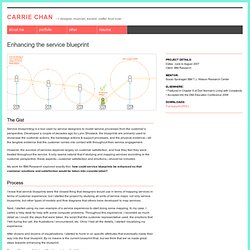 Developed a couple of decades ago by Lynn Shostack, the blueprints are primarily used to showcase the customer actions, the backstage actions & support processes, and the physical evidence—all the tangible evidence that the customer comes into contact with throughout their service engagement. Carrie Chan Interview « Design for Service. Carrie Chan is a recent graduate of the Masters program at the Carnegie Mellon School of Design.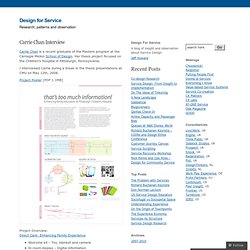 Her thesis project focused on the Children's Hospital in Pittsburgh, Pennsylvania. I interviewed Carrie during a break in the thesis presentations at CMU on May 12th, 2008. Project Poster [PDF 1.1MB] Project Overview:Direct Care: Enhancing Family Experience Welcome kit – Toy, blanket and cameraIn-room display – Digital informationMobile monitoring device – Webcam updatesParents' corner – In-room whiteboardAt-home website – Integrated informationFarewell gift – Photos, cards.
Service Design Inspiration. Customer service is failing consumers [infographic] Use our methods. DP0 (Design Project Zero) is a 90-minute (including debrief) fast-paced project though a full design cycle.
Students pair up to interview each other, create a point-of-view, ideate, and make a new solution that is "useful and meaningful" to their partner. Two versions of DP0 are "The Wallet Project" and "The Gift-Giving Project". They have the similar format, only the topic is different. The original DP0 The Wallet Project was created for the d.school's very first course in 2004 and the project starts with students looking at the content of their partner's wallet or purse (and goes on to ask every student to design something for their partner).
Another DP0 topic is The Gift-Giving Project where students are asked to redesign how their partner gives gifts. UX Week 2011: Only Good Touching. Customer Experience Lessons – United Airlines | Pivot Point Solutions | Pragmatic Approaches to Improving the Customer Experience. This is the second in a three-post series about recent trends and lessons-learned in customer experience.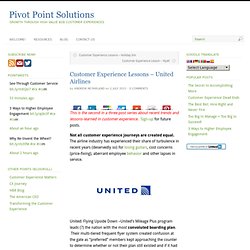 Sign-up for future posts. Not all customer experience journeys are created equal. The airline industry has experienced their share of turbulence in recent years (deservedly so) for losing guitars, cost concerns (price-fixing), aberrant employee behavior and other lapses in service. United: Flying Upside Down –United's Mileage Plus program leads (?) I heart frameworks « My most popular post is about customer experience maps – it gets about 50 hits a day (I'm blogging plankton in the scheme of things so 50 is a lot for me).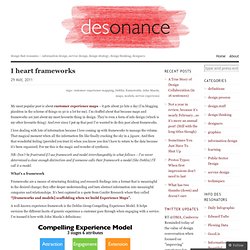 I'm chuffed about that because maps and frameworks are just about my most favourite thing in design. They're even a form of info design (which is my other favourite thing). And ever since I put up that post I've wanted to do this post about frameworks. I love dealing with lots of information because I love coming up with frameworks to manage the volume. Customer-journey-map-example-1.png (PNG Image, 1920×1080 pixels) - Scaled (53%) The Anatomy of an Experience Map.
Experience maps have become more prominent over the past few years, largely because companies are realizing the interconnectedness of the cross-channel experience.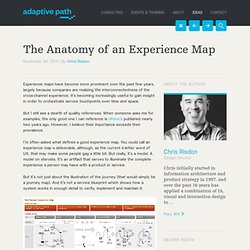 It's becoming increasingly useful to gain insight in order to orchestrate service touchpoints over time and space. But I still see a dearth of quality references. When someone asks me for examples, the only good one I can reference is nForm's published nearly two years ago. However, I believe their importance exceeds their prevalence. I'm often asked what defines a good experience map. Customer Journey Map | Continuous Improvement | Customer Experience. In a previous post, I discussed how most Lean practitioners focus primarily on the mechanical aspects of a process and often ignore the emotions of the customer .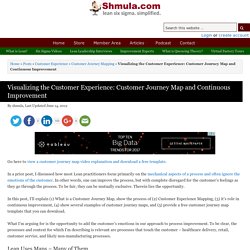 In other words, one can improve the process, but with complete disregard for the customer's feelings as they go through the process. To be fair, they can be mutually exclusive. Therein lies the opportunity. In this post, I'll explain (1) What is a Customer Journey Map, (2) it's role in continuous improvement, (3) show several examples of customer journey maps, and (4) provide a free customer journey map template that you can download. What I'm arguing for is the opportunity to add the customer's emotions in our approach to process improvement. RailEurope_AdaptivePath_CXMap_FINAL.pdf (application/pdf Object) What's Your Touchpoint ROI? | Touchpoint Dashboard. I was talking with a friend who works in the public relations field about an issue he was having with receiving funding for a project at his company. Even though this conversation occurred several months ago, a comment he made continues to linger in my mind: "It's making a difference, but if you can't prove it works with financial figures, you might as well kiss it good-bye."
I think we can all relate to that statement. It's no secret that companies are more and more strategic and stringent with how they go about allocating resources across their organizations. This is a good thing. But, for those who are charged with demonstrating and quantitatively proving the value and return of their projects and activities, particularly if they don't have a concrete, black and white, dollars and cents way to measure success, it can cause headaches. Aviva. In this nine-part video series, Darren Cornish, Director of Customer Experience for Aviva, is interviewed by Colin Shaw about how how to start a company-wide initiative to improve customer experience.
Aviva is one of Britain's largest insurance providers. In this ten-part video series, Darren Cornish, DIrector of Customer Experience, discusses how he started a a company-wide initiative to improve customer experience that started with engaging the senior team. The series below consists of these 9 videos. Aviva Case Study. What makes a great brand experience? Experiencemap1.pdf (application/pdf Object) How To Map The Emotional Customer Experience.
Most customer experience maps exclude one of the most important, most influential indicators related to driving loyalty, which is customer emotion. Bored during Hurrican Irene, I was perusing Twitter updates and stumbled upon a link called "Mapping The Emotional Customer Experience". I clicked to learn more, because the topic sounded intriguing. The related projects I had been involved in to date were all process or technically oriented and did not consider emotions or feelings. I clicked on the link and spent quite awhile reading an article and then listening to a webinar called, "See What Your Customers See: Mapping Your Real Customer Experience" from Beyond Philosophy, a customer experience consulting firm with offices in the US and UK. It was fascinating content, which inspired this blog post. Cooking Up a Winning Customer Journey Map Part II: The Recipe | Touchpoint Dashboard.
If you've never designed a customer journey map, it's hard to know where to start. That's why we wanted to share a five-step recipe for how to build a basic map. It's important to note that if you haven't read our post that outlines the ingredients for a winning customer journey map, we highly recommend that you read it first. For those of you who have read the first post and have gathered all of your ingredients, let's get cookin'! Step 1: Determine Your Mapping Method & Design Figuring out how to design your map can be tricky because there are dozens of ways to do it. Cooking Up a Winning Customer Journey Map | Touchpoint Dashboard. What is a Customer Experience Map? | Touchpoint Dashboard. Identify Your Buried Treasurepoints with a Touchpoint Map | Touchpoint Dashboard. Service design is Dead. The New Product is Alive. Map_b_desonance.jpg (JPEG Image, 800×505 pixels)
Return-experience-map_desonance_nov-11.pdf (application/pdf Object) Creating Your Own "Customer Journey Map" Customer Journey Mapping Resources On The Web. Promised an experience; given a map: Filing a Tax Return Experience Map (Part B) « Customer Journey Map. Service Design Tools | Communication methods supporting design processes. Customer journey mapping: Mapping out customer experience excellence. & Service Blueprinting « Customer Experience Mapping & « Service Design Research. This is Service Design Thinking - Book Trailer / Explanimation. The State of Customer Service in 2012.
---