Flash
Adobe Labs - Homepage. Tutorials. 30 Hand-picked Flash and Essential Actionscript 3.0 Tutorials - Noupe Design Blog. Apr 27 2009 Using Flash properly, allows you to create stunning visual experience and offer your visitors amazing user interaction.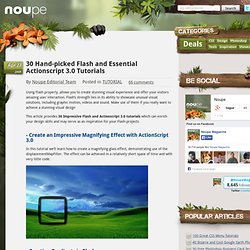 Flash's strength lies in its ability to showcase unusual visual solutions, including graphic motion, videos and sound. Make use of them if you really want to achieve a stunning visual design. Flash ActionScript 3.0 Tutorials. AS3: Contact Form Learn how to create an email contact form for your website.Added on August 9, 2010 AS3: Changing Colors Learn how to change the color of an object using the ColorTransform Class.Added on November 30, 2009.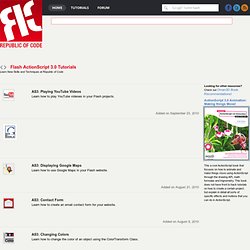 Flash - Utiliser du XML en ActionScript 3. Il arrive fréquemment, lorsque l'on manipule de l'xml via l' ActionScript 2, que l'on en arrive à écrire une chose du genre :docXML.firstChild.childNodes[2].childNodes[i].ChildNodes[j].ChildNodes[e].attributes.name en cherchant une simple propriété de noeud xml...Pas pratique n'est ce pas ?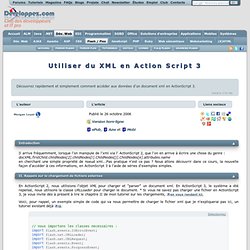 Nous allons découvrir dans ce cours, la nouvelle façon d'accéder à ces informations, en ActionScript 3 à l'aide de séries d'exemples simples. En ActionScript 2, nous utilisions l'objet XML pour charger et "parser" un document xml. En ActionScript 3, le système a été repensé, nous utilisons la classe URLLoader pour charger le document. * Si vous ne savez pas charger une fichier en ActionScript 3, je vous invite dès à présent à lire le chapitre II de mon tutoriel sur les chargements, en vous rendant ici.
Voici, pour rappel, un exemple simple de code qui va nous permettre de charger le fichier xml que je n'expliquerai pas ici, un tutoriel existant déjà là. Learn Flash | Adobe Flash Developer Center. Build a Dynamic Guest Book with XML and ActionScript 3.0. Guest books are a great thing to enhance the online experience your viewers receive.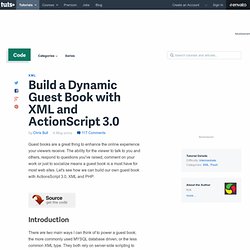 The ability for the viewer to talk to you and others, respond to questions you've raised, comment on your work or just to socialize means a guest book is a must have for most web sites. Let's see how we can build our own guest book with ActionsScript 3.0, XML and PHP. Introduction. GotoAndLearn() - Free video tutorials from Lee Brimelow on Adobe. Cookbooks.
Papervision3D. MAD VERTICES: Papervision 3D Tutorials (with Videos) PaperVision 3D : Texturer et interagir avec les faces d'un cube. - Le blog de Romain Dedenis. Comme promis, voici notre nouveau tutoriel, nous allons voir comment texturer les faces de notre cube avec des images et comment interagir avec chaque face pour créer un menu 3d par exemple.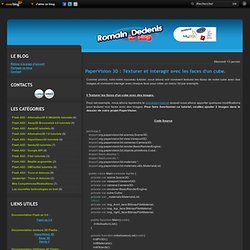 I/ Texturer les faces d'un cube avec des images. Pour cet exemple, nous allons reprendre le précédent tutoriel auquel nous allons apporter quelques modifications pour texturer nos faces avec des images. Pour faire fonctionner ce tutoriel, veuillez ajouter 3 images dans le dossier de votre projet PaperVision. Résultat Obtenu. Papervision tutorials. Tweetr :: SWFJunkie. Tweetr is a simple to use AS3 Twitter API Library.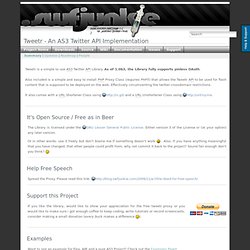 As of 1.0b3, the Library fully supports pinless OAuth. Also included is a simple and easy to install PHP Proxy Class (requires PHP5) that allows the Tweetr API to be used for flash content that is supposed to be deployed on the web. Effectively circumventing the twitter crossdomain restrictions. It also comes with a URL Shortener Class using and a URL Unshortener Class using It's Open Source / Free as in Beer. Flash&Flex 6/2009. The efnx code blog.
---