Terminologie
Human Resources Lexicon
Terminologie
Börse Stuttgart :: Glossar
Glossary
In an auction, all buy and sell orders are pooled and matched in an order book; the auction price is determined according to the principle of highest volume transacted.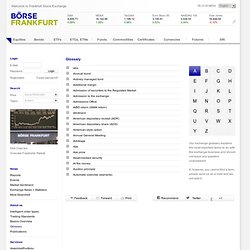 termprofile.com | web statistics for language professionals
ETB Webseite
TAUS Data - Online TMs von Unternehmen
Terminologie Bilanzierung
Microsoft Sprachenportal
TMs Bundestag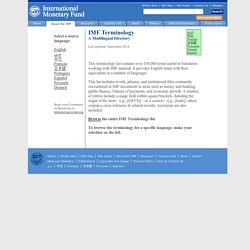 IMF TerminologyA Multilingual Directory Last updated: April 2013 This terminology list contains over 150,000 terms useful to translators working with IMF material. It provides English terms with their equivalents in a number of languages. This list includes words, phrases, and institutional titles commonly encountered in IMF documents in areas such as money and banking, public finance, balance of payments, and economic growth.
Mit dem Dictionary bietet Ihnen der Sprachendienst der Oesterreichischen Nationalbank Zugriff auf ausgewählte Themenbereiche seines deutsch-englischen Fachvokabulars, das im Zuge seiner Übersetzungstätigkeit für die OeNB und die Europäische Zentralbank (EZB) erarbeitet wurde und laufend erweitert wird. Die Terminologiesammlung dient in erster Linie als Hilfsmittel für Übersetzungen und für die Textproduktion. Die OeNB übernimmt keine Haftung für die Richtigkeit der Angaben. Das Dictionary umfasst derzeit 55287 Termini...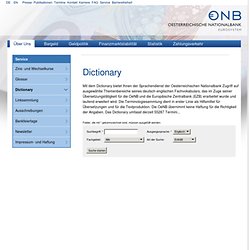 ÖNB-Dictionary