Terminologie
Human Resources Lexicon
Terminologie
Börse Stuttgart :: Glossar
Glossary
In an auction, all buy and sell orders are pooled and matched in an order book; the auction price is determined according to the principle of highest volume transacted.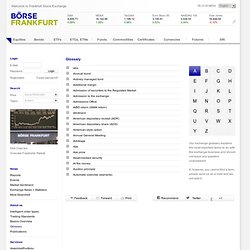 termprofile.com | web statistics for language professionals
ETB Webseite
TAUS Data - Online TMs von Unternehmen
Terminologie Bilanzierung
Microsoft Sprachenportal
TMs Bundestag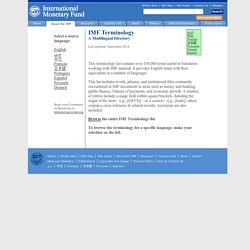 IMF Terminology A Multilingual Directory Last updated: April 2012 This terminology list contains over 150,000 terms useful to translators working with IMF material. It provides English terms with their equivalents in a number of languages. This list includes words, phrases, and institutional titles commonly encountered in IMF documents in areas such as money and banking, public finance, balance of payments, and economic growth.
UBS Banking Dictionary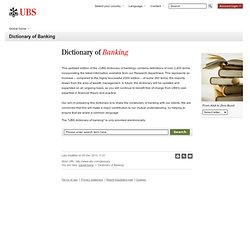 This updated edition of the «UBS dictionary of banking» contains definitions of over 2,400 terms, incorporating the latest information available from our Research department. This represents an increase – compared to the highly successful 2000 edition – of some 260 terms, the majority drawn from the area of wealth management. In future, the dictionary will be updated and expanded on an ongoing basis, so you will continue to benefit free of charge from UBS's vast expertise in financial theory and practice. Our aim in preparing this dictionary is to share the vocabulary of banking with our clients.
ÖNB-Dictionary