Photographes
Le cent. Jan Saudek & Sára Saudková. Home : Kitra Cahana Photography. James Mollison Photography. : Irina Werning. PIETER HUGO - Photographer. STUDIO ERWIN OLAF. Luca Zanier Fotograf | Home. Quinn Jacobson Photography - Historic Photographic Processes - Home Page. Hello : Matthias Heiderich. Ryan Schude - Los Angeles, Advertising, Fine Art, Editorial Photography. Photo, Photographer.
Patrick Gries. The Robert Mapplethorpe Foundation - Biography. Robert Mapplethorpe was born in 1946 in Floral Park, Queens.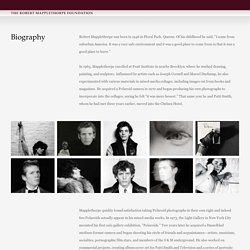 Of his childhood he said, "I come from suburban America. It was a very safe environment and it was a good place to come from in that it was a good place to leave. " In 1963, Mapplethorpe enrolled at Pratt Institute in nearby Brooklyn, where he studied drawing, painting, and sculpture. The Moholy-Nagy Foundation. / HOME 1 / RANCINAN.
---