PRESENTATIONS
What The Fuck Is My Social Media Strategy? The 8 Success Criteria For Facebook Page Marketing. Les adolescents, fatigués de Facebook ? By Laurent Francois Teens Study June 2010 Citoyens !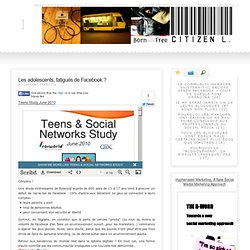 Teens Study June 2010. Social Media Marketing trends 2010. The Real Life Social Network v2. 7 Reasons Social Media Is Bad for Marketing. While social media has contributed many great things to marketers, all of the good stuff doesn't come without its own baggage.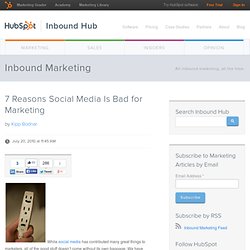 We have talked about the good side of social media for marketing a lot on this blog, but we have under-reported on the negative aspects that social media has brought to the marketing industry. Stepping back to think about it, these seven negatives are clearly consequences of the growth of social media as a marketing discipline. 1. What the F**k is Social Media NOW? / we are social. SlideShare: What the F**k is Social Media NOW?  For the last three years, Marta Kagan, has updated her famous SlideShare presentation called "What the F**K is Social Media" and for 2010, the presentation has been updated with some more amazing stats and growth comparisons to 2009.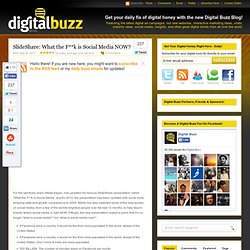 Marta has also collected some of the best quotes on social media, from a few of the worlds brightest people over the last 12 months, to help depict exactly where social media is right NOW. Fittingly, the new presentation makes a point, that it's no longer "what is social media?" But "what is social media now?". If Facebook were a country, it would be the third most populated in the world, ahead of the United States.If Facebook were a country, it would be the third most populated in the world, ahead of the United States. Soap Creative - 10 Facebook Myths Busted.
2010 Razorfish Outlook Report. 22 Social Media Trends. Conversational Marketing. Social Media Trends for 2010. Les 10 tendances du marketing en 2010 par jérémy dumont de pourq. Tendances du marketing 2.0 (2010 marketing trends) View more presentations from jérémy DUMONT. 1 - Les 10 tendances du marketing 2.0 en 2010. 2 - L'identité interactive : les gens sont en interaction via des médias interactifs et communautaires 3 - Les postures relationnelles des marques pour favoriser l'interaction. 4 - F aire vivre une expérience client 2.0 : interaction, service, immédiateté.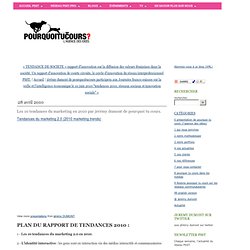 Coke's 'fans first' approach in social communities. Modifier sa stratégie de communication pour intégrer les médias. Comment mesurer ses actions. Social Business By Design by David Armano - Social Fresh Charlot. Video: LEGO's Social Media Strategy  This is a great video from Jake McKee (formally LEGO's Global Community Relations Specialist) discussing how LEGO found, supported and incubated their biggest fans from around the world to help pull the company out of a pretty dark time to be back on top of the world, lead in part, by a strong social media strategy.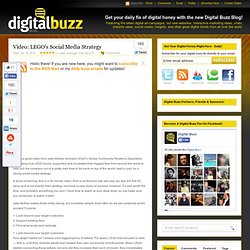 A word of warning, this is a 30 minute video, from a conference late last year (so skip the first 30 secs) and is not exactly their strategy, but more a case study of success, however, it's well worth the time, and probably something you won't have time to watch at your desk today so just make sure you remember to watch it later! Jake McKee makes three really strong, but incredibly simple (how often do we see simplicity works socially?!)
---