Piracy Debate
Authorities Shut Down Ukraine's Largest File-Sharing Site Ex.ua. Following a six month investigation initiated by international tech companies including Microsoft, Graphisoft and Adobe, Ukrainian authorities have shut down the popular file-hosting site Ex.ua.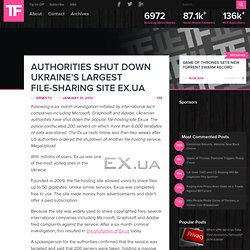 The police confiscated 200 servers on which more than 6,000 terabytes of data was stored. The Ex.ua raids follow less than two weeks after US authorities ordered the shutdown of another file-hosting service, MegaUpload. With millions of users, Ex.ua was one of the most visited sites in the Ukraine. Founded in 2009, the file-hosting site allowed users to share files up to 50 gigabytes. Court Orders SOPA-style Blackout of 100+ Music Sites. Every single ISP in India has been ordered to block 104 sites offering unauthorized music.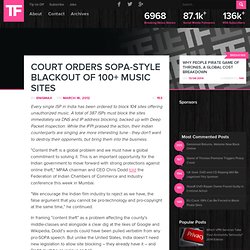 A total of 387 ISPs must block the sites immediately via DNS and IP address blocking, backed up with Deep Packet Inspection. While the IFPI praised the action, their Indian counterparts are singing are more interesting tune - they don't want to destroy their opponents, but bring them into the business. "Content theft is a global problem and we must have a global commitment to solving it. This is an important opportunity for the Indian government to move forward with strong protections against online theft," MPAA chairman and CEO Chris Dodd told the Federation of Indian Chambers of Commerce and Industry conference this week in Mumbai.
Court Orders ISP To Block Grooveshark. A group of more than 30 rightsholders have won their case targeted against Grooveshark in Denmark.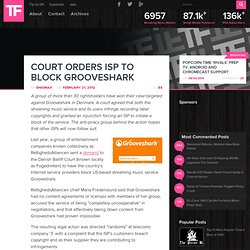 A court agreed that both the streaming music service and its users infringe recording label copyrights and granted an injunction forcing an ISP to initiate a block of the service. The anti-piracy group behind the action hopes that other ISPs will now follow suit. Last year, a group of entertainment companies known collectively as RettighedsAlliancen sent a demand to the Danish Bailiff Court (known locally as Fogedretten) to have the country's Internet service providers block US-based streaming music service Grooveshark. RettighedsAlliancen chief Maria Fredenslund said that Grooveshark had no content agreements or licenses with members of her group, accused the service of being "completely uncooperative" in negotiations, and that effectively taking down content from Grooveshark had proven impossible.
UK Seize Popular Music Blog, Arrest Operators and Threaten Readers. As part of a criminal investigation the UK Government has shut down the popular blog RnBXclusive which posted news, commentary and links to music.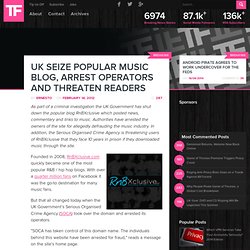 Authorities have arrested the owners of the site for allegedly defrauding the music industry. In addition, the Serious Organised Crime Agency is threatening users of RnBXclusive that they face 10 years in prison if they downloaded music through the site. "Pirating" UK Student to be Extradited to the US. Richard O'Dwyer, the UK-based ex-administrator of the video linking website TVShack will be extradited to the US to face copyright infringement charges.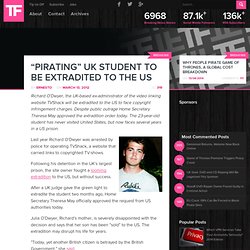 Despite public outrage Home Secretary Theresa May approved the extradition order today. The 23-year-old student has never visited United States, but now faces several years in a US prison. UK File-Sharers Face Disconnections After Appeal Court Ruling. Internet service providers BT and TalkTalk have lost their appeal against the UK's Digital Economy Act.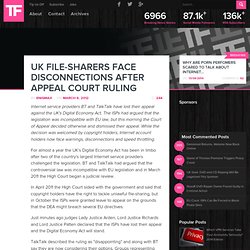 The ISPs had argued that the legislation was incompatible with EU law, but this morning the Court of Appeal decided otherwise and dismissed their appeal. While the decision was welcomed by copyright holders, Internet account holders now face warnings, disconnections and speed throttling. For almost a year the UK's Digital Economy Act has been in limbo after two of the country's largest Internet service providers challenged the legislation. Seized Sports Streaming Site Makes a Blazing Comeback. Firstrow, one of the sites that had several of its domain names seized by the Feds yesterday, is furious at the US Government.
Convinced that the service they are providing does not violate the law, the site continues to operate under a new domain name. One of the owners told TorrentFreak that they don't intend to stop until a court shuts them down. Yesterday, several sports streaming sites had their domain names seized by the Department of Justice and Homeland Security's ICE unit. Book Publishers 'Shut Down' Library.nu and iFile-it. The book download portal Library.nu and cyberlocker ifile.it appear to have 'shut down' voluntarily after a coalition of book publishers managed to get an injunction against the two sites.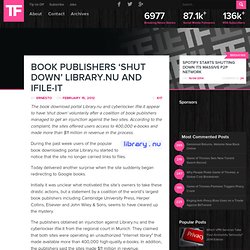 According to the complaint, the sites offered users access to 400,000 e-books and made more than $11 million in revenue in the process. During the past week users of the popular book downloading portal Library.nu started to notice that the site no longer carried links to files. Today delivered another surprise when the site suddenly began redirecting to Google books. Initially it was unclear what motivated the site's owners to take these drastic actions, but a statement by a coalition of the world's largest book publishers including Cambridge University Press, Harper Collins, Elsevier and John Wiley & Sons, seems to have cleared up the mystery. Swedish Piracy Crackdown: #2 Torrent Site Calls It Quits. Sweden's second largest torrent site has shut down its operations with immediate effect following threats from Antipiratbyrån.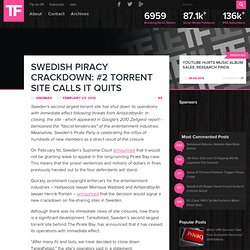 In closing, the site - which appeared in Google's 2010 Zeitgeist report - bemoaned the "fascist tendencies" of the entertainment industries. Meanwhile, Sweden's Pirate Party is celebrating the influx of hundreds of new members as a direct result of the closure. On February 1st, Sweden's Supreme Court announced that it would not be granting leave to appeal in the long-running Pirate Bay case. This means that the prison sentences and millions of dollars in fines previously handed out to the four defendants will stand. Quickly, prominent copyright enforcers for the entertainment industries – Hollywood lawyer Monique Wadsted and Antipiratbyrån lawyer Henrik Pontén – announced that the decision would signal a new crackdown on file-sharing sites in Sweden. BitTorrent Crackdown: Police Raid Private Tracker, Others Shut Down. Anti-piracy group Antipiratbyrån is making good on its threats to take file-sharing sites offline in Sweden.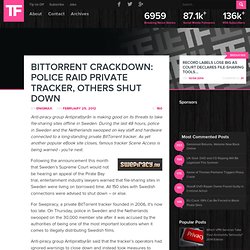 During the last 48 hours, police in Sweden and the Netherlands swooped on key staff and hardware connected to a long-standing private BitTorrent tracker. As yet another popular eBook site closes, famous tracker Scene Access is being warned - you're next. Following the announcement this month that Sweden's Supreme Court would not be hearing an appeal of the Pirate Bay trial, entertainment industry lawyers warned that file-sharing sites in Sweden were living on borrowed time. All 150 sites with Swedish connections were advised to shut down – or else. For Swepiracy, a private BitTorrent tracker founded in 2006, it's now too late. Mailbag: Piracy issues - UFC. It's a sad fact of life on the Internet: People are thieves. A lot of people steal a lot on the Internet. The overwhelming majority of people would never walk into a department store and swipe a Polo shirt because they like it but believe it costs too much. Far too many, though, see nothing wrong with watching a pay-per-view sporting event on an illegal live stream because they think it costs too much despite the fact that it, too, is theft.
Stealing a pay-per-view is, in fact, worse than swiping something tangible. If you steal a Polo shirt from the local department store, the store's security could manage to get the shirt back before you get to your car and it would thus be unharmed. Anti-Piracy Warnings Have No Effect on iTunes Sales. To back up their demands for tougher anti-piracy laws, the music industry often promotes statistics that show how drastically sales improve when they have their way.
This week the music industry did this again by claiming that the French three-strikes law has been highly effective and has boosted iTunes sales tremendously. But is this really the case? French 'Three Strikes' Law Slashes Piracy, But Fails to Boost Sales. A new report on the effectiveness of the French three-strikes anti-piracy law claims that it managed to cut Internet piracy in half last year. While lobbyists are making preparations to show these great results to politicians worldwide, there is one thing the report fails to mention. Despite the claimed decrease in piracy, revenues through legal channels are down as well. This is strange, because in previous years these losses were solely attributed to piracy. Consent of the Networked: Rebecca MacKinnon explains why we must assert our rights as citizens of the Internet. AFP/Getty Images. On March 5, 2011, protesters stormed the Egyptian state security headquarters. In real time, activists shared their discoveries on Twitter as they moved through a building that had until recently been one of the Mubarak regime's largest torture facilities.
Videos and photos uploaded to YouTube, Flickr, and Facebook showed a flurry of young men (and a few women) opening doors and cabinets, sifting through piles of shredded paper, pulling out stacks of files, and examining pieces of equipment, including implements of torture. RapidShare: From "Notorious Market" To Proactive Piracy Eliminator. In common with every file-sharing, video hosting or other digital storage facility on the web, RapidShare has been used by some of its members to host infringing material.
Just like Google-owned YouTube, RapidShare has been sued for the actions of its users and just like the video giant, has prevailed in court. But despite the fact that in May 2010 the District Court of California ruled that RapidShare could not be held liable for the actions of its users (after all, RapidShare isn't uploading the content and always responds to takedown requests), in November that very same year the company had an unwelcome surprise. In a response to a request from the Office of the US Trade Representative, the RIAA submitted their list of foreign "notorious markets".
RapidShare was included but strangely, just one year later in 2011′s submission, the file-hosting company had been removed. RapidShare Slows Download Speeds To Drive Away Pirates. Court Orders RapidShare to Filter User Uploads. Hotfile Researcher Discredits MPAA-Funded Piracy Study. Sony Music Boss: Censored YouTube Videos Cost Us Millions. Warner Bros' False Takedowns Stifle Free Speech, EFF Tells Court. Filmmaker: MPAA Is a Censorship Group, Go Torrent! History Shows That Copyright Monopolies Prevent Creativity And Innovation.
Record Labels Threaten the Open Internet, isoHunt Tells Court. Thoughts on IP Reforms and Best Practices for Creators. Watch. Rights Group Demands Cash So Libraries Can Read Books To Kids. The Hypocritical Use of Piracy As a Corporate Weapon. Video Galleries : Jimquisition : Piracy Episode One - Copyright. Video Galleries : Jimquisition : Piracy - Trying To Kill It Makes It Stronger. Justice Department Backs RIAA Against Pirating Student. EU Court Bans Anti-Piracy Filters On Hosting Services. Is BitTorrent Done? Major Torrent Sites Consider Shutting Down. Tribler Makes BitTorrent Impossible to Shut Down. Anonymous, Decentralized and Uncensored File-Sharing is Booming. Police Raid File-Hosting Site, Arrest Operator and ISP. ISPs To Begin Punishing BitTorrent Pirates This Summer.
The Ethics of Internet Piracy - Peter Singer. BitTorrent Piracy Doesn't Affect US Box Office Returns, Study Finds. Lies, Damned Lies and Piracy. Single Movie Download Could See Swedes Prosecuted. 'Conan The Barbarian' Chases 2,165 BitTorrent Downloaders in Court. Pirate Bay Verdict SignalsThreat Of Huge New Anti-Piracy Campaign. Dutch ISPs Refuse To Block The Pirate Bay. Domain Registrar Confirms New Pirate Bay Investigation.
RIAA: "Misinformation May Be a Dirty Trick, But It Works." Pirate Bay: The RIAA Is Delusional and Must Be Stopped. The Pirate Bay, Now Without Torrents. The Pirate Bay Faces UK ISP Block After High Court Ruling. Leaked: Police Plan to Raid The Pirate Bay. Court Orders UK ISPs to Block Pirate Bay. Pirate Bay ISP Block Challenged For Censoring Lawful Content. One Per Cent: UK Pirate Bay block could be easily circumvented. IIPA Reports BitTorrent Sites and Cyberlockers To US Government. MPAA Demands Hotfile Data From Google, Search Engine Refuses. MPAA Targets Fileserve, MediaFire, Wupload, Putlocker and Depositfiles.
---