loisirs créatifs
Get flash to fully experience Pearltrees
I came across a DIY post on Tumblr that showed how you can freeze watercolor paints in ice cube trays and then use the frozen paints to "draw" on fabric or paper. I instantly thought I could do that with Kool Aid and yarn! I just had to wait for my Oregon "summer" to cooperate. I needed it to get sunny and warm enough to melt the ice cubes. NOTE: This technique will NOT work on cotton.
ETA in February 2012: Hi! Nice of you to stop by! There will eventually be an English translation of this tutorial, so please have some patience:) In the meanwhile, I'm sorry to put up this disclaimer: It's OK to link back to this post, but it is not OK to copy all the photos and the tutorial, or translate it to another another language. Posting this as your own creation is even worse.
Last Sunday we made... Button and Chained Wreath Ornaments Some to keep and some to giveaway... These two are now hanging happily on our Christmas tree.
This stitch is typically used for leaf patterns. It throws out a padded effect on the motif. The stitch looks a bit difficult, but has no complications when you start to stitch. In fact, you will enjoy it as you see a beautiful, richly filled leaf emerging as you go along. I have used a leaf pattern to illustrate . It is divided into three lines, namely, A, B and C, which will act as the respective stitch lines.
Lundi 14 décembre 2009 1 14 / 12 / Déc / 2009 17:19 Dans le cadre de la Belette's Partly III (son double va donc être posté dès demain) , la belle idée d'un fromage m'a été proposée pour sa dinette !! Voici donc un camembert réalisé à partir du gabarit d'une boite du dit fromage ! Peu de fournitures nécessaires ! 1 coupon de feutrine blanche + 1 beige et du fil blanc (nécessaire à couture traditionnel).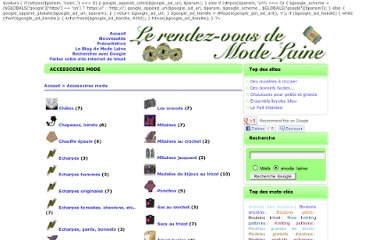 Tous les sites répertoriés par Mode Laine sont dans cette rubrique... Vous pouvez chercher d'autres infos avec Google si vous ne trouvez pas le site que vous cherchiez. Cherchez aussi parmi toutes les expressions du nuage de mots-clés . N'hésitez pas à chercher sur tout le site et écrivez à vos amies qui aiment tricoter aux aiguilles ou au crochet .