Report
Social Media Monitoring Tools Made Easy. Institut TrendyBuzz - Ereputation. Valeur d'un site Web, Valeur d'un Blog, combien vaut votre site Web? Typealyzer. Le tableau de bord des Medias sociaux.
Article disponible en pdf Suite à ma critique du « Social Networking Media ROI Calculator », et comme je préfère être constructif, voici ma méthode pour mettre en place la mesure du ROI des actions sur les médias sociaux.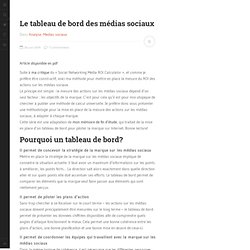 Le principe est simple : la mesure des actions sur les médias sociaux dépend d'un seul facteur : les objectifs de la marque. C'est pour cela qu'il est pour moi utopique de chercher à publier une méthode de calcul universelle. Je préfère donc vous présenter une méthodologie pour la mise en place de la mesure des actions sur les médias sociaux, à adapter à chaque marque. Blue State Digital Readiness Report. Social Media Monitoring and Engagement – Radian6. Top Twitter Analysis Tools to Measure Your Twitter Influence « Grazitti Interactive. Nielsen BuzzMetrics' BlogPulse. Page d'accueil - Pickanews : Moteur multi-media. Analysis: What are the Web's Top Sources of Referral Traffic? If there's one thing we know about Web authors it's that they are constantly seeking new sources of traffic for their content.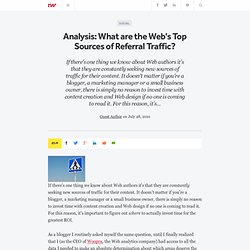 It doesn't matter if you're a blogger, a marketing manager or a small business owner, there is simply no reason to invest time with content creation and Web design if no one is coming to read it. For this reason, it's important to figure out where to actually invest time for the greatest ROI. As a blogger I routinely asked myself the same question, until I finally realized that I (as the CEO of Woopra, the Web analytics company) had access to all the data I needed to make an absolute determination about which areas deserve the most attention.
Guest author John Pozadzides is the CEO of the Web analytics company Woopra, organizer of the open-source blogger and developer conference OpenCa.mp, and the man behind OneMansBlog.com. Spy on Your Competitors with Competitive Intelligence Tools. InShare0 Have you ever wished you knew everything your competitors where up to?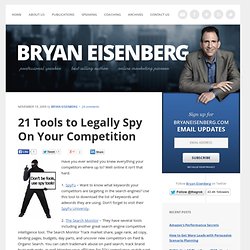 Well online it isn't that hard. 1. SpyFu – Want to know what keywords your competitors are targeting in the search engines? Use this tool to download the list of keywords and adwords they are using. Trendistic - see trends in twitter. Outil d'analyse de site web | WooRank.
---