Ruby_on_rails
Ruby - Semantic Web Standards
From Semantic Web Standards (Note that you can browse tools per tool categories or Semantic Web technologies, too.)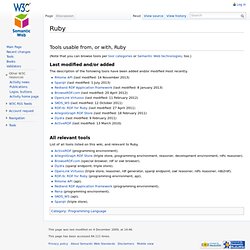 Extending Ruby on Rails for Semantic Web Applications - TechWeb Digital Library
Obie Fernandez : Ruby on Rails and more...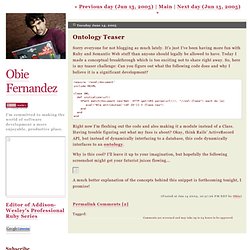 Tuesday June 14, 2005
Rails 3.0 has been underway for a good two years, so it's with immense pleasure that we can declare it's finally here.
Rails 3.0 Released (And 22 Free Videos To Bring You Up To Speed)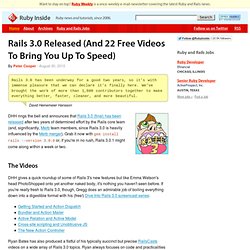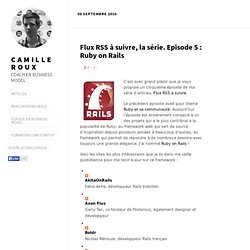 C'est avec grand plaisir que je vous propose un cinquième épisode de ma série d'articles, Flux RSS à suivre. Le précédent épisode avait pour thème Ruby et sa communauté. Aujourd'hui l'épisode est entièrement consacré à un des projets qui a le plus contribué à la popularité de Ruby, au framework web qui sert de source d'inspiration depuis plusieurs années à beaucoup d'autres, au framework qui permet de répondre à de nombreux besoins avec toujours une grande élégance, j'ai nommé Ruby on Rails !
Flux RSS à suivre, la série. Episode 5 : Ruby on Rails