MANUALIDADES
Via duitang.com on Indulgy.com. MaryM's Original Daisy Bullion Edging, tatting with crochet hook, crochet tatting, cro-tat, Cro-Tat, cro tat, edging, trim, tutorial. If you like the reocities.com project you can donate bitcoins to: 1E8rQq9cmv95CrdrLmqaoD6TErUFKok3bF MaryM's Original Daisy Bullion Edging©2001 - tatting with crochet hook, crochet tatting, cro-tat, tutorial, how to - Copyrighted.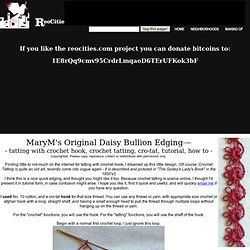 30 Easy And Cuddly DIY Ideas For Recycling Old Sweaters. » How to Make a Fabric Bow | Tutorial » Whipperberry. Manualidades de navidad paso a paso pagina 3. TODA LA NAVIDAD DE SeComoHacer 3 Presentamos en esta pagina toda la navidad.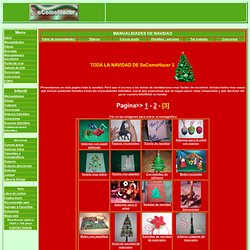 Para que el acceso a los temas de navidad sean mas faciles de encontrar. Manualidades Navideñas. Diy and Crafts. Tree Branch Bookshelf. Gathered Clutch Tutorial. Anna of Noodlehead is sharing the most beautiful gathered pouch tutorial.
What a perfect gift! Anna has plenty of gorgeous gift giving inspiration at her blog. Don't miss her tutorials! If you love pouches you might also like these zippered pouch tutorials! Most favorited last 7 days - page 2. Tutorials. This is a roundup of all the DIY tutorials I've posted on Crafty Nest.
Enjoy! Recycling tote Beaded glass mirror Tiered jewelry trays Mitered napkins. Wipe Off Weekly Menu Board. I am a meal planner.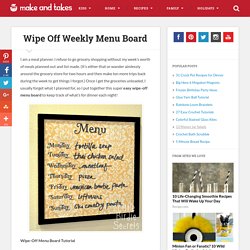 I refuse to go grocery shopping without my week's worth of meals planned out and list made. (It's either that or wander aimlessly around the grocery store for two hours and then make ten more trips back during the week to get things I forgot.) Flashback: Woven Map Basket : Daily source of DIY craft projects and inspiration, patterns, how-tos | Craftzine.com. Maps can be amazing design elements, with all their intricately drawn lines and minute details.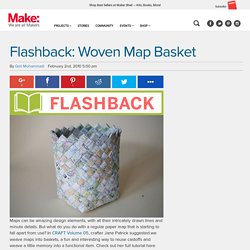 But what do you do with a regular paper map that is starting to fall apart from use? In CRAFT Volume 05, crafter Jane Patrick suggested we weave maps into baskets, a fun and interesting way to reuse castoffs and weave a little memory into a functional item. Origami For Everyone. To make all of these Instructables, download this collection of How To's as an ebook.
Download » Origami for Everyone gives you full step-by-step instructions for 30 awesome origami projects for everyone from beginners to experts. Learn how to make flowers, masks, and the ubiquitous paper crane! Counter Proposal. Wire & Paper. 36 Do It Yourself Gift Box Tutorials For Your Christmas Presents « PrintRadar - Scanning digital space. Most favorited last 7 days - page 4. Things to Make and Do. Most favorited last 7 days - page 5. Top 100 Tutorials of 2010. Home PomPom Pillow from Living with Punks.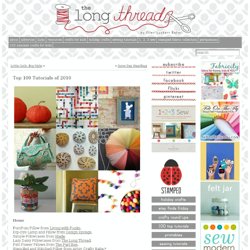 Dip-Dye Lamp and Pillow from Design Sponge. Simple Pillowcases from Made. Lazy Daisy Pillowcases from The Long Thread. Como hacer flores con material reciclado. Manualidades con cajas de cartón de huevos Como hacer flores con material reciclado,no tienes idea de lo fácil que es hacer unas flores con material reciclado como lo son los cartones de huevos.Si buscabas ideas y manualidades en donde podamos reciclar cualquier material que encontremos en casa ,esta manualidad te gustara ,ya que las flores son decorativas y las puedes usar como moños en una caja de regalo ,como adornos en una linda guirnalda de flores o como accesorios autenticos de material reciclado.Ahora te invito a ver como puedes hacer estas flores con dicho material reciclado(cartón de huevos) .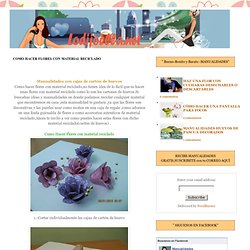 Como Hacer Flores con material reciclado 1. Splitcoaststampers Tutorials: Alcohol Ink by Cindy Lyles: Card Making Techniques. Dominos are non-porous too!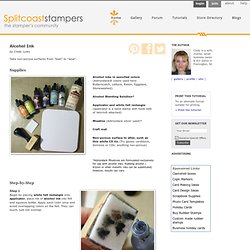 The application for this techique is endless. Glossy paper, buttons, CDs, and so forth.
---