Projets Universels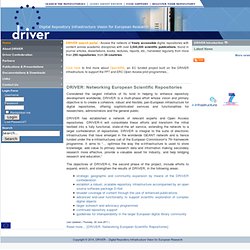 Considered the largest initiative of its kind in helping to enhance repository development worldwide, DRIVER is a multi-phase effort whose vision and primary objective is to create a cohesive, robust and flexible, pan-European infrastructure for digital repositories, offering sophisticated services and functionalities for researchers, administrators and the general public. DRIVER has established a network of relevant experts and Open Access repositories. DRIVER-II will consolidate these efforts and transform the initial testbed into a fully functional, state-of-the art service, extending the network to a larger confederation of repositories. DRIVER is integral to the suite of electronic infrastructures that have emerged in the worldwide GÉANT network and is hence funded under the e-Infrastructures call of the European Commission's 7th framework programme.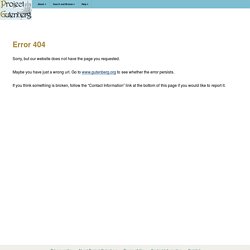 New Kindle Fire Review Before you buy: Read our Webmaster's review of the new Kindle Fire. Some of Our Latest Books Welcome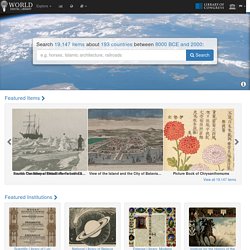 skip to page content World Digital Library Browse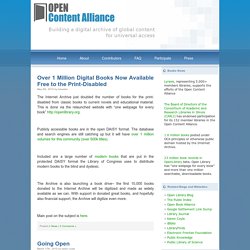 The grand and dastardly scheme was to construct an organization to control/monetize the Orphans — might they get away with it? It seems they might — in fact everyone seems to be playing the role that was laid out for them by Google et al. As seen in the New York Times today, they may be getting what they want: "Laying out a path forward, the [Justice] department said some of its antitrust concerns could be mitigated by 'some mechanism by which Google's competitors' could gain comparable access to orphan works."
Open Library is an open, editable library catalog, building towards a web page for every book ever published. More Just like Wikipedia, you can contribute new information or corrections to the catalog.
Universal Digital Library: Million Book Collection , hosted by Carnegie Mellon University
eBook and Texts > Universal Library > Million Book Project Most Downloaded Items Last Week more Most Downloaded Items more Spotlight Item Journeys In Persia And Kurdistan ( Vol.Ii).There is no description for this item About the Archive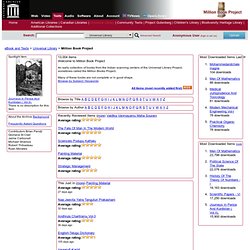 Million Book Project : Free Texts : Download & Streaming : Internet Archive