Happyness Research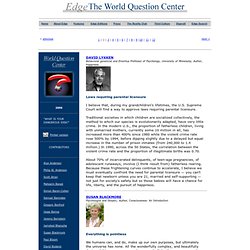 CLAY SHIRKY Social & Technology Network Topology Researcher; Adjunct Professor, NYU Graduate School of Interactive Telecommunications Program (ITP) Free will is going away. Time to redesign society to take that into account. In 2002, a group of teenagers sued McDonald's for making them fat, charging, among other things, that McDonald's used promotional techniques to get them to eat more than they should. The suit was roundly condemned as an the erosion of the sense of free will and personal responsibility in our society.
THE WORLD QUESTION CENTER 2006 — Page 2
Positive Psycology Center
Joe Forgas
Liebe Freunde, Patienten, Klienten, Partner und Interessenten! Das Institut für Mind-Body-Medizin wird ab Juni 2013 vorübergehend keine Kurse, Seminare oder Coachings in Deutschlad anbieten, da wir im Rahmen eines Forschungs- aufenthaltes in den USA tätig sind. Wir freuen uns darauf, ab Semptember 2014 unsere Arbeit mit Euch /Ihnen fortsetzen zu können, und wünschen bis dahin eine gute Zeit. Mind-Body-Medizin (MBM) ist ein medizinisches Konzept, das von einem untrennbaren Zusammenhang zwischen Geist, Seele und Körper ausgeht und darauf abzielt, die in jedem Menschen von Natur aus vorhandenen gesundheitsfördernden Potenziale zu wecken und zu stärken. Mind-Body-Medizin (MBM) geht auf Arbeiten von Prof.
Institut für Mind-Body-Medizin - Home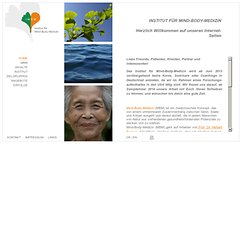 Home Page Ruut Veenhoven