Complexity
Institut des Systèmes Complexes
Panarchy.com | many.2.many :: peer.2.peer :: do.it.ourselves.
Maass Wolfgang - Homepage
Complexity economics is the application of complexity science to the problems of economics . It studies computer simulations to gain insight into economic dynamics, and avoids the assumption that the economy is a system in equilibrium. [ 1 ] [ edit ] Models The "nearly archetypal example" is an artificial stock market model created by the Santa Fe Institute in 1989. [ 2 ] The model shows two different outcomes, one where "agents do not search much for predictors and there is convergence on a homogeneous rational expectations outcome" and another where "all kinds of technical trading strategies appearing and remaining and periods of bubbles and crashes occurring". [ 2 ]
Complexity economics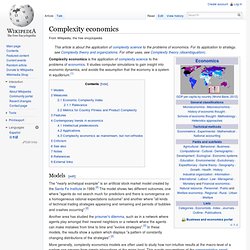 Collapse dynamics: Phase transitions in complex social systems
Eric Beinhocker
Evolutionary economics is part of mainstream economics [ 1 ] as well as a heterodox school of economic thought that is inspired by evolutionary biology . Much like mainstream economics , it stresses complex interdependencies , competition , growth , structural change , and resource constraints but differs in the approaches which are used to analyze these phenomena. [ 2 ] Evolutionary economics deals with the study of processes that transform economy for firms, institutions, industries, employment, production, trade and growth within, through the actions of diverse agents from experience and interactions, using evolutionary methodology. Evolutionary economics analyses the unleashing of a process of technological and institutional innovation by generating and testing a diversity of ideas which discover and accumulate more survival value for the costs incurred than competing alternatives. The evidence suggests that it could be adaptive efficiency that defines economic efficiency.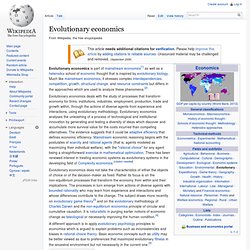 Evolutionary economics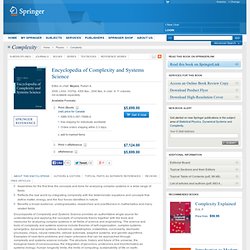 Encyclopedia of Complexity and Systems Science
Assembles for the first time the concepts and tools for analyzing complex systems in a wide range of fields Reflects the real world by integrating complexity with the deterministic equations and concepts that define matter, energy, and the four forces identified in nature Benefits a broad audience: undergraduates, researchers and practitioners in mathematics and many related fields Encyclopedia of Complexity and Systems Science provides an authoritative single source for understanding and applying the concepts of complexity theory together with the tools and measures for analyzing complex systems in all fields of science and engineering. The science and tools of complexity and systems science include theories of self-organization, complex systems, synergetics, dynamical systems, turbulence, catastrophes, instabilities, nonlinearity, stochastic processes, chaos, neural networks, cellular automata, adaptive systems, and genetic algorithms.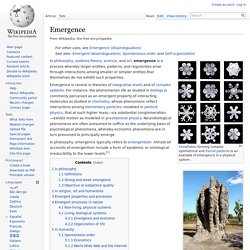 Snowflakes forming complex symmetrical patterns is an example of emergence in a physical system. In philosophy , systems theory , science , and art , emergence is the way complex systems and patterns arise out of a multiplicity of relatively simple interactions. Emergence is central to the theories of integrative levels and of complex systems. [ edit ] Definitions The idea of emergence has been around since at least the time of Aristotle .
Complex systems present problems in mathematical modelling . Complex systems is a new approach to science that studies how relationships between parts give rise to the collective behaviors of a system and how the system interacts and forms relationships with its environment. The equations from which complex system models are developed generally derive from statistical physics , information theory and non-linear dynamics , and represent organized but unpredictable behaviors of systems of nature that are considered fundamentally complex . The physical manifestations of such systems cannot be defined, so the usual choice is to refer to "the system" as the mathematical information model, without referring to the undefined physical subject the model represents. One of a variety of journals using this approach to complexity is Complex Systems .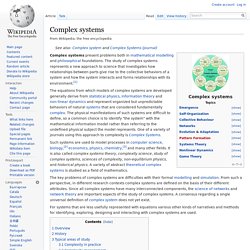 Complexity-map-overview.png 1221×762 pixels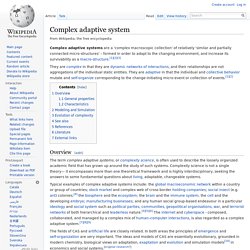 Complex adaptive systems are special cases of complex systems , often defined as a 'complex macroscopic collection' of relatively 'similar and partially connected micro-structures' – formed in order to adapt to the changing environment, and increase its survivability as a macro-structure . [ 1 ] [ 2 ] [ 3 ] They are complex ; in that they are dynamic networks of interactions , and their relationships are not aggregations of the individual static entities. They are adaptive ; in that the individual and collective behavior mutate and self-organize corresponding to the change-initiating micro-event or collection of events. [ 1 ] [ 2 ] [ edit ] Overview The term complex adaptive systems , or complexity science , is often used to describe the loosely organized academic field that has grown up around the study of such systems.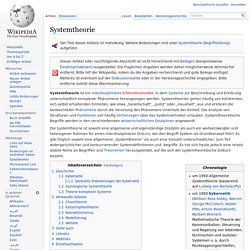 Systemtheorie ist ein interdisziplinäres Erkenntnismodell , in dem Systeme zur Beschreibung und Erklärung unterschiedlich komplexer Phänomene herangezogen werden. Systemtheorien gehen häufig von kohärenten, sich selbst erhaltenden Einheiten wie etwa "Gesellschaft", "Justiz" oder "Haushalt" aus und erklären die beobachteten Phänomene durch die Verortung des Phänomens innerhalb der Einheit. So erklärt ein systemtheoretischer Ansatz das Handeln von Individuen nicht durch Bewertungen desselben (wie "böse", "rational" o.ä.), sondern durch dessen Position in der "Gesellschaft" und die sich daraus ergebenden sozialen Zwänge. Die Analyse von Strukturen und Funktionen soll häufig Vorhersagen über das Systemverhalten erlauben.
Systemtheorie
Percolation threshold is a mathematical term related to percolation theory , which is the formation of long-range connectivity in random systems. Below the threshold a giant connected component does not exist; while above it, there exists a giant component of the order of system size. In engineering and coffee making , percolation represents the flow of fluids through porous media, but in the mathematics and physics worlds it generally refers to simplified lattice models of random systems or networks (graphs), and the nature of the connectivity in them. The percolation threshold is the critical value of the occupation probability p , or more generally a critical surface for a group of parameters p 1 , p 2 , ..., such that infinite connectivity ( percolation ) first occurs. [ edit ] Percolation models
Percolation threshold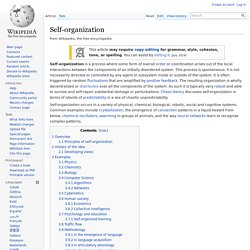 Self-organization is a process where some form of global order or coordination arises out of the local interactions between the components of an initially disordered system. This process is spontaneous: it is not directed or controlled by any agent or subsystem inside or outside of the system; however, the laws followed by the process and its initial conditions may have been chosen or caused by an agent. It is often triggered by random fluctuations that are amplified by positive feedback .
Agent-based model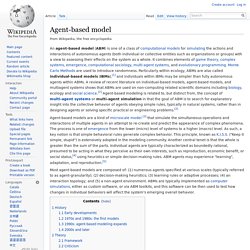 An agent-based model (ABM) (also sometimes related to the term multi-agent system or multi-agent simulation ) is a class of computational models for simulating the actions and interactions of autonomous agents (both individual or collective entities such as organizations or groups) with a view to assessing their effects on the system as a whole. It combines elements of game theory , complex systems , emergence , computational sociology , multi-agent systems , and evolutionary programming . Monte Carlo Methods are used to introduce randomness. ABMs are also called individual-based models. A review of recent literature on individual-based models, agent-based models and multiagent systems shows that ABMs are used on non-computing related scientific domains including Life Sciences , Ecological Sciences and Social Sciences . [ 1 ]
Cellular automaton
A cellular automaton (pl. cellular automata , abbrev. CA ) is a discrete model studied in computability theory , mathematics , physics , complexity science , theoretical biology and microstructure modeling. Cellular automata are also called cellular spaces , tessellation automata , homogeneous structures , cellular structures , tessellation structures , and iterative arrays . [ 2 ] A cellular automaton consists of a regular grid of cells , each in one of a finite number of states , such as on and off (in contrast to a coupled map lattice ). The grid can be in any finite number of dimensions. For each cell, a set of cells called its neighborhood (usually including the cell itself) is defined relative to the specified cell.
This book provides the first clear, comprehensive, and accessible account of complex adaptive social systems , by two of the field's leading authorities. Such systems–whether political parties, stock markets, or ant colonies–present some of the most intriguing theoretical and practical challenges confronting the social sciences. Engagingly written, and balancing technical detail with intuitive explanations, Complex Adaptive Systems focuses on the key tools and ideas that have emerged in the field since the mid-1990s, as well as the techniques needed to investigate such systems. It provides a detailed introduction to concepts such as emergence, self-organized criticality, automata, networks, diversity, adaptation, and feedback.
Complex adaptive system « Learning Change
John H Miller Social Complex Systems
Department Head and Professor of Economics and Social Science Office: PH 208D Phone: (412) 268-3229