Information Security Organizations
Latest News - April 8, 2014 Several open government organizations, including Public Citizen, the Sunlight Foundation, the Project on Government Oversight, Citizens for Responsibility and Ethics in Washington, the Center for Effective Government and Openthegovernment.org have filed an amicus brief supporting EPIC in EPIC v. NSA.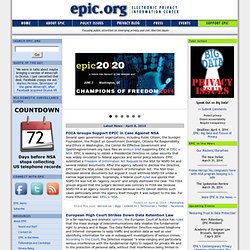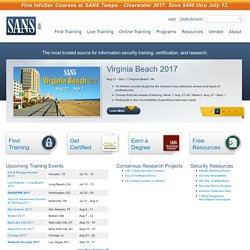 What is SANS? SANS is the most trusted and by far the largest source for information security training in the world. We offer training through several delivery methods - live & virtual, classroom-style, online at your own pace or webcast with live instruction, guided study with a local mentor, or onsite at your workplace where even your most remote colleagues can join in via Simulcast. Our computer security courses are developed by industry leaders in numerous fields including network security, forensics, audit, security leadership, and application security. Courses are taught by real-world practitioners who are the best at ensuring you not only learn the material, but that you can apply it immediately when you return to the office.