Méthodes
Graphic Design and Typography. Sleep. Create. | zen habits. 'Men must live and create.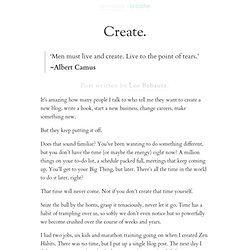 Live to the point of tears.' ~Albert Camus. Carte heuristique. Un article de Wikipédia, l'encyclopédie libre.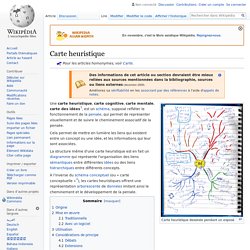 Pour les articles homonymes, voir Carte. Carte heuristique (mind map) dessinée pendant un exposé. The simple two-step process. Step one: Open all doors.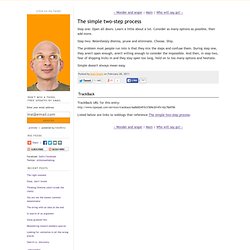 Learn a little about a lot. Consider as many options as possible, then add more. Step two: Relentlessly dismiss, prune and eliminate. Your Emails are Too Long | zen habits. 'If you can't write your idea on the back of my calling card, you don't have a clear idea.'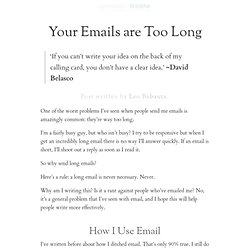 ~David Belasco Post written by Leo Babauta. One of the worst problems I've seen when people send me emails is amazingly common: they're way too long. I'm a fairly busy guy, but who isn't busy? I try to be responsive but when I get an incredibly long email there is no way I'll answer quickly. Gawker's redesign cuts traffic in half. When Gawker.com launched a big redesign in February 2011, its traffic halved.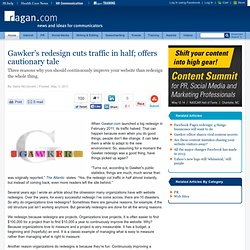 That can happen because even when you do good things, people don't like change. It can take them a while to adapt to the new environment. So, assuming for a moment the Gawker redesign was a good thing, have things picked up again? "Turns out, according to Gawker's public statistics, things are much, much worse than was originally reported," The Atlantic states. "Yes, the redesign cut traffic in half almost instantly, but instead of coming back, even more readers left the site behind." Mutinerie : Libres ensemble. Créer, trouver et exploiter les blogs (Olivier Ertzscheid) Olivier Ertzscheid (Maître de Conférences en Sciences de l'information et de la communication) est l'auteur du livre « Créer, trouver et exploiter les blogs » publié aux Editions de l'ADBS en 2008.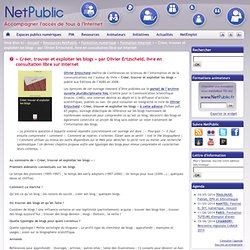 Les épreuves de cet ouvrage viennent d'être publiées sur le portail de l'archive ouverte pluridisciplinaire HAL (Centre pour la Communication Scientifique Directe, CNRS), site Internet destiné au dépôt et à la diffusion d'articles scientifiques, publiés ou non. On peut consulter en intégralité le livre de Olivier Ertzscheid « Créer, trouver et exploiter les blogs » à cette adresse (fichier pdf, 65 pages), ouvrage didactique de référence sur les blogs fournissant de nombreuses ressources pour comprendre ce qu'est un blog, découvrir des blogs et également construire un projet de blog sans oublier un volet traitement de l'information des blogs. « La première question à laquelle entend répondre concrètement cet ouvrage est donc : « Pourquoi ?
» Il faut ensuite comprendre « comment ».
---