Usb
§. Suite, portable software for USB drives. PortableApps.com | Your Digital Life, Anywhere™ Portable Apps Suite (USB Friendly) Your computer, without the computer™ The PortableApps.com Platform™ is a full-featured portable software menu, backup utility, app store, automatic updater and application management system that ties all your portable apps together and lets you build your own custom portable app suite.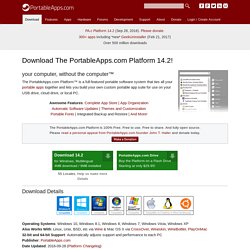 Add new apps with the portable app store, organize them by category or folder, choose the look and color you want and automatically update everything, all with one easy-to-use system. Just drop it on your portable device and you're ready to go. Dirk Loss: Windows-Tools on CD-ROM. This list has not been updated since 2007. Links may not work. Use a search engine of your choice. Having created several bootable Windows CD-ROMs with Bart's PE Builder, I thought how nice it would be if I could use some of the plugins on running systems (i.e. without having to reboot).
---