Science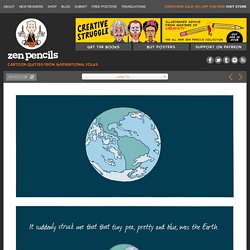 August 30th, 2012 Neil Armstrong (1930-2012) was a aerospace engineer, Navy pilot, test pilot, university professor and did something else I'm not sure of. Oh right, he was an astronaut and was the first human to set foot on the moon! Silly me. I'm sure you've all read many tributes and better-written obituaries to this great man, so I'll just be brief. In my opinion the most impressive thing about Armstrong was his humility.
NEIL ARMSTRONG: A giant among men
Can Playing the Computer Game "Tetris" Reduce the Build-Up of Flashbacks for Trauma? A Proposal from Cognitive Science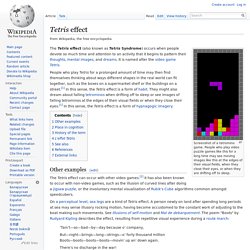 Screenshot of a tetromino game. People who play video puzzle games like this for a long time may see moving images like this at the edges of their visual fields, when they close their eyes, or when they are drifting off to sleep.
To Predict Dating Success, The Secret's In The Pronouns : Shots - Health Blog
People who are interested in and paying close attention to each other begin to speak more alike, a psychologist says. iStockphoto.com On a recent Friday night, 30 men and 30 women gathered at a hotel restaurant in Washington, D.C. Their goal was love, or maybe sex, or maybe some combination of the two. They were there for speed dating.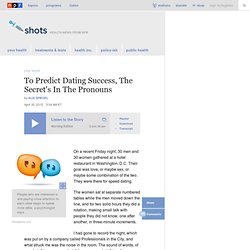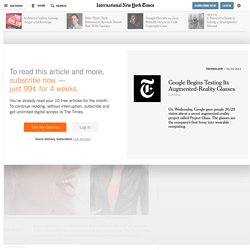 Photos via Google Google showed off its first venture into wearable computing, called Project Glass. Facebook Twitter Google+ Save E-mail Share Print If you venture into a coffee shop in the coming months and see someone with a pair of futuristic glasses that look like a prop from "Star Trek," don't worry.
World | Sometimes a white coat isn't just a white coat
Imagine that you have a big box of sand in which you bury a tiny model of a footstool. A few seconds later, you reach into the box and pull out a full-size footstool: The sand has assembled itself into a large-scale replica of the model. That may sound like a scene from a Harry Potter novel, but it's the vision animating a research project at the Distributed Robotics Laboratory (DRL) at MIT's Computer Science and Artificial Intelligence Laboratory.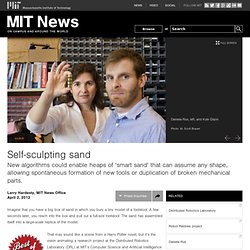 Self-sculpting sand
How the Potato Changed the World | History & Archaeology
Study Finds Alcohol and Tobacco More Harmful than Marijuana, LSD, or Ecstasy (Revisited) : The Scientific Activist
homepage.psy.utexas.edu/homepage/group/busslab/pdffiles/Evolutionary Psychology and Feminism - Final Published 2011.pdf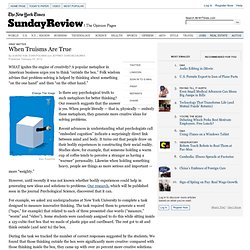 When Truisms Are True
Is there any psychological truth to such metaphors for better thinking? Our research suggests that the answer is yes. When people literally — that is, physically — embody these metaphors, they generate more creative ideas for solving problems. Recent advances in understanding what psychologists call "embodied cognition" indicate a surprisingly direct link between mind and body.
Will we need to call Dr.
IBM's "neurosynaptic" chips are the closest thing to a synthetic brain yet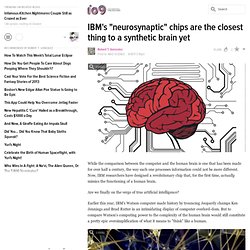 I think that the true ethos of the Foldit platform is collaboration. To suggest that the Foldit players making breakthroughs like the ones published in this week's Nature are simply "performing a task over and over again" is to overlook the fact that many of the players are actually preternaturally gifted protein folders (despite a lack of formal scientific training). Also, the Foldit community is incredibly well-organized; there's even regular competitions between teams of folders.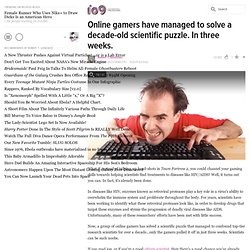 Online gamers have managed to solve a decade-old scientific puzzle. In three weeks.
Where did all the nothing go? | Sci-ence! A Skeptical Comic and Blog.
Nothing used to be intuitive. I mean the concept of 'nothing'.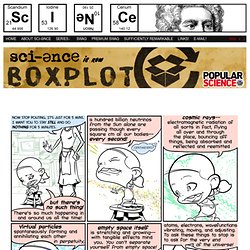 ROBO-ONE 13: Taekwon-V vs. Garoo
When we think of life on Earth, most of us think of multicellular organisms, like large mammals or massive trees.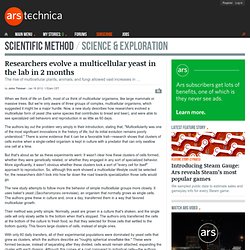 Researchers evolve a multicellular yeast in the lab in 2 months
Are smart people ugly? The Explainer's 2011 Question of the Year
Jean-Paul Sartre and Socrates were known for their brains and not their looks — at least not the good kind Illlustration by Charlie Powell. It's been a few weeks since we posted the questions that the Explainer was either unwilling or unable to answer in 2011.
BBC Nature - Chimpanzees consider their audience when communicating
29 December 2011 Last updated at 17:01 By Victoria Gill Science reporter, BBC Nature
A new study finds that rats will intentionally work to free a trapped pal. iStockphoto.com
Cagebreak! Rats Will Work To Free A Trapped Pal
Does taking medication for cold symptoms delay your body's ability to fight the illness? : askscience
This incomplete list is not intended to be exhaustive. This list pertains to current, widely held, erroneous ideas and beliefs about notable topics which have been reported by reliable sources.
List of common misconceptions
Blindness eased by historic stem cell treatment - health - 25 January 2012
For the first time since they were discovered 13 years ago, human embryonic stem cells (hESCs) have shown medical promise.
Features of a successful therapeutic fast of 382 days' duration -- Stewart and Fleming 49 (569): 203 -- Postgraduate Medical Journal
Fecal Transplants: They Work, the Regulations Don't | Wired Science 
HIV Treatment as Prevention
My Man, Sir Isaac Newton
NASA Beams Beatles' 'Across the Universe' Into Space