Strange
5 lacs avec une histoire hors du commun. Crater Lake – Crédits photo © M.Giuli Crater Lake Situé au sud de l'Oregon, le Crater Lake est un lac remarquable à plus d'un titre.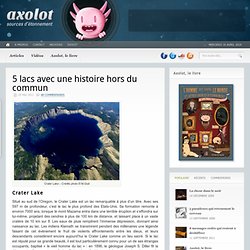 5 parasites qui feraient frémir un Alien. Cymothoa exigua, le dévoreur de langue Ce crustacé parasite est également connu sous le nom évocateur de « pou mangeur de langue ».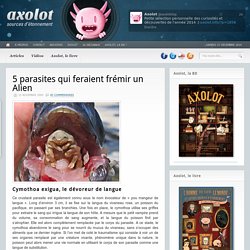 Long d'environ 3 cm, il se fixe sur la langue du vivaneau rose, un poisson du pacifique, en passant par ses branchies. Une fois en place, le cymothoa utilise ses griffes pour extraire le sang qui irrigue la langue de son hôte. A mesure que le petit vampire prend du volume, sa consommation de sang augmente, et la langue du poisson finit par s'atrophier. Elle est alors complètement remplacée par le corps du parasite.
10 arbres hors du commun. Le Chêne d'Allouville - Crédits photo ARTHURDV Le Chêne d'Allouville Avec un âge estimé de 1200 ans, le Chêne-chapelle d'Allouville est le plus vieux chêne de France.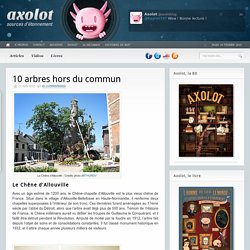 L'île des poupées. C'est dans la région marécageuse de Xochimilco, au sud de Mexico City, que se trouve sans doute l'endroit le plus effrayant du Mexique.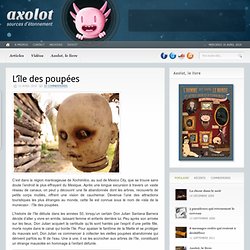 Après une longue excursion à travers un vaste réseau de canaux, on peut y découvrir une île abandonnée dont les arbres, recouverts de petits corps mutilés, offrent une vision de cauchemar. Devenue l'une des attractions touristiques les plus étranges au monde, cette île est connue sous le nom de «isla de la munecas» : l'île des poupées. 10 Crazy-Looking New Deep-Sea Creatures | Wired Science. Ten new possible species could change everything about the way we think about deep-sea life in the Atlantic Ocean.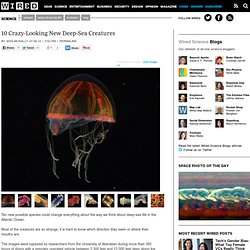 Most of the creatures are so strange, it is hard to know which direction they swim or where their mouths are. The images were captured by researchers from the University of Aberdeen during more than 300 hours of diving with a remotely operated vehicle between 2,300 feet and 12,000 feet deep along the Mid-Atlantic Ridge, the largest mountain range on Earth, which runs down the center of the Atlantic Ocean between Europe and Africa on the east and the Americas on the west. Rare "Cyclops" Shark Found. Photograph courtesy Marcela Bejarano-Álvarez Talk about a one-of-a-kind discovery—an extremely rare cyclops shark (pictured) has been confirmed in Mexico, new research shows.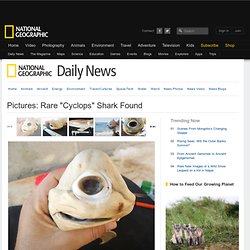 The 22-inch-long (56-centimeter-long) fetus has a single, functioning eye at the front of its head—the hallmark of a congenital condition called cyclopia, which occurs in several animal species, including humans. Earlier this year fisher Enrique Lucero León legally caught a pregnant dusky shark near Cerralvo Island (see map) in the Gulf of California.
When León cut open his catch, he found the odd-looking male embryo along with its nine normal siblings.
---