Facebook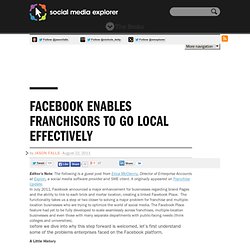 Editor's Note : The following is a guest post from Erica McClenny , Director of Enterprise Accounts at Expion , a social media software provider and SME client. It originally appeared on Franchise Update . In July 2011, Facebook announced a major enhancement for businesses regarding brand Pages and the ability to link to each brick and mortar location, creating a linked Facebook Place. The functionality takes us a step or two closer to solving a major problem for franchise and multiple-location businesses who are trying to optimize the world of social media.
Facebook Enables Franchisors To Go Local Effectively
Summer Entertaining: Cocktail Party | Foodzie Blog
Clyde Common / Domestic & Foreign Cooking in Portland, Oregon
Facebook Pages are increasingly becoming a "second home page" for businesses online. And while more and more Page owners are learning how to become expert Facebook marketers , Facebook has recently created many new opportunities for Pages to get more traffic through the tried and true methods of – you guessed it – search engine optimization (SEO). While Facebook's "viral channels" – the News Feed, invitations, and messages – play a central role in the spread of content through Facebook, employing important SEO tactics within your Facebook Page can help your Page reach more and more Facebook fans. While viral distribution can help you reach people your fans are directly connected to, search engine optimization exposes your Facebook Page to Facebook's entire userbase. In fact, Facebook itself has taken major steps to improve its own SEO during recent weeks and months, creating opportunities for Page owners to benefit directly while creating value for Facebook at the same time.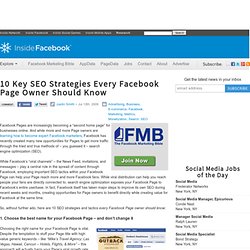 Port Clinton Ohio | THE OFFICIAL WEBSITE FOR ENJOYING PORT CLINTON, OH | Travel & Tourism, Living, Business, City Information
Hey, bands, Facebook isn't just for laughing at formerly popular kids ("Ah, that dude teaches English at our old high school now? Sad.") whilst swilling whiskey in your tour bus anymore. It's slowly becoming a hub for fan outreach, marketing your tunes and collaboration. Mashable reached out to a cadre of music industry experts to put together the following list of best practices for using Facebook to promote your music. After all, you want Mr.
10 Best Practices for Bands on Facebook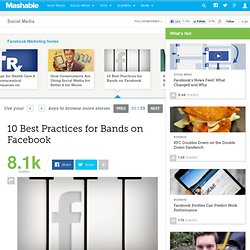 Are you looking for an easy way to create attractive pages on Facebook? Are you wondering how businesses are creating Welcome tabs? In this article I'll reveal a number of applications that make it very easy to . Custom Tabs: What You Need to Know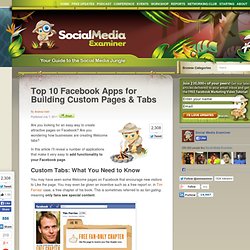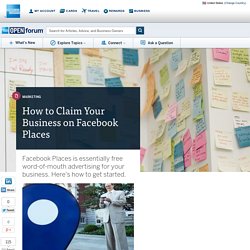 Facebook Places is essentially free word-of-mouth advertising for your business.
How To Claim Your Business On Facebook Places
FBMaxed - Facebook iFrame Course & Templates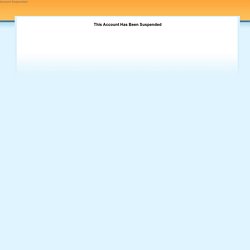 XTab Pages One of the World's best Facebook Page Builder, featuring point-n-click, simple yet powerful page builder. No coding experience required.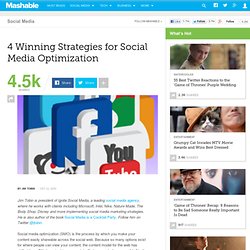 Jim Tobin is president of Ignite Social Media, a leading social media agency , where he works with clients including Microsoft, Intel, Nike, Nature Made, The Body Shop, Disney and more implementing social media marketing strategies. He is also author of the book Social Media is a Cocktail Party . Follow him on Twitter @jtobin . Social media optimization (SMO) is the process by which you make your content easily shareable across the social web. Because so many options exist for where people can view your content, the content model for the web has shifted from, "We have to drive as much traffic to our website as possible," to the more pragmatic, "We have to ensure as many people see our content as possible."
16 Facebook Marketing Strategies
There are thousands of Facebook apps, including a growing class designed for marketing use on company Facebook Pages. Here is a list of 16 different marketing strategies — using apps — that can help your ecommerce business. 1. Facebook Send button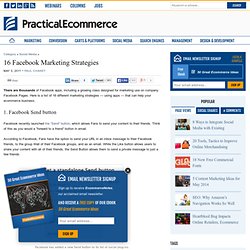 Facebook's 10 Social Plugins; Benefits to Merchants
Facebook social plugins are a quick and easy way to extend your social reach and engage your website's visitors with social interaction. The Facebook social plugins are easily installed. On each plugin's page — noted below — in the Facebook Developers section, the configuration tool lets you simply configure the plugin and get code.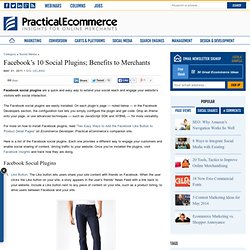 Smart Social Media Marketing Campaigns for Twitter and Facebook | Offerpop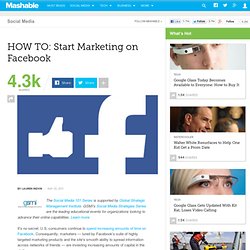 The Social Media 101 Series is supported by Global Strategic Management Institute . GSMI's Social Media Strategies Series are the leading educational events for organizations looking to advance their online capabilities. Learn more. It's no secret: U.S. consumers continue to spend increasing amounts of time on Facebook . Consequently, marketers — lured by Facebook's suite of highly targeted marketing products and the site's smooth ability to spread information across networks of friends — are investing increasing amounts of capital in the platform. Facebook 's proposition is especially attractive to small business owners, and not just because it enables them to hone in on potential customers through highly targeted, paid advertisements.
Dave Kerpen is the CEO of Likeable , a social media agency that has worked with more than 200 leading brands including 1-800Flowers.com, Verizon and Neutrogena. He is author of Likeable Social Media. Any brand worth their social media salt has a presence on Facebook . But just because a brand is online, doesn't necessarily mean that it is doing a good job.
8 Brands That Have Found Success on Facebook & What We Can Learn
6 Facebook Apps to Enhance Your Company's Fan Page
It was only a few years ago that businesses realized they needed a website. Now, everyone seems to be coming to the same conclusion about Facebook, and the best way for a business to establish a presence there is via a Fan page. We typically think of Facebook Fan pages as being a conversational medium. Thanks in large part to the development of applications designed to allow users to add custom elements, Fan pages have morphed into "brand pages," and are taking a company's brand experience right into Facebook. Below is a list of several apps I think are worth trying.