Cinemaaa
Cinéaste, exploitant, distributeur, Jean-Max Causse est tout ça à la fois... et plus encore. Mémoire de cinquante ans de cinéma, côtoyant les plus grands au détour de nombreuses restaurations de classiques, il nous reçoit dans les fauteuils rouges de sa Filmothèque du Quartier Latin avec l'enthousiasme qui le caractérise. La Nouvelle Vague, Oliver Stone, sa passion pour Scorsese, l'intarissable Jean-Max Causse se confie à Cinécri lors d'une rencontre aussi touchante que passionnante. Cinecri : Pouvez vous nous parler de votre passion pour le cinéma, je crois qu'au départ ce n'était pas votre destinée professionnelle ? Jean-Max Causse: Ma passion pour le cinéma date de fort longtemps.
http://cinecri.artblog.fr/ - Entretien avec Jean-Max Causse | cinecri.artblog.fr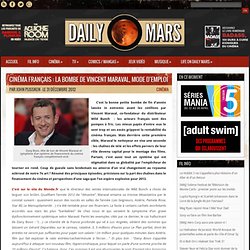 Cinéma français : la bombe de Vincent Maraval, mode d'emploi : Daily mars
Dany Boon, tête de turc de Vincent Maraval et symptôme d'un système de financement du cinéma français complètement vicié. C'est la bonne petite bombe de fin d'année lancée in extremis avant les cotillons par Vincent Maraval, co-fondateur du distributeur Wild Bunch : les acteurs français sont des pompes à fric. Les mieux payés d'entre eux le sont trop et ces excès grippent la rentabilité du cinéma français. Mais derrière cette première cible, Maraval le nettoyeur en vise une seconde : les chaînes de télé et les effets pervers de leur rôle devenu capital pour le montage des films. Partant, c'est aussi tout un système qui est stigmatisé dans sa globalité par l'empêcheur de tourner en rond. Coup de gueule sans lendemain ou amorce d'un vrai changement au royaume sclérosé de notre 7e art ?
Accueil - Vidéosphère
Cycle :" HISTOIRES DE CIRQUE jeudi 17 avril : The elephant Man (1980) de David Linch ET Lola Montès (1955) de Max Ophuls Le cirque est-il la part maudite du monde ? Lieu refuge, lieu inviolable. Lieu du risque, du rire et de l'excès. Lieu de l'émerveillement, de l'artifice mais aussi lieu de mort.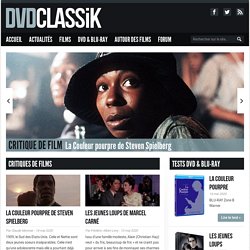 Tests DVD Luc Moullet en shorts - Chalet Pointu Critiques de films Ma nuit chez Maud de Eric Rohmer 14 janvier - Pierre Charrel Après avoir vécu et travaillé en Amérique pendant quelques années, Jean-Louis (Jean-Louis Trintignant), est revenu en France. Il vit désormais…
Interviewing Martin Scorsese is like taking a master class in film. Fast Company's four-hour interview with the director for the December-January cover story was ostensibly about his career, and how he had been able to stay so creative through years of battling studios. But the Hugo director punctuated everything he said with references to movies: 85 of them, in fact, all listed below. Some of the movies he discussed (note: the descriptions for these are below in quotes, denoting his own words). Others he just mentioned (noted below with short plot descriptions and no quotes). But the cumulative total reflects a life lived entirely within the confines of movie making, from his days as a young asthmatic child watching a tiny screen in Queens, New York to today, when Scorsese is as productive as he's ever been in his career--and more revered than ever by the industry that once regarded him as a troublesome outsider.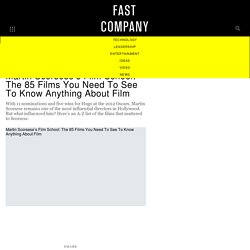 The Future (According to Films)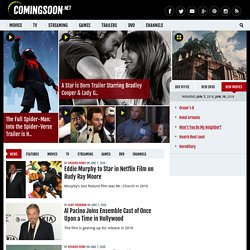 About Cookies on This Site:Our site uses cookies and other technologies so that we, and our partners, can remember you and understand how you and other visitors use our site. By continuing to browse the site, you are agreeing to our use of cookies. To see a complete list of the companies that use these cookies and technologies and to tell us whether or not they can be used on your device, click on the Ad Choices button available at the bottom of every page.
professionnels from the profession