Università
Get flash to fully experience Pearltrees
Year founded: 1985 Graduate concentration: Media Arts and Sciences Number of graduate students (2011-2012): 141 (61 master's, 80 PhD) Number of faculty and principal investigators: 28 Number of sponsors: 80+ Annual operating budget: approx. $35 million
Queen Mary University of London (QMUL) is one of the UK's leading research universities and is located at the heart of Europe's largest concentration of creative industries.
URL : http://www.ucl.ac.uk/prospective-students/graduate-study/degrees/pgt Most likely causes: There might be a typing error in the address.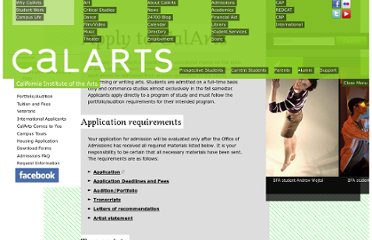 Admission to CalArts is competitive and considered mainly on the basis of demonstrated talent, creativity and commitment.
Requirements for admission are explained at the University of California Admissions page .
Newly Admitted Students – What to do First
The University of California, Santa Barbara welcomes students from other countries. At the present time, more than 1,200 students from 69 countries are studying here. An international applicant is a student who holds or expects to hold a student, exchange, visitor, or diplomatic visa and who wishes to attend school in the United States.
We strongly encourage you to take your time filling out the application. Be sure to have all the information you need close at hand.
Some courses displayed may not be offered every year. For actual course offerings by quarter, please consult the Schedule of Classes - Class Search or GOLD (for current students).