I want
Your Birthday, Your Tree and their meanings (wowzone.com) WOW Poetry, lyrics, music, stories, classics, Wish OnlyWell - StumbleUpon. Find your birthday and its corresponding tree.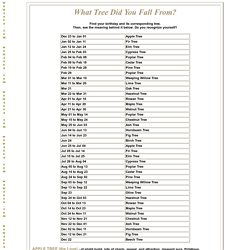 Then, see the meaning behind it below. Do you recognize yourself? CNC carpentry: the 'selfsupportingframework' - StumbleUpon. Two students working on load-bearing systems in the architecture department at Kassel University, Mischa Proll and Andreas Günther, have taken advantage of the wide range of design techniques available and breathed new life into a one-hundred-year-old construction concept.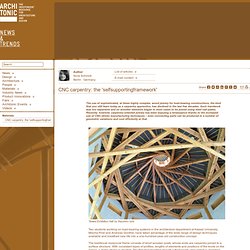 The traditional reziprocal frame consists of short wooden joists, whose ends are carpentry-joined to a surface structure. With consistant types of profiles, lengths of elements and positions of the knots on the axises, a dome shape is created. The first documenting of such a framework, also called a "mandala roof", dates back to the 12th century, according to the students' research, when a Buddhist monk by the name of Chogen created designs for temples, whose influence can still be seen today in the architecture of domes in China and Japan.
The variation of individual parameters, for instance changing the join between two elements, leads to a change in all the other subsequent joins. Cloud9 — There was rain. Modern Concrete House (15 photos) - My Modern Metropolis - StumbleUpon. When you first think about the words concrete house, you might imagine a cold, sterile environment, perhaps something similar to a prison.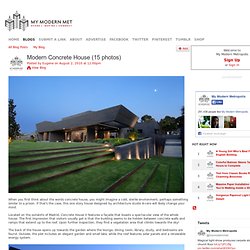 If that's the case, this one story house designed by architecture studio A-cero will likely change your mind. Located on the outskirts of Madrid, Concrete House II features a façade that boasts a spectacular view of the whole house. The first impression that visitors usually get is that the building seems to be hidden between concrete walls and ramps that extend up to the roof. Upon further inspection, they find a vegetation area that climbs towards the sky! The back of the house opens up towards the garden where the lounge, dining room, library, study, and bedrooms are found. The Pierre & Below The Clouds - StumbleUpon. Vacker villa av Young & Young I Franklin, Michigan ligger villan här ovan.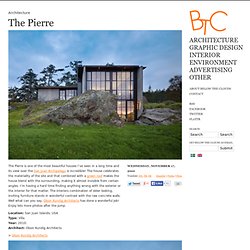 Jag vet rätt lite om den vackra villan men jag vet att den är ritad av Young & Young Architects och helt och hållet konstruerad av insulating concrete forms, som är frigolitformar fyllda med cement som både är starka och isolerar väl. Young & Young Architects jobbar med det de kallar "orcanic architecture"och är medlem av The U.S. Baltimore Urban Loft -- Photos, House of the Day. MyRolltop | New step in portable computers - StumbleUpon. Graco - Pack 'n Play Playard, Morgan. Poc Lab - Beetle Inspired Body Armor & Yanko Design. Poc Lab – Beetle Inspired Body Armor A full top with integrated but detachable back protection, shoulder and collarbone padding.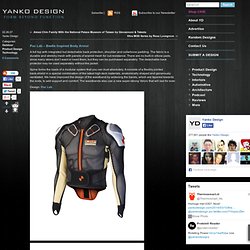 The fabric is a durable and stretchy mesh with panels of aramid mesh for cut-resistance. There are no built-in elbow pads, since many skiers don't want or need them, but they can be purchased separately. Skittles Vodka Tutorial : Mix That Drink - StumbleUpon. Ostendo CRVD 43″ Curved Display. DOC a sofa bed that converts in to a bunk bed in two secounds. Nottage Design - Pool Tables - G-1 Glass Top Billiard Table. Nottage Design pool tables blend ultra modern styling and new patented technology.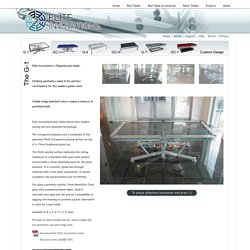 The transparent playing area is composed of the patented Vitrik transparent playing surface on top of a 15mm toughened glass top. The Vitrik playing surface replicates the rolling resistance of an average speed cloth. It is hard wearing and allows spin (English) to be applied and retains consistent roll characteristics over its lifetime. Our glass is premium quality 15mm Monolithic Float glass with exposed polished edges. Glass is naturally very rigid and flat, and isn't prone to sagging or warping, so provides a great alternative to slate for a game of pool. Pac-Man Ghost. Couple Human Key Holders (set of 2): Home & Garden. Bento Laptop Tablet Hybrid by René Woo-Ram Lee & Yanko Design - StumbleUpon. Bento Box Kinda Like Voltron Bento is quite an exceptional and forward thinking concept by René Woo-Ram Lee.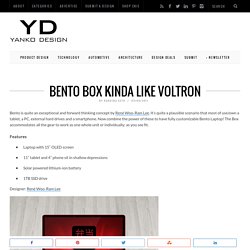 It's quite a plausible scenario that most of use/own a tablet, a PC, external hard drives and a smartphone. Now combine the power of these to have fully customizable Bento Laptop!
---