Science
Get flash to fully experience Pearltrees
Chemistry , a branch of physical science , is the study of the composition, properties and behavior of matter . [ 1 ] [ 2 ] Chemistry is concerned with atoms and their interactions with other atoms, and particularly with the properties of chemical bonds . Chemistry is also concerned with the interactions between atoms (or groups of atoms) and various forms of energy (e.g. photochemical reactions, changes in phases of matter, separation of mixtures, properties of polymers, etc.).
An ion is an atom or molecule in which the total number of electrons is not equal to the total number of protons , giving the atom a net positive or negative electrical charge . Ions can be created by both chemical and physical means.
A thermite reaction using iron(III) oxide. The sparks flying outwards are globules of molten iron trailing smoke in their wake.
Various examples of physical phenomena Physics (from Ancient Greek : φύσις physis "nature") is a part of natural philosophy and a natural science that involves the study of matter [ 1 ] and its motion through space and time, along with related concepts such as energy and force . [ 2 ] More broadly, it is the general analysis of nature , conducted in order to understand how the universe behaves. [ 3 ] [ 4 ] [ 5 ] Physics is one of the oldest academic disciplines , perhaps the oldest through its inclusion of astronomy . [ 6 ] Over the last two millennia, physics was a part of natural philosophy along with chemistry , certain branches of mathematics , and biology , but during the Scientific Revolution in the 17th century, the natural sciences emerged as unique research programs in their own right. [ 7 ] Physics intersects with many interdisciplinary areas of research, such as biophysics and quantum chemistry , and the boundaries of physics are not rigidly defined .
The atom is a basic unit of matter that consists of a dense central nucleus surrounded by a cloud of negatively charged electrons . The atomic nucleus contains a mix of positively charged protons and electrically neutral neutrons (except in the case of hydrogen-1 , which is the only stable nuclide with no neutrons). The electrons of an atom are bound to the nucleus by the electromagnetic force .
undefined Too much homework? This might be the page for you!
The neutron is a subatomic hadron particle which has the symbol n or n 0 , no net electric charge and a mass slightly larger than that of a proton . With the exception of hydrogen-1 , nuclei of atoms consist of protons and neutrons, which are therefore collectively referred to as nucleons .
The proton is a subatomic particle with the symbol p or p + and a positive electric charge of 1 elementary charge .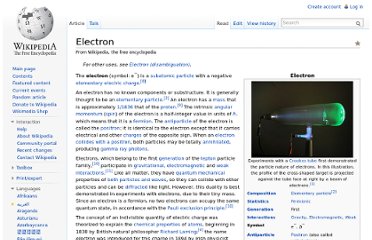 The electron (symbol: e − ) is a subatomic particle with a negative elementary electric charge . [ 8 ] An electron has no known components or substructure. It is generally thought to be an elementary particle . [ 2 ] An electron has a mass that is approximately 1/1836 that of the proton . [ 9 ] The intrinsic angular momentum ( spin ) of the electron is a half-integer value in units of ħ , which means that it is a fermion .
Periodic table with electron shells
Biology is a natural science concerned with the study of life and living organisms , including their structure, function, growth, evolution , distribution, and taxonomy . [ 1 ] Biology has many subdisciplines unified by five so-called axioms of modern biology: [ 2 ] Cells are the basic unit of life Genes are the basic unit of heredity New species and inherited traits are the product of evolution An organism regulates its internal environment to maintain a stable and constant condition Living organisms consume and transform energy