Bieżące
Milleneufcentquatrevingtquatre Scarves
Chi Yuen A/W 2012 Footwear Collection
Aesop: Aesthetic Science
In celebration of its 25th anniversary this year, Melbourne-based science-beauty brand Aesop invited photographer Rene Vaile to document the laboratories where its team of specialists analyse each extract, vitamin and nutrient that goes into the holistic range. Founded by Dennis Paphitis in 1987 as an alternative to the chemical-filled cosmetic goods of the time, the brand focuses solely on using ingredients that benefit the body, including green tea, geranium leaf and mandarin. "A good product needs to begin from a sincere and authentic perspective," explains Paphitis of the company's ethos.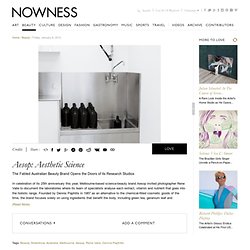 A mammoth music library should inspire pride, not anxiety. The problem is, how do you begin to sort through tens of thousands of tracks? Shuffle functions are too dumbed down, and there's no time to create a custom playlist for every occasion. Enter HABU, the mood-based music app that auto-generates playlists from your library based on how you feel, designed by Gravity Mobile leveraging music mapping from Gracenote.
HABU
Canadian Duties & Taxes are the customer's responsibility. We're glad to be able to ship your favorite Moleskine products to Canada! We're sure you know the drill, but we want to make sure you are aware that Canadian customs duties and taxes for shipments to Canada are your responsibility. Since we do not collect customs duties & taxes, you are responsible for paying for these upon delivery, if applicable.
Moleskine Luggage Tags (3.75 x 2.25)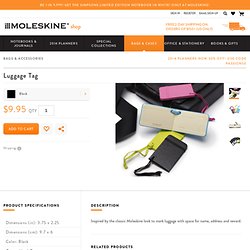 Louis Vuitton's Maroquinaris Zoologicae by Billie Achilleos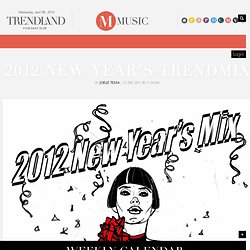 Illustration by Beatthepulp 2012 New Year's TrendMix Ring in the new year with ringing ears. 2012 promises to be a bountiful year of new artists, new albums, and new obsessions, but let us say farewell to 2011 by celebrating favorite Trendland finds and preview what is to come! We've been spoiled by releases from The Black Keys, Kanye West/Jay-Z, Florence & the Machine, James Blake, Cut Copy, Zola Jesus, tUne-YaRdS, and of course, Adele's ubiquitous "Rolling in the Deep."And it all distracted us from the hysterical rumor that 2012 would bring the demise of our world. I highly doubt it, but if the world is going to end, you might as well go out dancing.
2012 New Year's TrendMix
Keith Haring | Domino Set
Women's Luxury Headphone by Molami
During several years Maria incorporated the process of tailoring and fashion design – how materials and shapes flatter the female form – into a methodical industrial design approach. Using this approach, she sculpted headphones that frame and enhance the features of the feminine face. This has never been done in the headphone industry. Pleat is an over-ear headphone encased in Napa leather and designed to accentuate the lines of the face.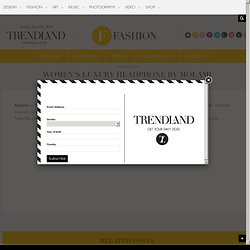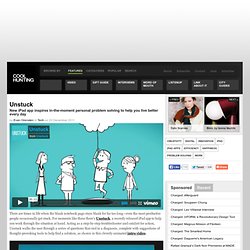 Unstuck
There are times in life when the blank notebook page stays blank for far too long—even the most productive people occasionally get stuck. For moments like these there's Unstuck, a recently released iPad app to help you work through the situation at hand. Acting as a step-by-step troubleshooter and catalyst for action, Unstuck walks the user through a series of questions that end in a diagnosis, complete with suggestions of thought-provoking tools to help find a solution, as shown in this cleverly animated intro video. Released by SYPartners, the free Unstuck app marks the first endeavor of a new sister company that taps into their nearly 20 years of experience helping big-name companies, leaders and teams during times of transformation and offers these strategic lessons to the individual.
To celebrate fifty years of creation, diptyque wanted to encapsulate the essence of its first boutique. The place where the company was born, a place that has a genuine soul. In essence, the intention was to interpret the memory of diptyque and its history, one that is constantly being reinvented through new projects, in the notes of the emerging emblematic fragrance. Named after the birthplace of the house, the 34 Boulevard Saint Germain is a unique scent for the body and home that encapsulates its first boutique with rare and precious fragrances, to give everyone a little part of this place and its rich history.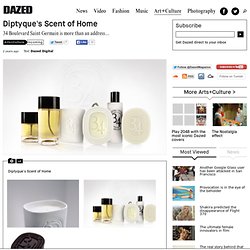 Diptyque's Scent of Home
The legendary surrealist filmmaker Jan Švankmajer is peerless – revered by animation legends such as Terry Gilliam and The Quay Brothers, his oeuvre over the last 30 years is without precedent or equal. His early short films such as Down To The Cellar are haunting Kafka-esque investigations into imagination and the dark recesses of the human psyche shot through with pitch-black humour. These shorts arguably reached their zenith in his first feature Alice – his brilliant vision of Lewis Carroll's tough child heroine, which suggested in no uncertain terms that the adult world is the natural enemy of the child. In later films such as Faust and Conspirators of Pleasure he took his ground-breaking stop-motion aesthetic even further towards a unique melding of live action and animation, as does his latest offering Surviving Life (something we all have to do).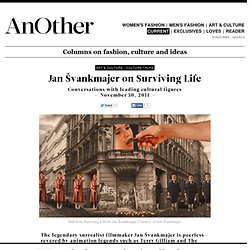 Art Talks - Jan Švankmajer on Surviving Life
The Image Makers: Inez And Vinoodh: style file: daily fashion, party, and model news
In a new series, Style.com sits down with the best in the field of contemporary fashion photography to talk about both the process and the product. First up: the husband-and-wife Dutch shooters Inez van Lamsweerde and Vinoodh Matadin. At exactly 34 characters long, Inez van Lamsweerde and Vinoodh Matadin easily have the longest photo credit in the business. Admittedly, the count includes A-N-D, but that little linking word is crucial.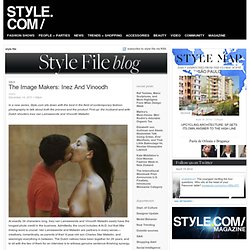 Valentino Garavani Archives
The Modernists Cuisine : The Art and Science of Cooking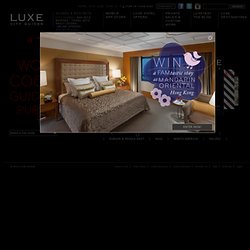 The rates we display are sourced directly from the hotels and we don't charge any booking fee. Wherever possible we work hard to bring you special offers and packages that you won't find anywhere else on the internet. LUXE City Guides is highly selective about the places we feature in our guides, and only properties featured in our guides are good enough to appear here in our LUXE Hotel and Villa Collection.
LUXE City Guides
Little Printer | BERG Cloud
Vanilla Vodka Chai Tea
iPong Table Tennis Training Buddy: Sports & Outdoors
Whiskey Sour
Tom Collins
Arnsdorf SS11 Crystal Pattern Laptop & iPad Skin by RoAndCo
CONVERSE x JOSE PARLA - Chuck Taylor Hi
Shop by theme > Autumn 2011 > 'Hidden Fox' Teacup (Web Only)
Greenwich Letterpress : Gifts
Tom Ford - Cosmetics - Nails
Eye Of The World Designs
Leeay Aikawa Mixed Media Collages
The Picasso of Pastry: Pierre Hermé
Truffle Products From Italy
Apps
People watching with a difference | Photography | Agenda | Phaidon
One of the many wonderful things the internet has brought us is the ability to indulge in people watching on a voyeuristic grand scale as photographers post their images of daily life on the likes of Tumblr, Flickr and even Twitter. Fashion bloggers such as The Sartorialist meanwhile, have turned the art into, well, an art and become household names as a consequence. But these photos we saw at Paris Photo take the medium into a whole new area.
Illustrators Unlimited | Gestalten
In recent years, illustration has evolved from a purely service-oriented trade to an expressive, poetic, and esteemed voice in contemporary visual culture. Today it continues to burgeon as a creative discipline––especially in its more artistic forms. Editorial design increasingly uses illustration in place of photography because it depicts and enriches content in a way that offers an expanded dimension of communication.
Persimmon Margarita
Works on Paper by David Lynch Steidl & Partners This exceptional book brings together a collection of more than 500 drawings dating from the 1960s by the renowned American film director, David Lynch.
Steidl
Vilac Keith Haring Wooden Chair, Red: Baby
Click to open expanded view Only 2 left in stock (more on the way). Ships from and sold by Amazon.com. Gift-wrap available. Made in france Unique keith haring artwork Great for chidlren Vilac has been the maker of high quality, award winning toys since 1911 ›See more product details
JASMINE CANDLE
Crosley Radio
Store — Applications
UP by Jawbone | Make Healthy Living Fun & Social
Products